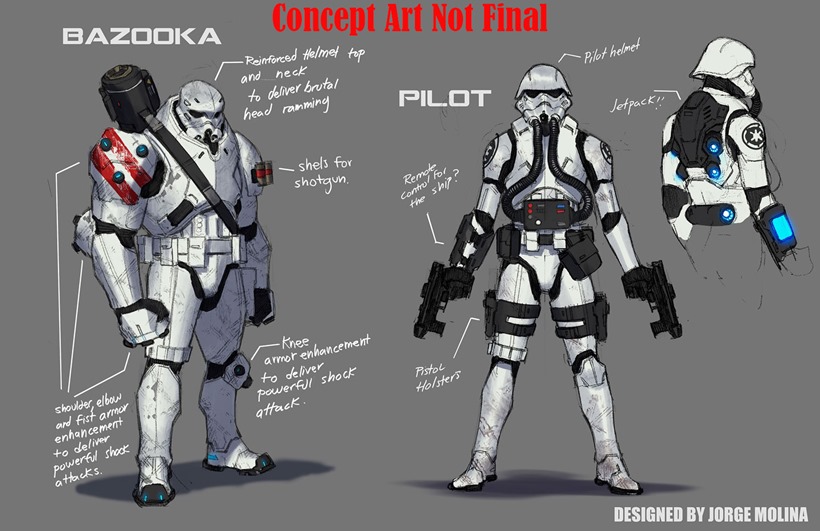 Ever since Marvel wrested control of the Star Wars license for comic books from Dark Horse comics, following parent company Disney paying plenty of bucks for the franchise in its entirety, they've been on a roll with some damn good stories set in a galaxy far, far away. The main Star Wars series has been a stellar bridging of the gap between A New Hope and The Empire Strikes back, while the current Darth Vader series has introduced audiences to the idea of a murderous protocol droid that looks like C3P0 during a goth phase.
Good stuff, from a number of talented writers and artists. And while the overall tone has kept the classic Star Wars sensibility in touch, there's also been a bit of modernising happening behind the scenes. An idea that is being taken a step further, with the addition of an elite squadron of Stormtroopers who will soon make their presence in the pages of the 21st Star Wars comic in a story titled "The Last Flight of Harbinger".
Designed by Jorge Molina, these Stormtroopers look like they're fully capable of not only hitting their target, but doing so with maximum efficiency and ruthlessness. "The main thing I wanted to do was give more of a face to some of the stormtroopers," writer Jason Aaron said to StarWars.com.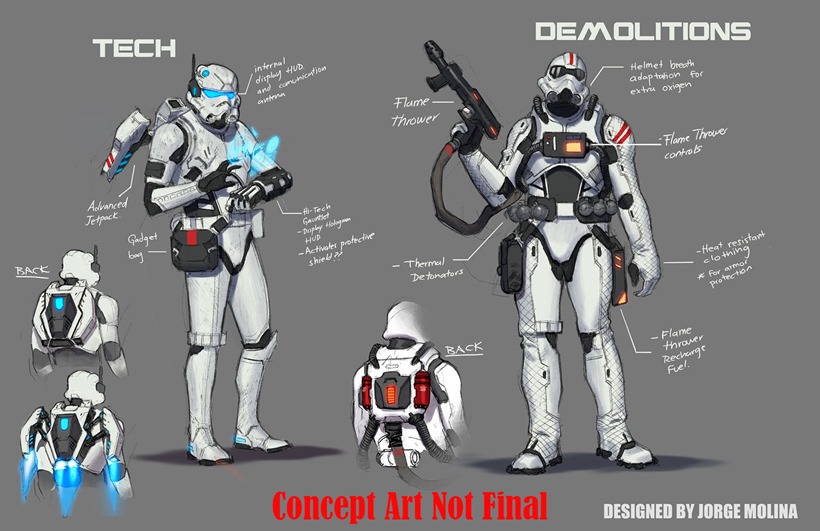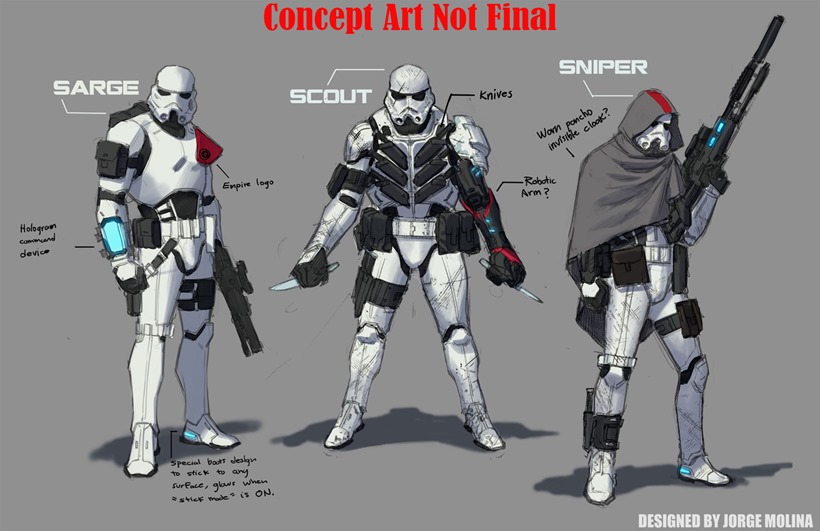 We've seen lots of them in the series, but they've all been pretty interchangeable, faceless bad guys. We haven't gotten to know them. That was one of my favorite parts of The Force Awakens, getting to see and getting to know a real character who was a stormtrooper and somebody who, of course, has a conscience and changed his ways and joined up with the good guys. This is the opposite of that.

It's us peering inside the heads of somebody who is very gung-ho for the Empire and then the question, of course, is 'Why? Why would you sign up to fight for the Empire?' That's something we'll answer over the course of the story. We wanted to put a face on those enemies and also create a formidable group of bad guys because they're up against our heroes.
Aaron also explained that these Elite stormtroopers were somewhat inspired by an infamous group of defective clonetroopers that were present during the Clone Wars animated series. "Part of the inspiration for this group comes from the 'Bad Batch' characters who are from the unproduced episodes of The Clone Wars animated series, which I think you can still find the animatics for online," Aaron said.
They were a ragtag bunch of clones working together in one small fighting force, so this in some ways inspired by and maybe linked to that.
I quite like it. The designs are badass and wouldn't look out of place in a Mass Effect game, yet they've still got that distinct Star Wars flavour to them. That stormtrooper who happens to have more knives than the 2014 big screen version of the Shredder is cool enough alone, without factoring in sniper, bazooka and tech stormtroopers.
Last Updated: April 21, 2016