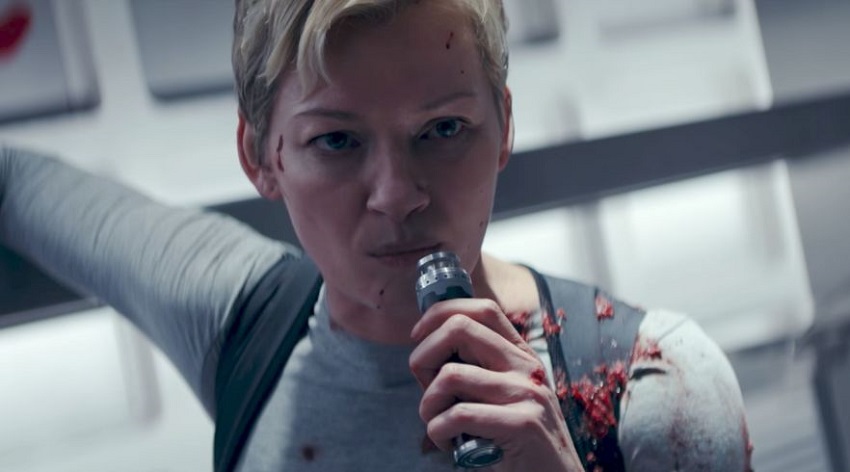 Nightflyers is the upcoming Syfy series that's based on the 1980 George R.R. Martin novella of the same name, and which was included in the 1985 short story collection Nightflyers & Other Stories. It was also the subject of a not particularly well-regarded feature adaption in 1987.
Luckily for the rest of the world it's also a Netflix co-production, which means those of us outside the US will get to watch it too, much the same as with CBS' Star Trek: Discovery.
The show's official plot synopsis is as follows:
Set in the year 2093, Nightflyers is a psychological thriller that follows a team of scientists aboard the Nightflyer, the most advanced ship ever built, as they embark on a journey to find other life forms. Their mission takes them to the edge of the solar system, and to the edge of insanity, as they realize true horror isn't waiting for them in outer space—it's already on their ship.
Someone let Nick on board? Anyway, as is the norm these days they've released a tiny teaser to whet our appetites for their space-based horror. I've never read the novella so I'm curious to see what it's all about, and if you're reading this I guess you are too, so let's take a look:
As expected we don't see much, but this teaser does give us a solid glimpse of the tone the series is aiming for – and that's serious sci-fi thrills and horror in the vein of movies such as Event Horizon and Sunshine. This isn't some quippy, horror-lite show. It also looks like we're getting a nice combination of tense psychological drama combined with traditional horror visuals and jump-scares. Overall I just got a pervasive sense of dread threading its way through the series, and that's a positive first impression as far as I'm concerned.
Syfy have really upped their TV game over the last few years, with shows like The Expanse and Happy! really pushing the boundaries, and judging from this brief tease Nightflyers looks to be continuing that trend. I'm really looking forward to a full trailer in order to see more of what's in store for us.
What do you think?
Nightflyers doesn't have a firm release date nailed down as yet for it's ten-episode-long first season, just a vague 2018 release window. Since we're already a quarter of the way through the year I'd anticipate it slotting into the traditional US Fall release window – so somewhere around September would be my guess. It stars Gretchen Mol, Eoin Macken, David Ajala, Sam Strike, Maya Eshet, Angus Sampson, Jodie Turner-Smith, and Brian F. O'Bryrne.
Last Updated: April 5, 2018