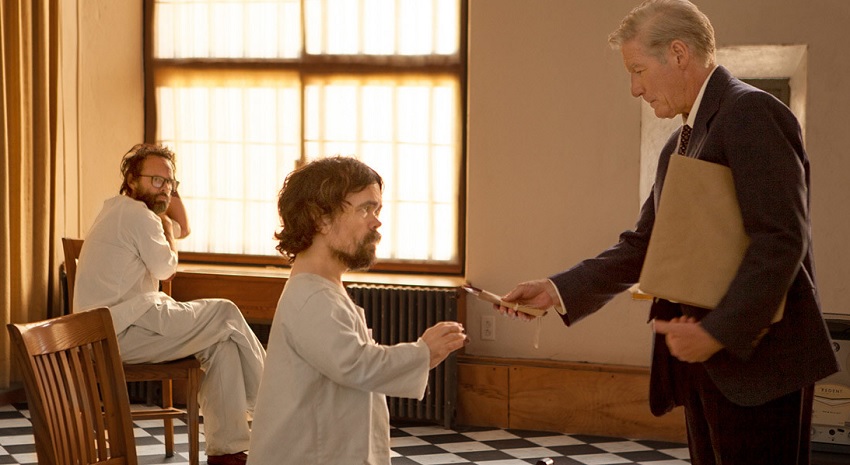 Three Christs is the upcoming is an upcoming psychological drama in the most literal sense – it's a drama about psychology. More specifically, it's based on the true story about the attempted treatment of three patients diagnosed with paranoid schizophrenia and who all shared the same delusion of being Jesus Christ.
Dr. Milton Rokeach performed the dubiously ethical experiment from 1959 to 1961 at the Ypsilanti State Hospital in Ypsilanti, Michigan in the US, and published the results in his 1964 psychiatric case study titled 'The Three Christs of Ypsilanti'. He hoped that by bringing the three patients together to work through their shared delusion he'd enable them to recover from it. Unfortunately the experiment did not succeed, with the men concocting multiple reasons for the other patients' delusion and at times becoming physically aggressive.
The movie does however feature an all-star cast, led by Richard Gere, Peter Dinklage, Walton Goggins, and Bradley Whitford.
The official plot synopsis is as follows:
In 1959, psychiatrist Dr. Alan Stone (Richard Gere) arrives at a mental hospital in Ypsilanti, Michigan armed with the radical belief that schizophrenic patients should be treated not with confinement and electroshock therapy but with empathy and understanding. As his first study, he takes on the particularly challenging case of three men—Joseph (Peter Dinklage), Leon (Walton Goggins), and Clyde (Bradley Whitford)—each of whom believes they are Jesus Christ.

Hoping that by getting them together in the same room to confront their delusions he can break through to them, Dr. Stone begins a risky, unprecedented experiment that will push the boundaries of psychiatric medicine and leave everyone involved—including Dr. Stone himself—profoundly changed. Based on a remarkable true story, Three Christs is a fascinating and moving look at one man's journey into the deepest mysteries of the human mind.
Let's take a look:
I'm a bit undecided after watching the trailer. I love the premise and the movie definitely has the talented cast required to pull this off, but the execution is lacking. Judging by the trailer it seems the movie has opted for a saccharine, feel-good story, and it just feel a bit off to me.
What do you think?
Three Christs is due for release in the US on 3 January. Directed by Jon Avnet and written by Eric Nazarian, it also stars Charlotte Hope, Julianna Margulies, Kevin Pollak, and James Monroe Iglehart.
Last Updated: December 2, 2019