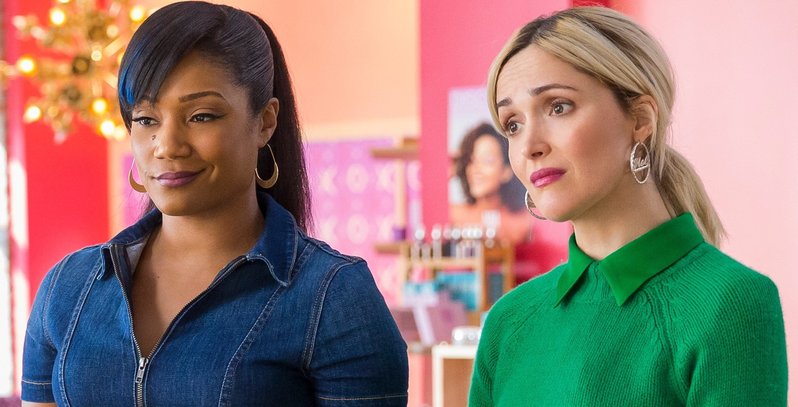 Nothing can ruin a friendship like a business partnership. After all, when money is involved, loyalty and support often go out the window in the quest for greed and the almighty dollar. In this new film from director Miguel Arteta Like A Boss, Tiffany Haddish and Rose Byrne are friends who end up discovering this when the cosmetic company they run together gets into some debt and requires some bolstering from another business owner played by Salma Hayek. The only problem is that to make a success of their business, they need to stop being friends with everyone and someone needs to start behaving like a boss.
As you can imagine with two friends who prefer to party together than get stern with each other, things don't go down well and puts both their business and friendship at stake. However, all is not well with their business rescue either as it turns out Hayek's character is more after corporate espionage than charity and the pair need to settle the difference and man up to the realities of corporate politics to fight for the company and product they built together.
Like a Boss is based on a script by relative newcomers Adam Cole-Kelly and Sam Pitman who seem to tap into all the usual genre troupes here to give us a comedy that is about as generic as possible. If there is one strength that this film does have going for it base on this trailer, it that Haddish, Byrne and Hayek al look well cast for their roles and the film taps into their strengths to bring out the best of the humour.
Like a boss is scheduled for release early next year in January and could offer a nice diversion from all the big award contending moves that we tend to get then after the blockbusters from Christmas are all past. Much like the jokes in this trailer though, we may not have much money left by this time to afford to go to the cinemas.
Last Updated: September 16, 2019