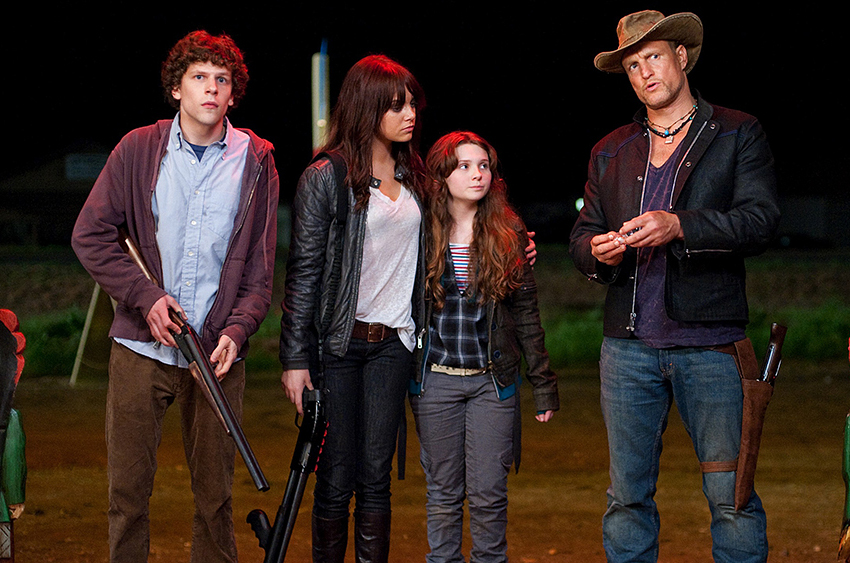 Despite how the tellers at Home Affairs may appear, zombies are not real. If a zombie apocalypse were to happen for real though, many a film fan would be prepared as we've already learned the rules for survival courtesy of Zombieland (hope you guys have been keeping up that cardio and avoiding the Twinkies!). The 2009 action-comedy was both a critical and commercial smash hit as it earned $102 million worldwide off just a $23 million budget. Before 2013's World War Z it was the highest-grossing zombie movie in US box office history and earned a gigantic cult following when it was released on DVD. All of which led to the surprise of many that there hadn't been a follow-up.
Fans had been asking for a sequel seemingly since the moment the credits rolled, as Columbus (Jesse Eisenberg), Wichita (Emma Stone), Little Rock (Abigail Breslin), and Tallahassee (Woody Harrelson) set off together after surviving the undead chaos at the Pacific Playland, but we heard nothing about it. Then earlier this year a rumour propped up that things may finally be happening and now The Hollywood Reporter is confirming that Zombieland 2 is a go!
The report states that this will be a definite case of getting the band back together as all four stars are set to return in front of the camera, while Ruben Fleischer (Venom) will once again be directing off a script from original writers Paul Wernick and Rhett Reese (Deadpool 1 & 2). There's no word yet on whether Bill Murray will be cameoing as himself again like he did so hilariously in the first film though. Being shot by Tallahassee after a botched prank while watching Ghostbusters would make it rather difficult, but hey, this is a movie about the undead after all.
As per THR's report, "The new movie will once again put the focus on comic mayhem, taking the quartet from the White House to the American heartland as they face off against new kinds of zombies that have evolved since the first movie, as well as some new human survivors." The original film ended with Eisenberg's Columbus realizing that without family and friends to care for, everybody becomes a metaphorical zombie, but it seems this unity is not at all easy as "they have to face the growing pains of their own snarky, makeshift family."
The first film released at a time when Eisenberg, Stone, and Breslin were all still relative unknown actors just coming up in the ranks and Harrelson was still trying to shake the goofball persona he had cultivated from sitcom work early in his career. Now things are a lot different with all four being Oscar-nominated actors with Stone actually winning a golden statue on her second nod. So too Wernick and Reese are riding a huge surge of popularity right now thanks to them helping to turn Ryan Reynolds' Deadpool into a global phenomenon while Fleischer is about to release his most high-profile film ever in Sony's Spidey-less Spider-Man spinoff Venom with Tom Hardy.
The timing gets even better as THR reveals that the intention is for Zombieland 2 to start production in January 2019 with an early October release date being eyed, just a couple weeks after the 10th anniversary of the release of the first film. With so much time having passed without any word of a sequel, just having this finally get the official greenlight is already enough to get me to go work on some cardio training.
Last Updated: July 16, 2018