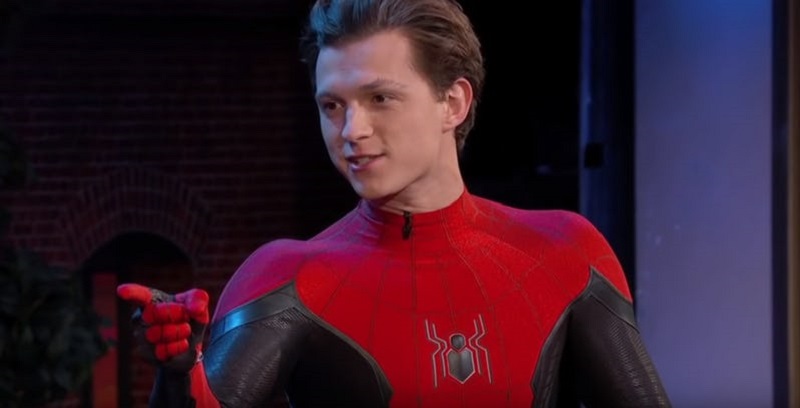 We've seen several glimpses from the set of the new Spider-Man movie, Spider-Man: Far From Home, but not a good look at what Tom Hollands suit will look like for the sequel. Given that superhero outfits and gadgets tend to evolve and improve with each appearance, there is obviously a lot of excitement around what the next suit could look like.
Well, wonder no more, as Tom Holland unveiled his new suit in a recent appearance on Jimmy Kimmel Live, where he wandered on to the talk show stage in a brief skit wearing most of his new outfit for the film. The video of which can be seen below:
When you're not the only #SpiderMan in the room… @TomHolland1996 @IamGuillermo #KimmelinBrooklyn pic.twitter.com/0AeGuSqsVw

— Jimmy Kimmel Live (@JimmyKimmelLive) October 19, 2018
Now, knowing that there is a lot more to the suit than simply what it looks like and that there is likely a large amount of nano-technology involved in the actual movie, it doesn't really give us a glimpse of what the suit will really be like in the movie, but at least visually we know it looks pretty authentic. Without the added effects of CGI of course, which could play a part in a movie like this.
It also appears that Holland is learning from his faux pass in the past as he cleverly avoids trying to explain why exactly they are making another Spider-Man movie when the last we saw of him was turning into dust following Thanos' tragic snap at the end of Avengers: Infinity War.  Marvel will obviously keep all of the storyline for the fourth Avengers film closely under wraps as they do details for any upcoming movies.  Still, considering how much fun it is watching Holland play the role of Peter Parker, I'm just happy that we'll be getting to see more of him soon.
Spider-Man: Far From Home is scheduled for release on July 5, 2019.
Last Updated: October 19, 2018