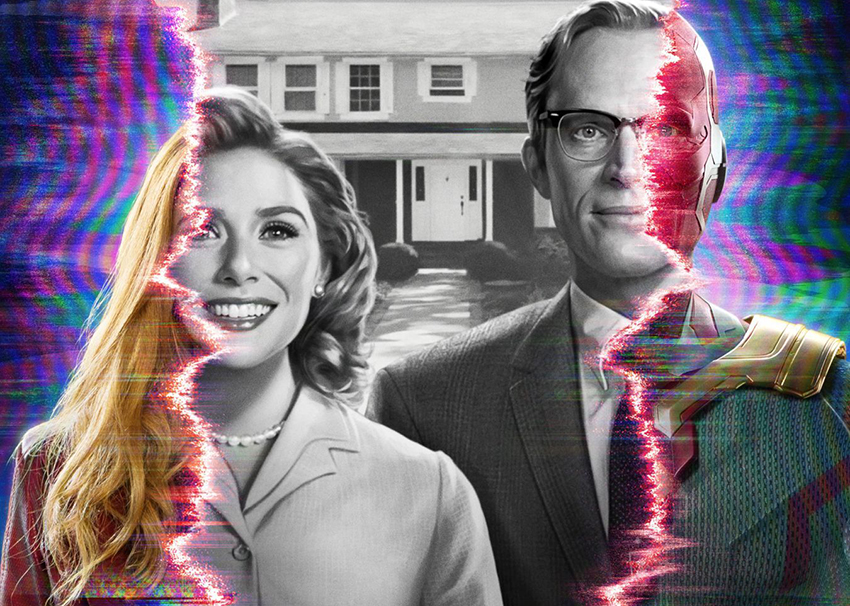 COVID-19 officially did what Thanos couldn't as it stopped the Marvel Cinematic Universe in its tracks. We got so used to Marvel boss Kevin Feige delivering two or three hits a year, but it's now been 18 months since the release of Spider-Man: Far From Home closed out the MCU's Phase 3. The likes of Black Widow, The Falcon and the Winter Soldier, Eternals, and Shang Chi and the Legend of the Ten Rings should have kicked off the new era of Marvel, but they got pushed back along with everything else.
But the MCU officially returns this coming Friday, 15 January 2021, when the long-anticipated WandaVision debuts on Disney+. We've been left massively intrigued and confused (unless my crazy theory is right!) by the WandaVision trailers so far which seem to show Elizabeth Olsen's Wanda Maximoff and Paul Bettany's somehow-alive-again Vision inside a strange world that pulls heavily from classic American sitcoms through the decades, complete with a live studio audience. Just what is going on? No idea. But what we do know now though, is that it's apparently great!
Some US-based journalists were able to watch the first three episodes of WandaVision and they revealed their reactions over the weekend, and they're very positive. Just about everybody mentions just how weird and strange the whole thing is, completely bucking the Marvel formula, which we expected. What might surprise people though is that the sitcom angle is not just for aesthetics as WandaVision is apparently genuinely really funny, with Olsen and Bettany killing their scenes. That's when they don't get upstaged by Kathryn Hahn's nosy neighbour and Teyonah Parris' mysterious Monica Rambeau. It's not just about the laughs though as there's apparently a MAJOR far-reaching mystery that is slowly being played out that should keep fans hooked. Check out the reactions below.
That is a whole lot of praise! Maybe the disrupted release schedule worked out for the better so that our first return trip to the MCU is something this fresh and different? Apparently, so different that it will also apparently feature fictional TV commercials during the show, according to Feige. Damn, that is really leaning hard into your pitch. It was also revealed late last week that WandaVision will be kicking off this Friday with a double-episode premiere before the remainder of its first season plays out on Disney+.
We now also know that WandaVision's first season will be nine-episodes long which means it will finish just two weeks before the six-episode The Falcon and the Winter Soldier, and then it's just another month before Black Widow drops. So yes, we are definitely back into the Marvel swing of things.
Last Updated: January 11, 2021