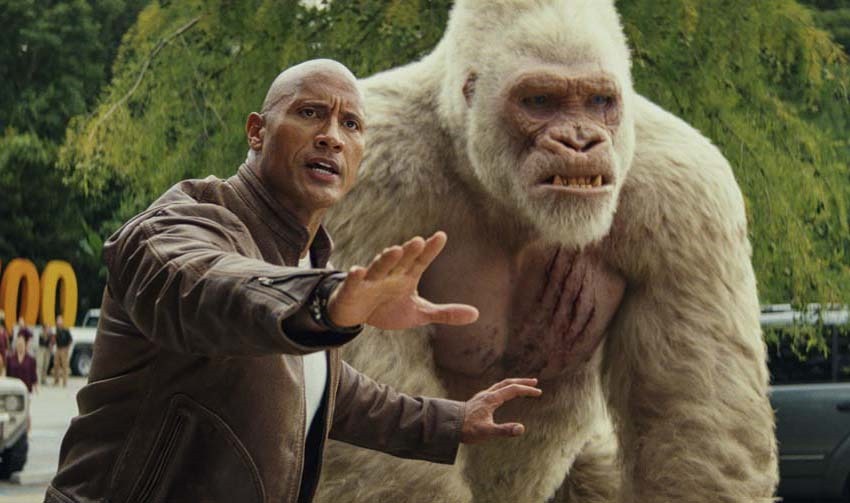 The headline above read very differently just 12 hours ago, as it looked set that A Quiet Place would once again rule at the US box office for a second week. While Dwayne "The Rock" Johnson fronted video game monster mash Rampage may have opened ahead on Friday, John Krasinski's breakout horror then continued to roar once more just as it had been doing since release and an easy win appeared to be on the cards. And then, out of nowhere, Rampage pulled a giant, genetically modified gorilla out of the hat at the last minute to end the weekend on $34.5 million, just under $2 million ahead of A Quiet Place.
Rampage's eleventh-hour victory is unfortunately not such a big one though as it still ended short of studio predictions in the $35-40 million domestic range. Internationally, it did bring in $114 million from 61 markets with China leading the way with $55 million though. Johnson has traditionally been a huge drawcard in the Asian market and proved it once again as Rampage gave Warner Bros. it's third largest opening ever in the Middle Kingdom.
However, even with that achievement, it still means that the $120 million production is still a very long way from breaking when advertising costs are factored in as well. And with just over a week of calm left before the box office storm that will be Avengers: Infinity War, Rampage is really going to have to go all out soon.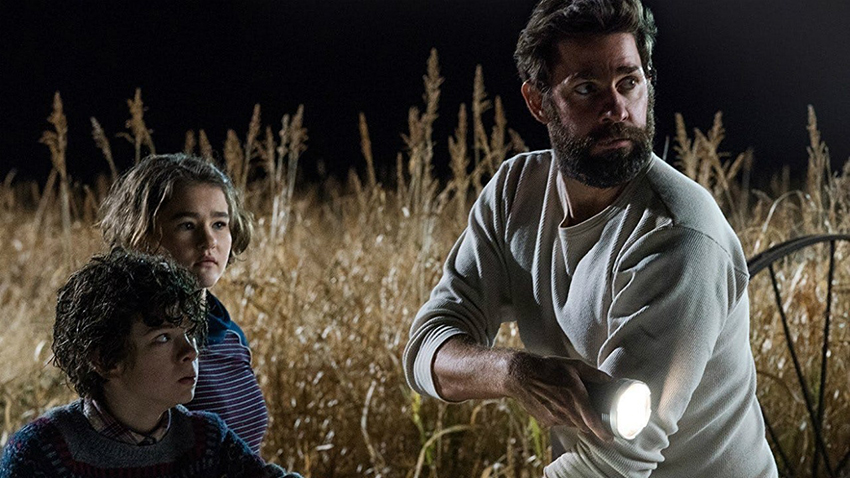 Breaking even is definitely not a problem that A Quiet Place is having though. It may have lost its no.1 spot, but the $32.6 million it earned this weekend past is enough to position the critically acclaimed horror just a fraction away from the $100 million mark domestically. It will probably cross that point today, just eleven days after release, which is still incredibly impressive. And A Quiet Place's achievements don't stop there as the film's global total of $151 million leaves it just $7 million shy of becoming Paramount Pictures' highest earner since Star Trek Beyond in 2016.
A Quiet Place wasn't the only impressive horror on the charts though. Coming in third place is Blumhouse's latest micro-budgeted horror/thriller Truth or Dare which posted a very strong $19 million debut, completely eclipsing its $3.5 million production budget. For director Jeff Wadlow, who at one point was set to direct both Fox's X-Force movie and a He-Man remake, this is the first feature film theatrical release since 2013's Kick-Ass 2, so he must be smiling even more than creepy people in his movie.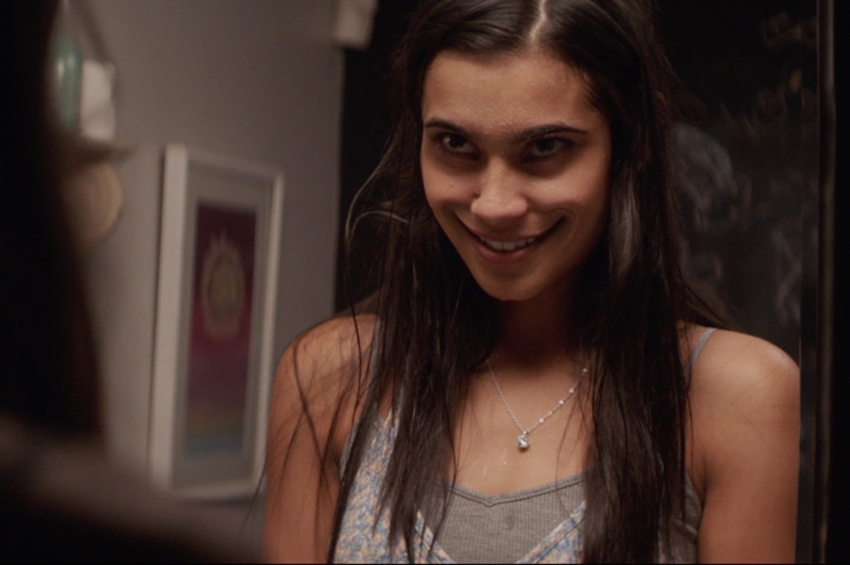 With the pair of new entries above it, Ready Player One drops down to fourth place with $11.2 million. With another $33.8 million coming from international markets, Steven Spielberg's latest is now sitting on a very good $474.8 million globally. That means its gone past Jaws ($470 million) and Indiana Jones and the Last Crusade ($474.1 million) to become the seventh biggest film in the acclaimed filmmaker's career, and it will definitely improve that position as it overtakes Saving Private Ryan ($481.8 million) in the next week or so.
Further down the charts, Wes Anderson's latest bit of quirky filmmaking, Isle of Dogs, continues its theatre expansion. With increased screens, the critically lauded film is the only film to better its position on the charts this week as it went from tenth to seventh with $5 million. On the opposite end of the spectrum, Tyler Perry's Acrimony was the biggest faller in the top ten as it dropped from fifth to ninth place, while Pacific Rim Uprising also plummeted right out from ninth to fourteenth.
Let's see what the rest of the US box office chart looks like:
| No. | Movie Name | Weekend gross | Percentage change | US Domestic gross | Worldwide gross | Last Week's Position |
| --- | --- | --- | --- | --- | --- | --- |
| 1 | Rampage | $34.5 million | NE | $34.5 million | $148.6 million | NE |
| 2 | A Quiet Place | $32.6 million | -35% | $99.6 million | $151.3 million | 1st |
| 3 | Truth or Dare | $19 million | NE | $19 million | $21.6 million | NE |
| 4 | Ready Player One | $11.2 million | -54% | $114.6 million | $474.8 million | 2nd |
| 5 | Blockers | $10.2 million | -49% | $36.9 million | $52.9 million | 3rd |
| 6 | Black Panther | $5.3 million | -38% | $673.7 million | $1.313 billion | 4th |
| 7 | Isle of Dogs | $5 million | +9% | $18.4 million | $27.1 million | 10th |
| 8 | I Can Only Imagine | $3.8 million | -50% | $74.9million | $74.9 million | 6th |
| 9 | Tyler Perry's Acrimony | $3.7 million | -55% | $37.8 million | $38.9 million | 5th |
| 10 | Chappaquiddick | $3 million | -47% | $11 million | $11 million | 7th |
NE = New Entry
Last Updated: April 23, 2018