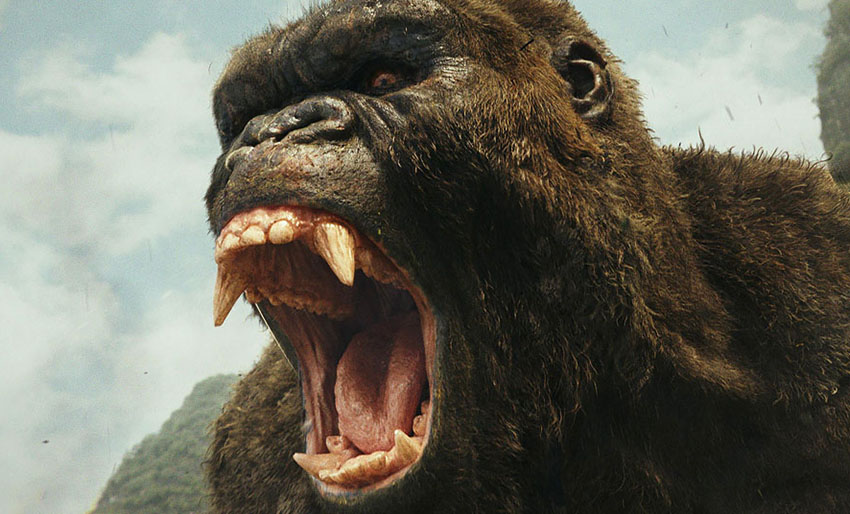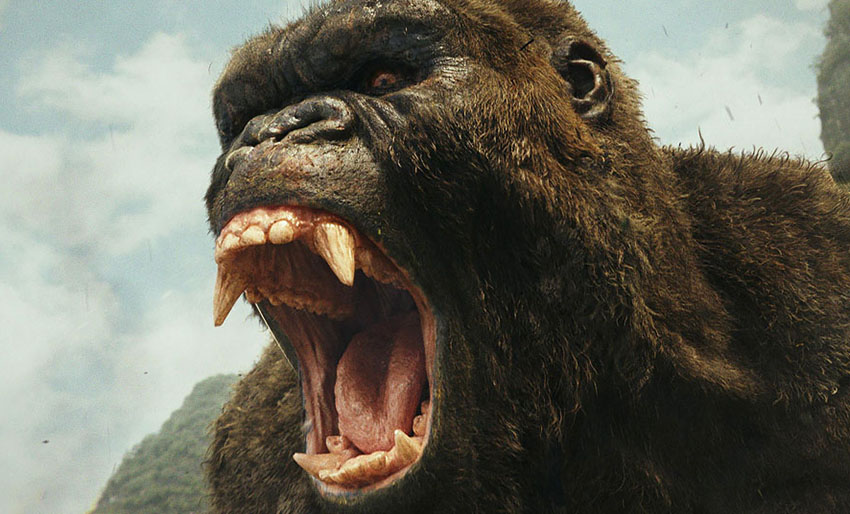 Legendary's new shared Monster-verse is all building towards the eventual titanic Godzilla vs King Kong in a couple of years time, but before the ape King of Skull Island gets to throw down with a 350-feet tall radioactive iguana with the worst halitosis in history, he first needs to get by a much, much smaller, but equally as potent opponent: The Wolverine!
Kong: Skull Island debuted this weekend past just a week after Logan, Jackman's swan song for playing the X-Man Wolverine, opened to record breaking results. With no other wide-release movie being dumb enough to get caught in the middle of this fight, Kong was the only one challenge to Logan's spot at the top of the box office charts, and it claimed that crown handedly. Logan had to settle for second place but it had a very good second week take of $37.85 million which allowed the film to cross the $150 million domestic mark in just 10 days. Meanwhile the Jordan Vogt-Roberts directed new reboot of Kong climbed to the top of the Empire State building the charts with a debut of $61 million which actually exceeded industry predictions by a whole $10 million.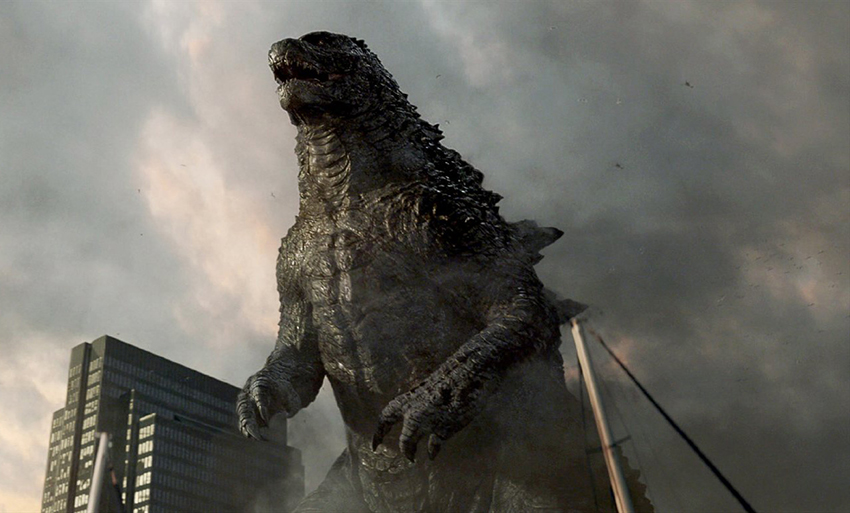 While this strong figure was enough to take Logan down a peg, it has to be noted it's still a fair bit off the pace of Gareth Edwards 2014 Godzilla reboot that kicked off this new shared movie universe. That movie opened to a monstrous $93.1 million in the US alone, and went on to make more than half a billion dollars worldwide. With a production price tag of $160 million, it was also $25 million cheaper than Kong: Skull Island, which means the latter movie will need to do some serious legwork to catch up to its predecessor. It's already started that by adding another $86.1 million from international markets, which actually outpaces Godzilla's efforts from 2014. However with Beauty and the Beast hitting cinemas this week, CHiPS and Power Rangers the week thereafter and finally Ghost In the Shell at the end of the month, Kong is going to have his work cut out for him.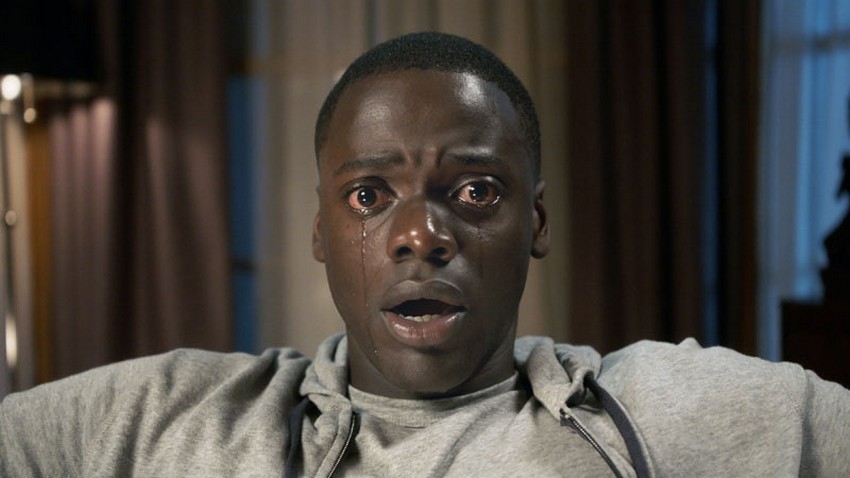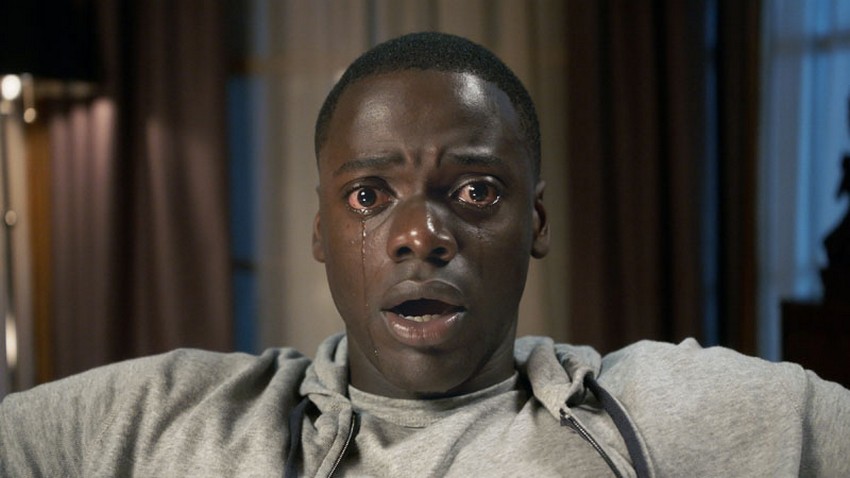 Like I mentioned before, there were no other wide releases on the charts this week, but it has to be mentioned that Jordan Peele's critically acclaimed horror-comedy directing debut Get Out continues to rack up box office income as it eschews genre conventions with very small drops in revenue from week to week. With this accolade, the film crossed the $100 million mark this weekend past, the fastest that any Blumhouse production has ever done so. It did it in just 16 days, beating out previous Blumhouse films to cross that mark: Split (19 days), Paranormal Activity 3 (23 days) and Paranormal Activity (50 days). Like all other productions in the Blumhouse stable, Get Out features a tiny budget – in this case, only $4.5 million – which gives Peele one of the most successful feature film debuts of a director in a long time.
Let's see what the rest of the US box office chart looks like:
No.
Movie Name
Weekend gross
Percentage change
Domestic gross
Worldwide gross
Last Week's Position
1
Kong: Skull Island
$61 million
NA
$142.61 million
NE
2
Logan
$37.85 million
-57.2%
 $152.65 million
 $438.28 million
 1st
3
Get Out
$21.07 million
-25.4%
 $111.05 million
NA
 2nd
4
The Shack
$10.05 million
-37.9%
 $32.26 million
$32.41 million
 3rd
5
The Lego Batman Movie
$7.82 million
-33.2%
$159.02 million
$275.52 million
 4th
6
Before I Fall
$3.1 million
-33.7%
 $9.03 million
NA
 6th
7
Hidden Figures
$2.76 million
-27.7%
$162.86 million
$206.05 million
7th
8
John Wick: Chapter Two
$2.7 million
-43.8%
 $87.42 million
$153.02 million
 5th
9
La La Land
$1.77 million
-40.7%
$148.44 million
$416.84 million
 10th
10
Fifty Shades Darker
$1.62 million
-54.2%
 $112.92 million
 $368.82 million
9th
(NA = Not Applicable, NE = New Entry)
Last Updated: March 19, 2017