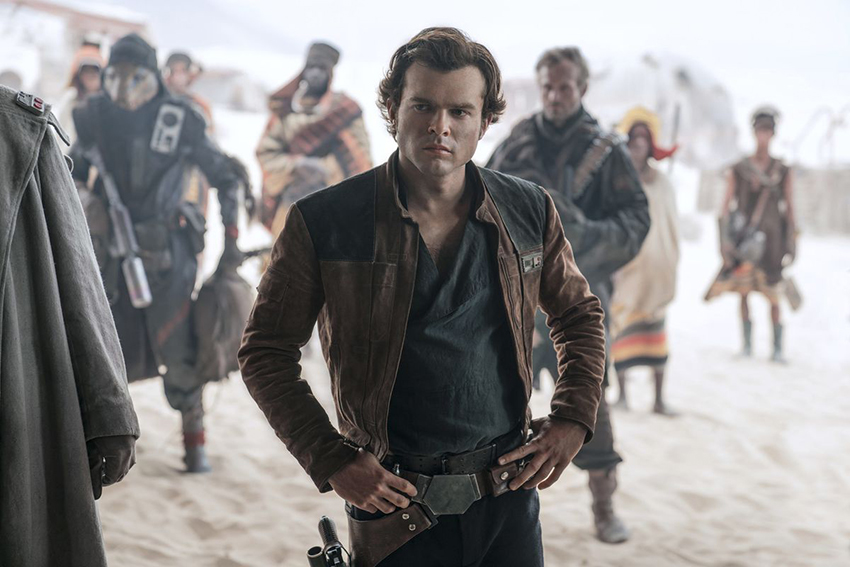 Blame it on holdover competition from both Deadpool 2 and Avengers: Infinity War, blame it on so-called audience fatigue as a result of releasing a new entry in the franchise just five months after The Last Jedi, blame it on mixed reviews, or blame it on the fact that nobody asked for this. Wherever you want to lay the blame, the history books will still show that this weekend past Solo: A Star Wars Story became the lowest-opening Star Wars movie in modern history.
Disney's prequel which tells the backstory of beloved character Han Solo (with not exactly A-list Alden Ehrenreich stepping into Harrison Ford's shoes) still kicked Deadpool 2 off the top spot after just one week but said kick was remarkably weaker than expected. With today marking the Memorial Day public holiday in the US, Disney was initially hoping for a four-day total in the region of $150 million, but instead its now unsure if it will even make $100 million. As things stand, Solo's standard three-day weekend domestic haul is sitting at $83.3 million, which is barely a touch over half of what Rogue One – the only other standalone Star Wars movie and previously the lowest opener for the franchise – earned back in 2016.
Internationally, things looked really dire – something you could easily see in practice locally with many prime-time shows over the weekend only half full – as Solo brought in a rather meagre $65 million, despite the fact that it opened in all major markets besides Japan. With $10 million each, the UK and China were the only two markets to even make it into eight figures. In comparison, Rogue One made just shy of $135 million for its international debut.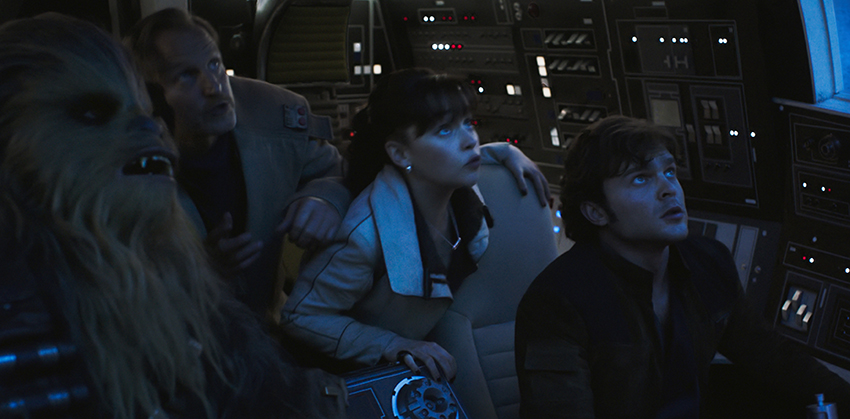 If you've seen the movie, you know that Solo sets itself up for further films, and Ehrenreich has already revealed that he's been contracted to play young Han Solo at least a few more times. However, with Solo's global total now only at half of its reported $300 million production cost before advertising (thank all those pricey reshoots for that eye-watering price tag) it leaves the future of young Han Solo movies in a bit of a troubled spot. The one big spark of hope though is that there are no big new blockbusters opening between now and 22 June when Jurassic World: Fallen Kingdom stomps into theatres. That's basically four weeks in which Solo can turn its fortunes around, although it still needs to compete with the likes of Deadpool 2 and Infinity War which continue to make money.
In the case of the former though, it's making a little less money than expected as well as the R-rated comic book action comedy dropped a sizeable 66% in its second weekend to add another $42.7 million. Internationally, Deadpool 2 had a better holdover and was actually nipping at Solo's heels with $57 million. Meanwhile, Infinity War earned $17 million in its fifth weekend on the charts. If predictions for its Memorial Day earnings holds true, it would see the Marvel mega-blockbuster's domestic total climb past $627 million and jump up two spots to become the sixth biggest film in US domestic history, just ahead of 2012's The Avengers ($623 million).
Outside of the top 3, there really wasn't much happening as nearly every film just dropped a single spot from last weekend due to Solo's arrival at the top. It's only at the very tail end that there was any type of action as Rampage dropped out of the top 10 as Ruth Bader Ginsburg documentary RBG upped its theatre count to climb up two places to 10th.
Let's see what the rest of the US box office chart looks like:
| No. | Movie Name | Weekend gross | Percentage change | US Domestic gross | Worldwide gross | Last Week's Position |
| --- | --- | --- | --- | --- | --- | --- |
| 1 | Solo: A Star Wars Story | $83.2 million | NE | $83.2 million | $148.3 million | NE |
| 2 | Deadpool 2 | $42.7 million | -66% | $207.4 million | $487.1 million | 1st |
| 3 | Avengers: Infinity War | $16.4 million | -44% | $621.6 million | $1.904 billion | 2nd |
| 4 | Book Club | $9.4 million | -30% | $31.8 million | $31.8 million | 3rd |
| 5 | Life of the Party | $5.1 million | -32% | $39.1 million | $45 million | 4th |
| 6 | Breaking In | $4 million | -40% | $35.6 million | $37.6 million | 5th |
| 7 | Show Dogs | $3 million | -48% | $10.6 million | $11.8 million | 6th |
| 8 | Overboard | $3 million | -35% | $41.4 million | $53.5 million | 7th |
| 9 | A Quiet Place | $2.2 million | -43% | $179.9 million | $311.6 million | 8th |
| 10 | RBG | $1.1 million | -10% | $5.6 million | $5.6 million | 12th |
NE = New Entry
Last Updated: May 28, 2018