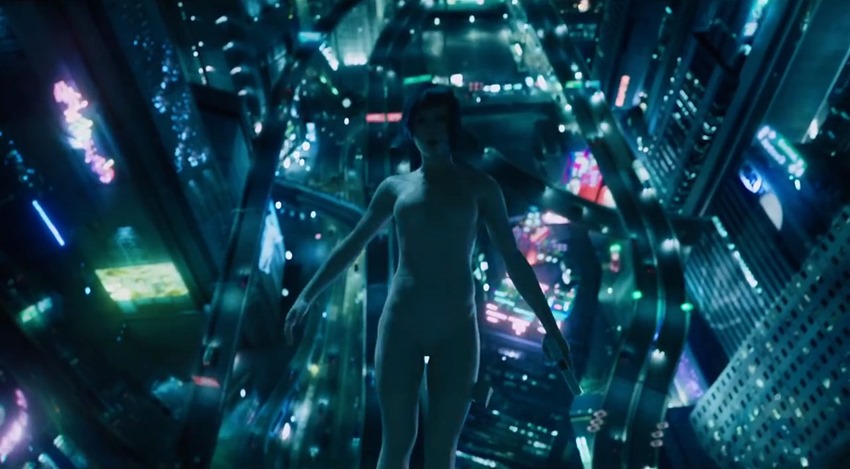 If there's any one scene that still sits with me decades after watching the original Ghost In The Shell anime film, it's that moment where the Major strips down to a second skin and turns the invisibility up to 11. It's a breath-taking image, made possible by unbelievable talent in the fields of animation and some actual science, resulting in a scene that was years ahead of its time.
So how do you translate that to the real world, or at least the reality present in a Hollywood adaptation? With silicone. Lots and lots of silicone apparently. Tested's Danica and Adam Savage got a first-hand look at the suit that special effects giant WETA put together, which revealed some of the finer details that actress Scarlet Johansson slipped into.
"As far as we're aware, no one has done a full hero suit out of silicone like this," Costume artist Flo Foxworthy said to Tested.
Silicone just has an amazing texture and finish and stretch that you just don't get from foam latex or from any fabric. It's really  otherworldly and quite technologically advanced in appearance and we could get these incredible details right into the costume. We'd never have been able to do this with any other material.
And I can testify to that. The Freddy Krueger costume that I made good use of last year at rAge featured a silicone mask to transform my face, a material which when cast correctly will form to just about anything. It's a material which feels very similar to actual skin, and can be tailored to be a replica of hideous burns or smooth technology of tomorrow. And that makes it far better than stiffer alternatives such as foam latex or urethane rubber.
It's also flexible, durable and it'll hug the body. I can only imagine the effort needed to get Johansson and her stunt doubles into costume. The rest of the video above details the process some more, and it is fascinating stuff. Which is going to make me appreciate the visual side of Ghost In The Shell that little bit more when it arrives later this month.
Last Updated: March 13, 2017