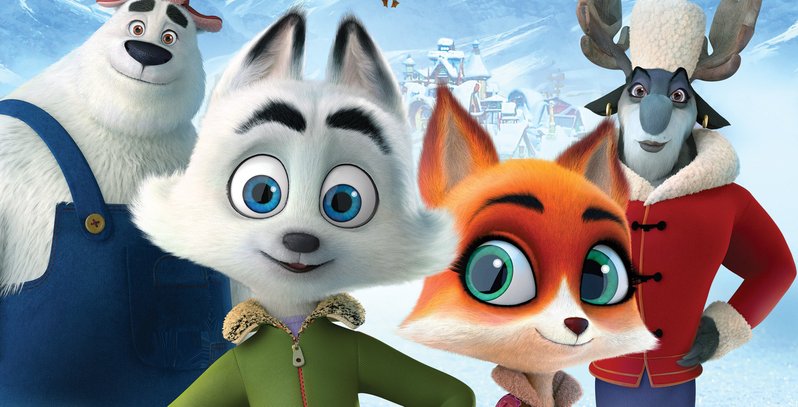 Animated films may be expensive to make, but they can often be a safe bet for many studios with their broad appeal and the ability of kids to drag their parents to the cinema. Throw in a little star appeal and you could easily have a recipe for success. Not all animated movies turn out good though and in the case of this new movie Arctic Dogs, it seems like this is one of those films that should be avoided at all costs if you value your sanity.
Arctic Dogs revolves around one little pup named Swifty (voiced by Jeremy Renner) who dreams of becoming one of the Arctic's star husky couriers and leaving his dull mailroom job behind. When he tries to prove that he's worthy of becoming a Top Dog, Swifty ends up getting entangled in a plot to take over the world, perpetrated by the mechanical-legged Doc Walrus (John Cleese) and his army of puffin henchmen. Yes, the plot sounds cheesy, but not as cheesy as it looks in action:
Given that this new film is directed by Aaron Woodley (Spark: A Space Tail) and based on a script he co-wrote with The Nut Job 2: Nutty By Nature duo Cal Brunker and Bob Barlen, it shouldn't surprise that Arctic Dogs could be underwhelming being that all of those previously mentioned animated movies were produced by Open Roads Film, a studio that went bankrupt thanks in part to the poor returns on their animated efforts. Despite this movie initially been produced by that now-defunct studio, it has found a way to the film market anyway. Which is probably bad news for all of those who will have kids that will want to see this.
For Renner, it marks an interesting year which has not only seen him star in the biggest movie of all time, Avengers: Endgame, but also launch a music career which can be witnessed by his singing of a sing in the background of this trailer. If you're trying to launch a music career, this is probably not the kind of movie that you want to do it with. Let's hope for his sake it turns out better than trailer looks when it releases on 1 November in the US. No local release date for this movie has been confirmed so we may yet get to avoid this turkey.
Last Updated: September 27, 2019