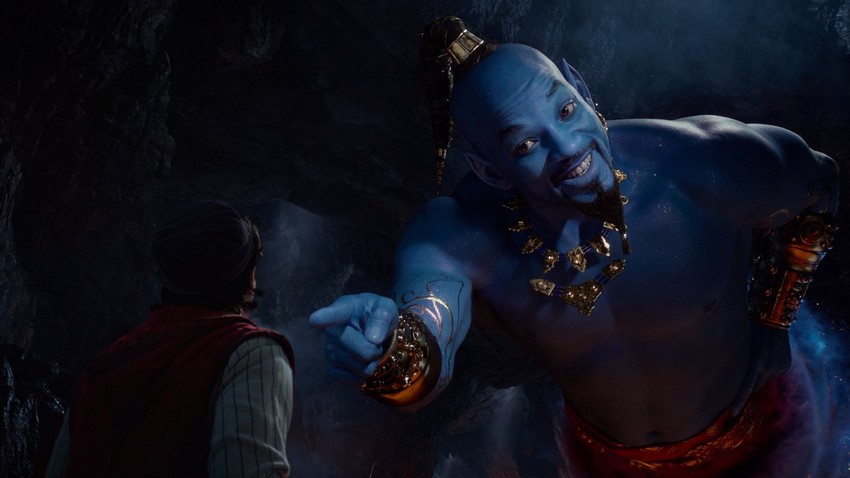 They say a picture is worth a thousand words. And when it comes to Aladdin, most of those words are rather mean ones. That was the situation when Disney unveiled the first look at director Guy Ritchie's upcoming live-action adaptation of beloved animated classic Aladdin and fans were the ones feeling blue at what they saw as Will Smith's Genie was revealed to look all too normal. Well, normal for a human with really dumb hair.
Of course Smith was quick to point out that what was revealed was just a momentary scene in which the Genie is disguising himself as human. According to the actor, the full movie would see him in the cerulean guise fans first fell in love with when the late great Robin Williams first realized the role of the motor-mouthed wish-granter back in 1992. Well, we still have quite a way to go before we get to that full movie, but what we do have now is a brand new trailer which debuted at the Grammys last night and which shows off the Genie in all his blue glory!
Aladdin is the exciting tale of the charming street rat Aladdin, the courageous and self-determined Princess Jasmine and the Genie who may be the key to their future. Directed by Guy Ritchie, who brings his singular flair for fast-paced, visceral action to the fictitious port city of Agrabah, the film is written by John August and Ritchie based on Disney's Aladdin.
Holy crap, that is the stuff nightmares! I wish for it get out of my brain! I'm now actually hoping that Will Smurf (as Trevor has affectionately dubbed him) stays in his human form instead for most of the movie. And even if you're not freaked out as much as I am by that seriously dodgy CGI giving you a case of intense uncanny valley horror, there's just no way that you can't unsee this:
Also, is it just me or does Marwan Kenzari's Jafar just not sound anywhere remotely near villain-y enough has he orders Mena Massoud's Aladdin to get the lamp? I want my Disney villains twirling the mustaches and cackling, not sound like the soothing voice on a self-help DVD ("…your life begins now…").
Aladdin also stars Naomi Scott, Navid Negahban, Nasim Pedrad, Billy Magnussen, and Numan Acar. It is scheduled for release 24 May 2019.
Last Updated: February 11, 2019