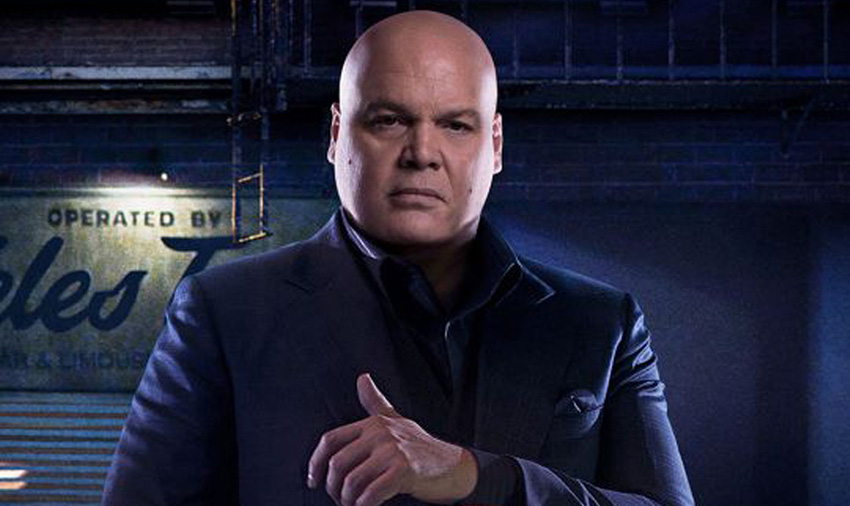 As has been stated countless times by now already, Marvel has a villain problem. This is more of a Marvel movies problem though as their efforts on the small screen have already coughed up some top-notch baddies. And with his combination of emotional depth and ferocious intensity, arguably standing at the top of this list is Vincent D'Onofrio's appropriately monikered Kingpin… and he's coming back!
Marvel officially made the announcement last night that Donofrio's Kingpin aka Wilson Fisk would be returning for the upcoming third season of their hit Netflix show Daredevil. Accompanying D'Onofrio will be new showrunner Erik Oleson who replaces season two's Doug Petrie and Marco Ramirez (who in turn took over from Steven S. DeKnight at the end of the first season). Olefson was the showrunner on Amazon's fantastic alternate history series The Man in the Iron Castle and also a producer/writer on Arrow.
Marvel TV head Jeph Loeb issued a statement on the appointment of Olefson and D'Onofrio's return.
Vincent is an exceptional actor who returns with the incredible gravitas he brings to Fisk. We're very excited how Marvel's Daredevil develops through the creative lens and guidance of our new showrunner, Erik Oleson.
He rises. pic.twitter.com/EDVatgapyN

— Daredevil (@Daredevil) October 25, 2017
The last we saw of Kingpin was in season two, where his imprisonment at the hands of Daredevil meant he took a step back from the limelight. Not that this blunted his ambition one bit as Kingpin subsequently took over Riker's Island prison from the inside. From within there he orchestrated many crimes, including allowing The Punisher to escape. It was after this that he was visited by Daredevil in his civilian guise as lawyer Matt Murdock and the two got into a tussle. This fight seemingly sparked Kingpin's suspicion that Murdock and Daredevil may be one and the same.
That will seemingly be a revelation that Murdock will have difficulty in shaking as the events at the end of The Defenders [SPOILER ALERT!!!] had everybody assuming that he had died, buried under a collapsed building (don't worry, he got better because comics). With both Daredevil and Murdock missing at the same time, Kingpin's suspicions are sure to be raised.
We don't know much about Daredevil season 3 right now, with Marvel not even having revealed a release date yet. Based on the closing scenes of The Defenders, it is believed that it will be drawing some inspiration from Frank Miller's classic "Born Again" storyline. There have also been hints that we may finally be getting to see iconic villain Bullseye making an appearance.
Last Updated: October 27, 2017