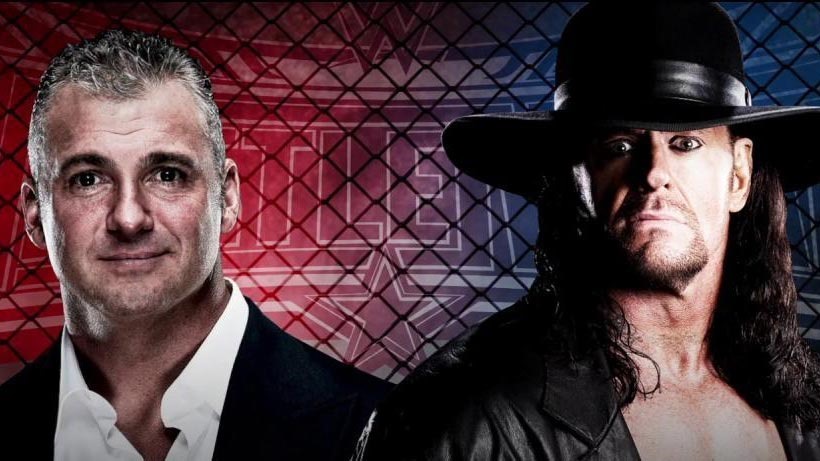 There're two kinds of streaks in this world: One is the kind of streak that you dread seeing on your underwear, and the other is the streak that belongs to The Undertaker. The Undertaker's legendary winning streak was finally broken at Wrestlemania 30, when the dead man went down at the fists of the walking extinction event known as Brock Lesnar.
Since then, the Undertaker has bounced back, trouncing Bray Wyatt at Wrestlemania 31 for a win and disappearing until the next big showcase of the immortals. The Undertaker is going to have his mitts full at Wrestlemania 32 however, as his next match won't just be a Hell in a Cell bout. It'll be a fight inside a steel cage with none other than Shane O Mac.
The prodigal son returned to the WWE on the last episode of Monday Night RAW, back for his share of the WWE empire that is owed to him. The only catch, according to Vince McMahon, is that Shane McMahon will have to lock horns with the Undertaker in the most hellacious of matches. He doesn't have to win, but it's pretty much this:
Also confirmed for the Wrestlemania 32 card: Roman Reigns taking on WWE Champion Triple H (Thanks Fastlane!), with the belt on the line and Brock Lesnar taking the feud with Dean Ambrose outside of the ring in a no-holds barred street fight. That's already looking like a fantastic line-up so far, as Shane O Mac's various WWE matches are some of the best in the history of pay per views.
Check out his fight with Kurt Angle during the 2001 King of the Ring tournament, a match that had Angle suplexing the younger McMahon through the most stubborn pane of glass alive.
That glass was just two weeks away from retirement, dammit. Wrestlemania kicks off on April 3. Once again, the match card thus far:
WWE Championship Match
Triple H vs. Roman Reigns
Hell in a Cell for Control of WWE
Shane McMahon vs. The Undertaker
No Holds Barred Street Fight
Brock Lesnar vs. Dean Ambrose
That BUUUUUUUURRRRROOOOOOOOOOOOOCCCCCCKKKKKKKKKKKK LEEEEEEEEEEEEEEEEEESNAAAAAARRRRRRR and Dean Ambrose match is already high on my radar, and one that I'm pegging to be main event quality.
Last Updated: February 23, 2016