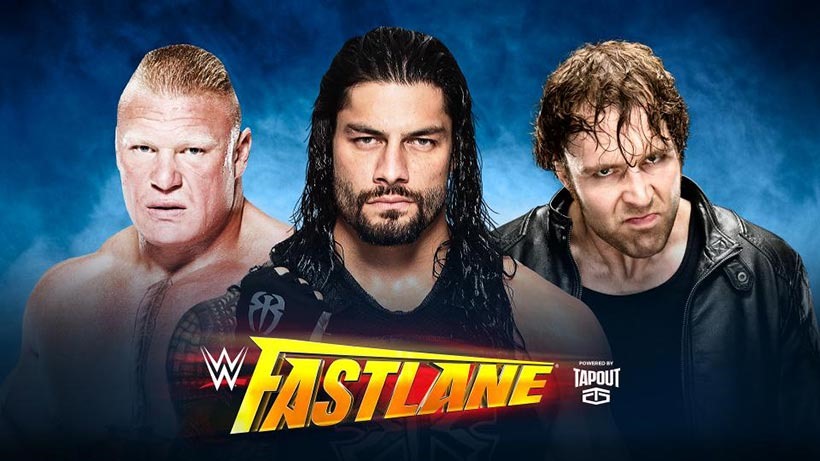 It's no longer just about the road to Wrestlemania. It's about the race to Wrestlemania! We're only a handful of weeks away from the WWE's annual showcase of the immortals, the grandest stage upon which superstars hurl themselves at one another in the one night of the year where legends are born and streaks are broken.
But there's still plenty of time between then, and now. To get to Wrestlemania, you're going to need to survive the life in the Fastlane. Here's the full match line-up for this Sunday's WWE event:
Dean Ambrose vs. Roman Reigns vs. Brock Lesnar – Triple Threat Match for the WWE World Heavyweight championship
Do you still believe in the Shield? It's two former members of one of the most dominant stables of recent years, going head to head to head with the beast incarnate on a one-way ride to Suplex City.
AJ Styles vs. Chris Jericho
The legendary Y2J himself, taking on the TNA veteran and WWE newcomer AJ Styles in a match of charisma, skill and experience.
Ryback, Big Show and Kane vs. The Wyatt Family
The biggest triple-threat tag team of all time. The giant, the big red machine and the ravenous Ryback united together with one goal mind: To take out the Wyatt family once and for all.
Kalisto vs. Alberto Del Rio – 2-out-of-3 Falls Match for the United States Championship
VIVA LA RAZA! Luchadore action collides with the dreaded master of the arm-bar, as Kalisto faces Alberto Del Rio in best two out of three pinfalls to see who the true US champion really is.
The New Day to appear on 'The Cutting Edge Peep Show'
I'm pretty sure that nothing will go wrong here and that the New Day will have a rather civil discussion with Edge and Christian on a hybrid talk show at Fastlane.
Becky Lynch and Sasha Banks vs. Naomi and Tamina
Diva tag-team action at its finest, if Bekcy Lynch and Sasha Banks can see eye to eye long enough.
Divas Champion Charlotte vs. Brie Bella
When you're down a twin, all bets are off as Brie Bella looks for some swift justice against Charlotte, who just so happens to have the dirtiest player in the game in her corner.
Intercontinental Champion Kevin Owens vs. Dolph Ziggler
The KO meets the show-off, as newly-crowned Intercontinental champion Kevin Owens risks his belt in a match against former IC champ Dolph Ziggler who already holds several victories over him.
WWE Fastlane kicks off this Sunday at a time that is too damn early when you realise how much of a timezone gap there is between the US of A and the RS of A.
Last Updated: February 19, 2016