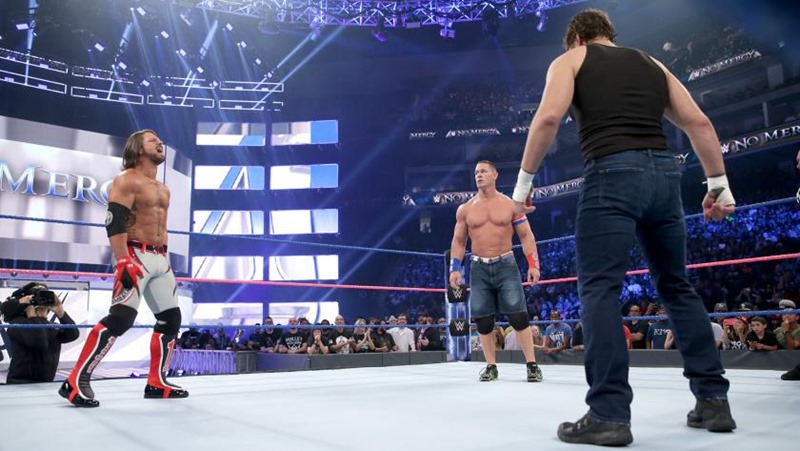 WWE No Mercy took place at the Golden 1 Center in Sacramento, California. Here's all the action that went down as championship gold was up for grabs.
AJ Styles defeated John Cena and Dean Ambrose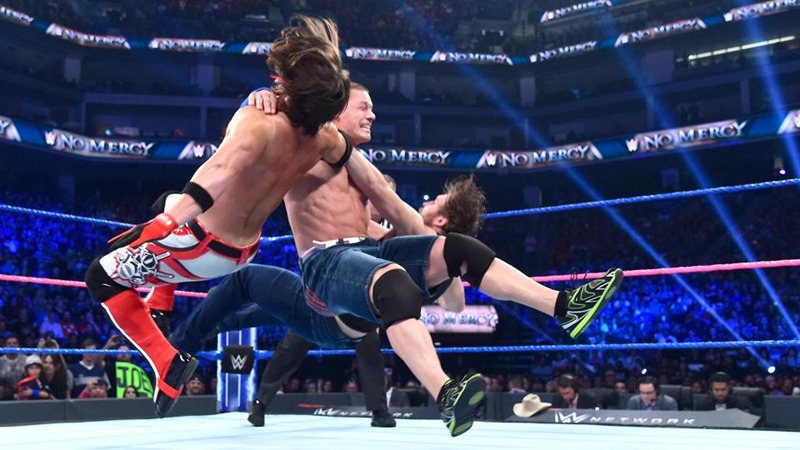 Wasting no time at all, AJ Styles took the fight to John Cena early on in this No Mercy title match, landing a phenomenal forearm on the Cenation leader but falling prey to a combined German Suplex effort from both of his rivals. Cena would go for broke with an Attitude Adjustment on Styles, but the phenomenal one escaped with a Pele kick as his battle with Cena raged on.
Meanwhile, Ambrose launched an offensive of his own, with brainbusters and a springboard 450 splash off the top rope that was poetry in motion. After a ton more abuse between all three brawlers, Cena went for an AA on Styles, who escaped yet again and locked Cena into a Calf Crusher. Ambrose broke up the submission, placed Styles in it himself and then the phenomenal one also found himself in the clutches of Cena's STFU.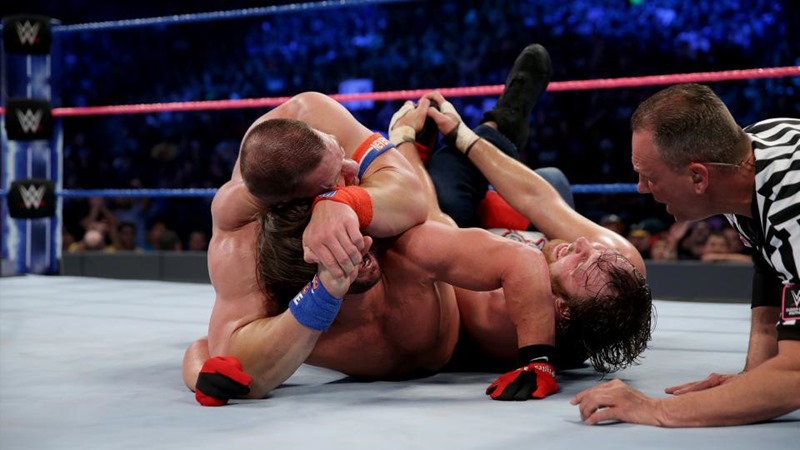 Two submission moves at the same time were too much for Styles, as he tapped and a confused ref decided that the match needed to continue. Managing to reverse Cena's AA into Dirty Deeds, victory looked like it would belong to Ambrose but Styles pulled the ref out of the ring and came back swinging with a steel chair on Cena after Ambrose had fallen victim to an AA.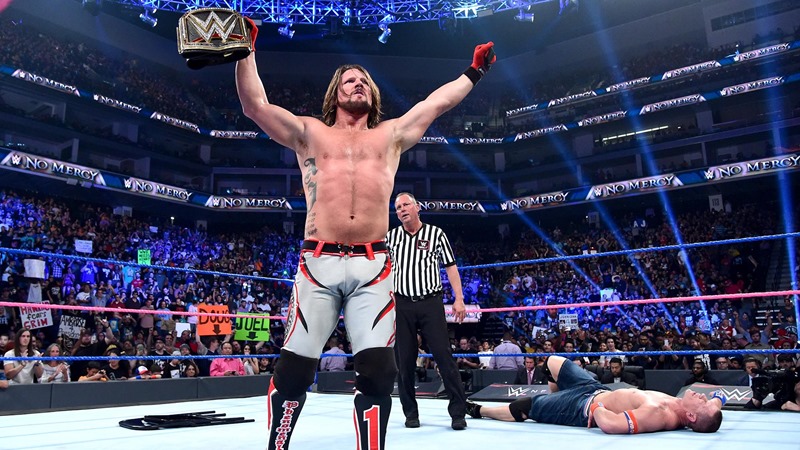 With Cena clobbered into a short coma, AJ Styles finally ended the No Mercy match with a win.
Nikki Bella defeated Carmella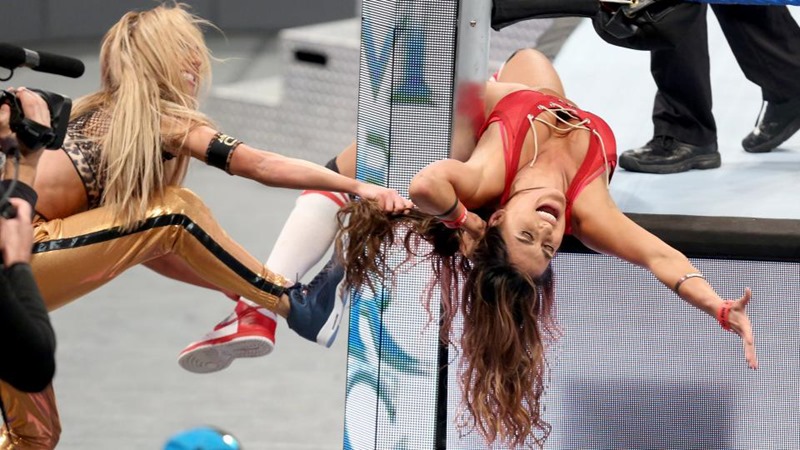 The next No Mercy match saw Carmella quickly shifting the match outside of the rin, and continuing it with a Bronco Buster back inside. Nikki would rebound with a spear and a springboard roundhouse kick that earned her a near-fall, as Carmella fought back with a Code of Silence lock. Nikki would work her way out of the lock, hitting a clothesline and falling prey to the Code of Silence again, but Nikki managed to reach the ropes and used a combo of a Fireman's Carry and a neckbreaker for the win.
Heath Slater and Rhyno defeated The Usos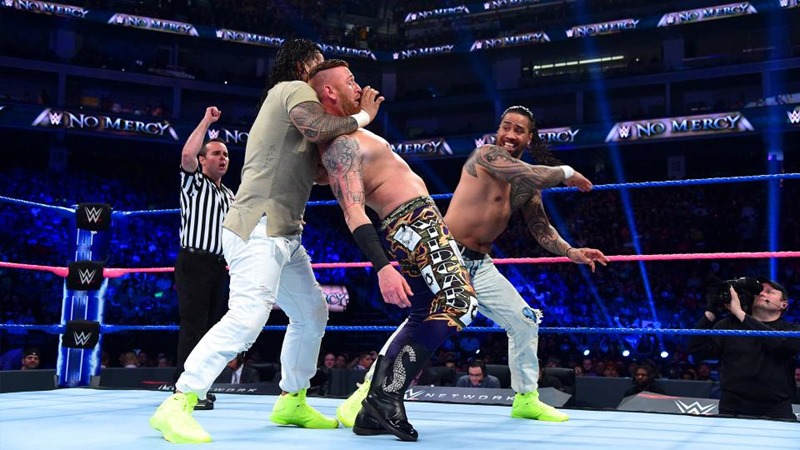 With tag team gold up for grabs, the Usos were hungry for a win, but they found themselves facing some stiff chest chops from Rhyno and a double clothesline on Jimmy from the competition. The Usos would gain some momentum in this bout, but they'd be leaving No Mercy empty-handed as Rhyno worked his way into a hot tag that saw him land the Gore on Jey Uso for the win.
Baron Corbin defeated Jack Swagger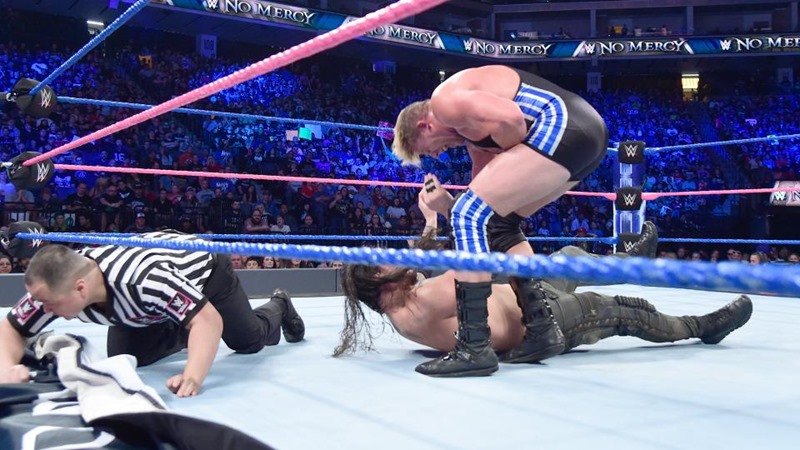 Say what you like about thesse two, but the opening minutes of their rivalry was a collision of some solid back and forth action between the two. Swagger would take the momentum eventually, using a back suplex and a splash to earn a near-fall. Going for the Ankle Lock, Corbin evaded it and snuck in a side-slam for a two-count. Eventually catching Corbin in the Ankle Lock, Corbin resulted to a quick poke in the eyes and an End of Day finisher to help escape No Mercy as the winner.
Dolph Ziggler defeated The Miz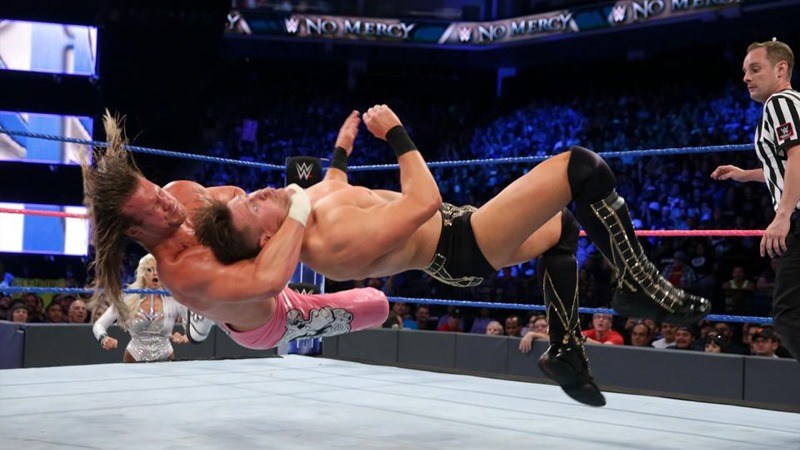 With his career on the line, Dolph Ziggler took the fight to The Miz from the beginning. Brawling inside and outside of the ring, The Miz used physical and psychological warfare in an attempt to retain his Intercontinental Championship, throwing dropkicks and and powerbombs at his competition. But Ziggler wasn;t backing down, as he responded to every attack from The Miz with equal and perhaps greater force, countering with Splashes a dropkick of his own.
Looking to end Ziggler with his usual dirty tricks, The Miz kept him in a FIgure Four lock for as long as possible even though Ziggler had reached ropes. Thanks to a distraction from Maryse, The Miz exposed the turnbuckle and slammed Ziggler into it, following that up with a Sit-Down Powerbomb. Ziggler wasn't ready to quit just yet however, as he fought back and got rid of another ringside distraction in the form of former Spirit Squad teammates Kenny and Mikey, using Superkicks to knock them off the apron.
Sensing blood, The Miz landed the Skull-Crushing Finale, but only got another two-count in the process. Having had enough, the ref ejected Maryse, Kenny and Mikey from the ring, giving Ziggler the window of time he needed to hit The Miz with a superkick and earn some gold as he left No Mercy as the new Intercontinental champion.
Naomi defeated Alexa Bliss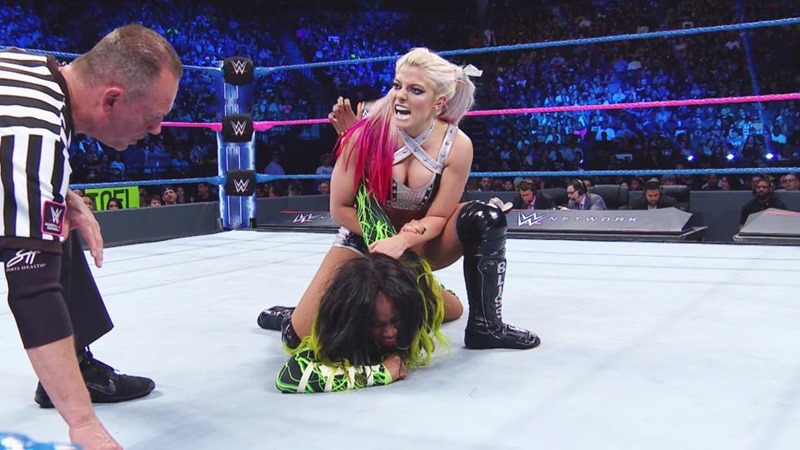 With Becky Lynch out of action for the night, it was Naomi who stepped into the No Mercy ring to challenge Alexa Bliss. Bliss had control in the opening moments of the match, but Naomi came back with kicks and a split-legged moonsault that was simply incredible to see in action. Alexa tried to stage a comeback with a forearm and an Armbreaker, But Naomi turned the submission move into a pin that won her the match.
Bray Wyatt defeated Randy Orton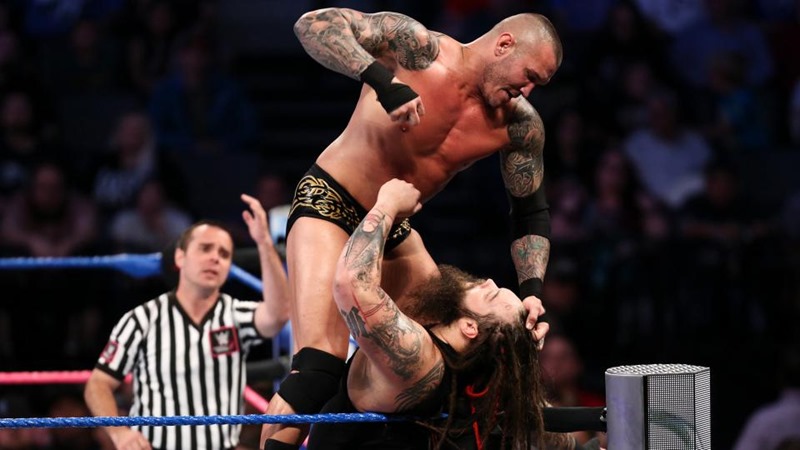 Attempting to get an RKO outta nowhere in on Bray Wyatt, Randy Orton quickly found the eater of worlds was more than ready for him at No Mercy. More a brawl than a wrasslin' match, Orton and Wyatt took turns clobbering each other as this bout went on, with a Senton Bomb from Wyatt earning only a two-count. Adding some more pain to that package to keep Orton down, Wyatt and the Viper would counter the finishers of each other and leave the ring for more brawling yet again.
Attempting a Senton Splash on the ring steps, Orton countered and crashed Wyatt into them instead, with a backdrop into the fan barricade for good measure. Back in the ring, Orton performed his signature middle-rope DDT, but then the lights went out. After a few tense moments, power was restored, but Orton found himself face to face with none other than Luke Harper. Appearing from behind, Wyatt caught Orton in the Sister Abigail, earning a No Mercy win as he once again embraced Harper back into his family.
Last Updated: October 10, 2016