WWE Monday Night RAW took place this week from Philips Arena in Atlanta, Georgia. Here's all the action that went down as Wrestlemania drew ever closer.
Triple H and Stephanie McMahon attacked Kurt Angle and Ronda Rousey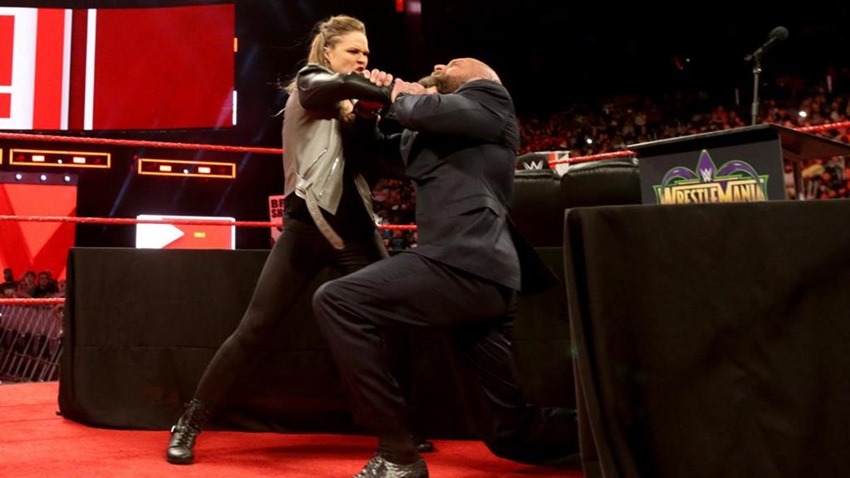 Twas the week before Wrestlemania, and all through the house of RAW, plenty of creatures were stirring and looking to make a statement. Standing once again in the ring, Kurt Angle, Triple H, Stephanie McMahon and Ronda Rousey's war of words quickly escalated beyond trash talking and towards the realm of the physical as the Game clobbered Angle in the back of the head with his microphone.
Striking Rousey while her back was turned, Stephanie delivered a slam through the interview table, reminding the UFC champion that she'll be entering a different fight this Sunday than the Octagon ring she happens to be so used to.
Bayley def. Sonya Deville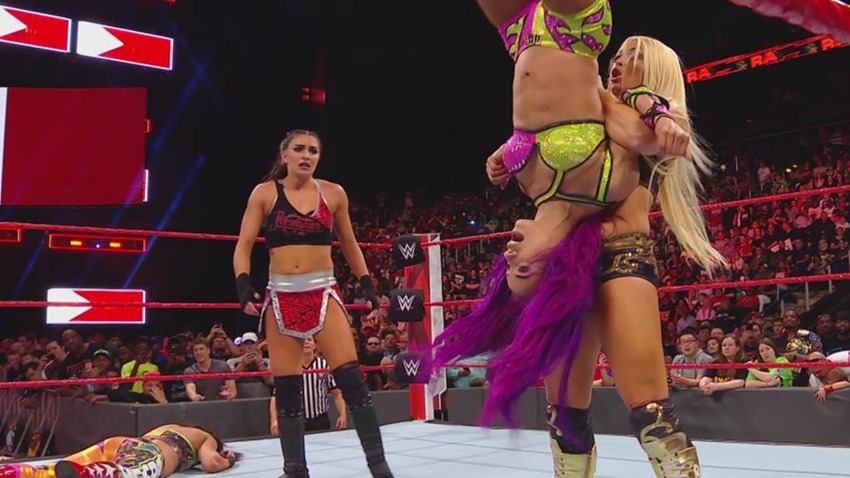 Seth Rollins def. Finn Bálor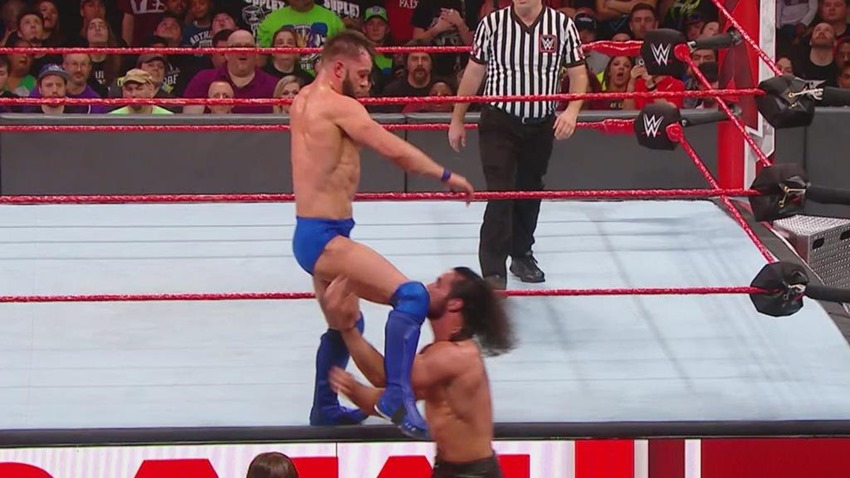 With his Wrestlemania opponents Seth Rollins and Finn Balor clashing in a battle for the ages ahead of their showdown at Wrestlemania, Intercontinental champion The Miz made a wise move to keep an eye on the men who would soon challenge him for his Intercontinental Championship. Rollins and Balor put on a hell of a show, but it was the Kingslayer who came out on top after a series of roll-up pins, giving Balor the curb stomp to score the one two three.
"Brains" Strowman confronted Raw Tag Team Champions Cesaro and Sheamus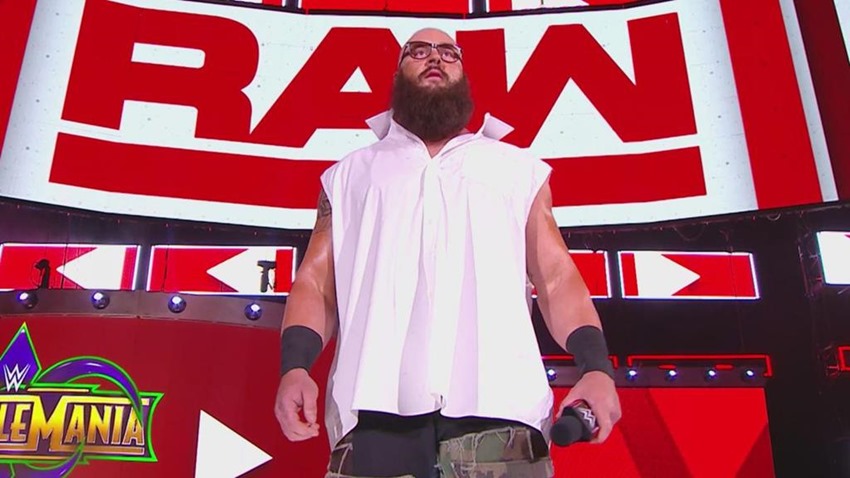 Just who will be Braun Strowman's partner when he faces both Cesaro and Sheamus at Wrestlemania for their tag team gold? Or better yet, does the gift of destruction even need a partner? This week, Strowman finally did reveal his partner for the upcoming bout, his very own brother Brains Strowman who happens to be the spiting image of the monster amongst men.
Undaunted, the Bar attempted to damage Brains before their showdown, but the intellectual giant sent his opponents packing for the night.
"Woken" Matt Hardy def. Goldust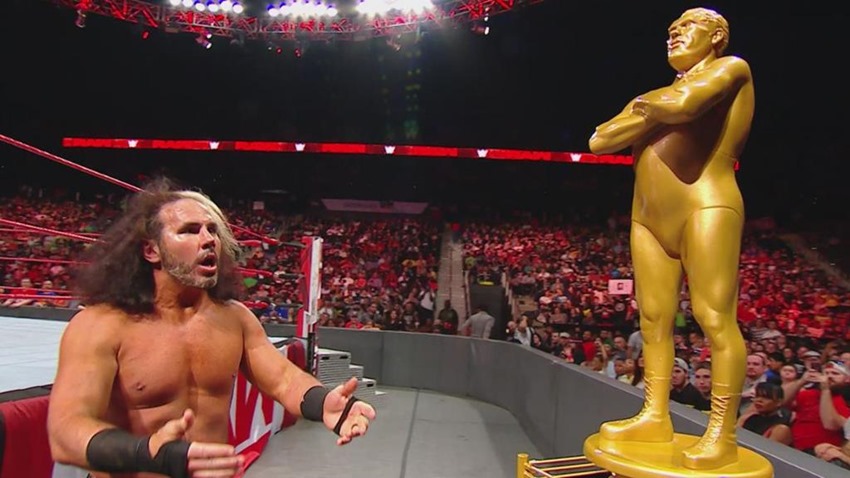 Watch out WWE locker room, because Woken Matt Hardy is deadset on "PROCURING" the title of winner for the Wrestlemania Andre the Giant Memorial Battle Royal. Overcoming the Bizarre one known as Goldust, Hardy then proceeded to have a conversation with Humongous Wonder No. 8, promising a decisive victory and deletion of anyone who stands in his way of the prize.
John Cena tried to summon The Undertaker one last time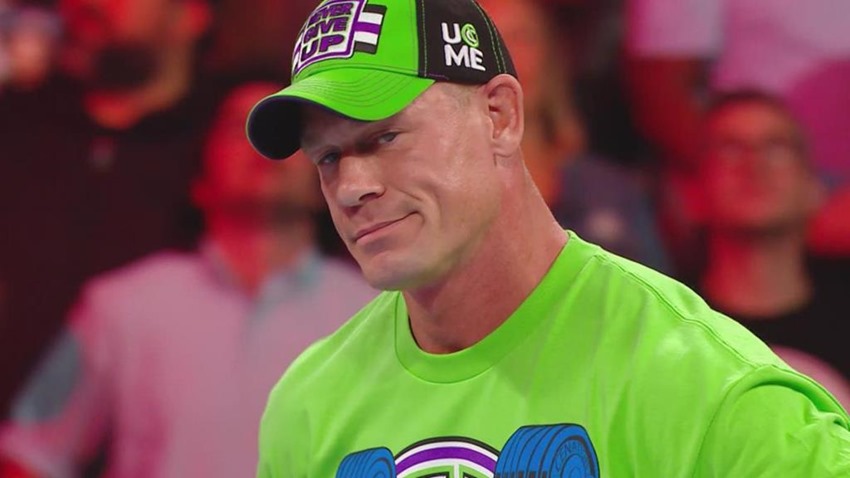 Well, it looks like the dream is indeed over. Weeks of call-outs and facing down the devil's favourite demon have led to absolutely zero appearances by the Deadman, as John Cena resigned himself to the fact that he'd be attending Wrestlemania as a fan, not as a competitor. Even with one more final push from the WWE universe, Cena's challenge was met with empty air, as the Deadman sent his final message by saying nothing at all.
Elias def. Heath Slater
Asuka and Dana Brooke def. Raw Women's Champion Alexa Bliss and Mickie James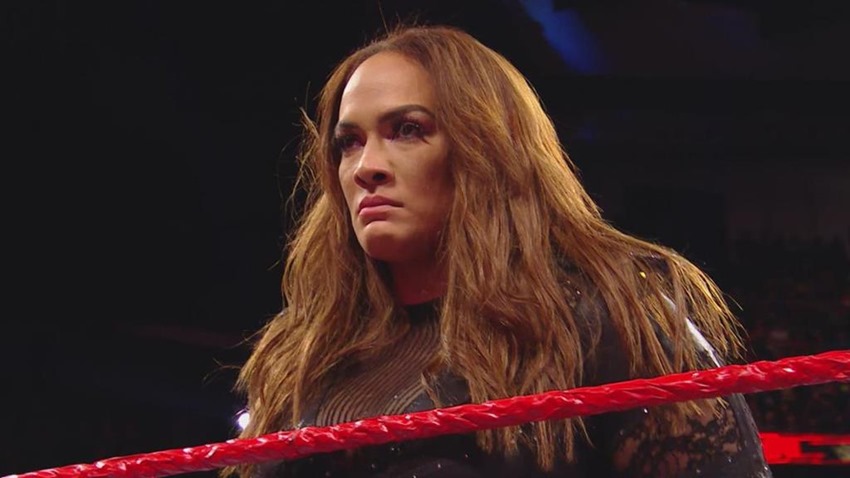 The streak continues, as Asuka and Dana Brooke triumphed over Alexa Bliss and Mickie James. It was a bad night for little Miss Bliss, as her loss was quickly followed by a vengeful Nia Jax on the warpath who dropped James with a Samoan Drop to send a message to her foe this Sunday.
Roman Reigns confronted Universal Champion Brock Lesnar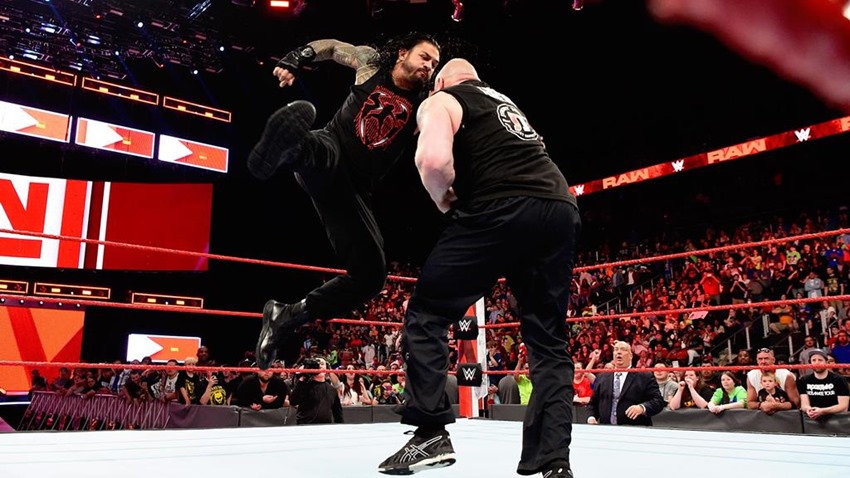 The reign of Brock Lesnar ever since he claimed the WWE Universal title, has been nothing short of exciting ever since Brock Lesnar reclaimed the title a year ago. Deciding to risk everything this Sunday, Lesnar made his intentions clear to his main event opponent: If he loses, then he's done with the WWE.
Having created a cult of personality that proved his power, Lesnar had nothing else to prove at Wrestlemania save for the fact that the conqueror was unstoppable. Roman Reigns had other thoughts on his mind, battling through a blockade of superstars who realised that they weren't there to protect a part-time champion. Reaching the beast incarnate, Reigns delivered a series of Superman Punches to the champion, but still took an F-5 that left the ring shaking.
Is this the last we'll see of Lesnar on RAW ahead of Wrestlemania? This Sunday will answer that question, definitively.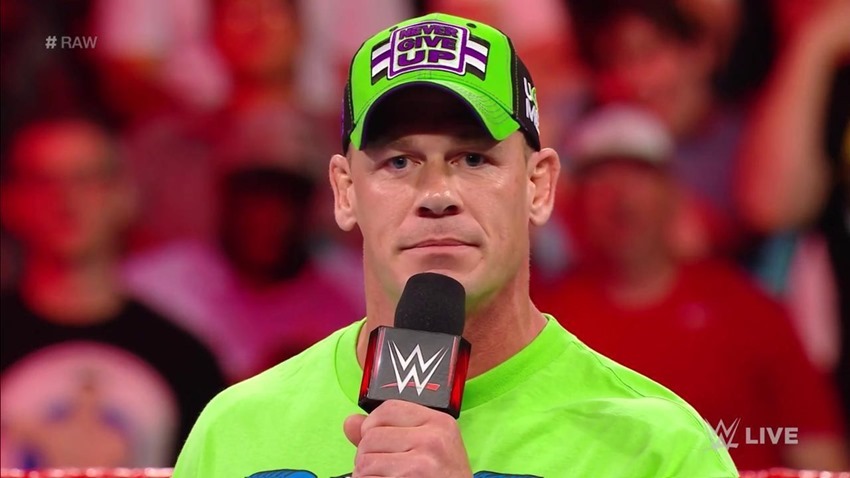 Last Updated: April 3, 2018