WWE Monday Night RAW took place from the FedEx Forum in Memphis, Tennessee this week. Here's all the action that went down.
The Bálor Club confronted Roman Reigns, Seth Rollins and Jason Jordan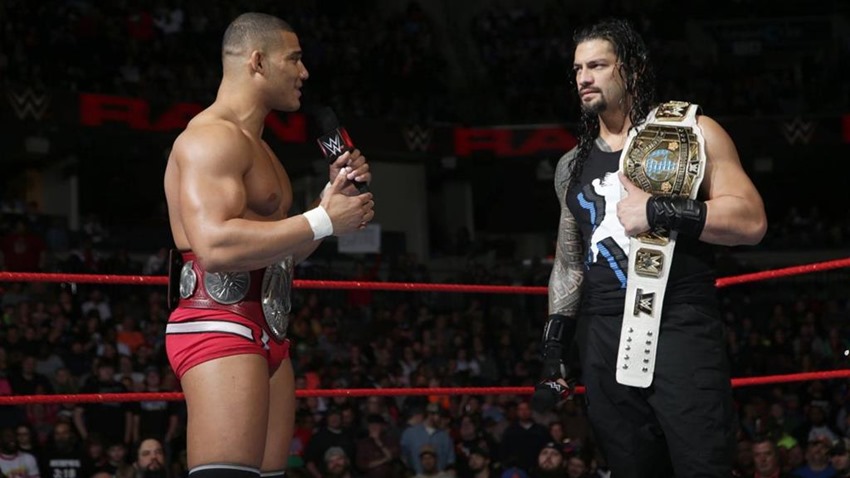 Monday Night RAW has a new pair of tag team champions in the form of Seth Rollins and Jason Jordan, as the impromptu team-up resulted in a win for the unlikely duo. Naturally proud of the accomplishment, Jordan's insistence that his alliance with Rollins and Roman Reigns had resulted in the most dominant three-man team on RAW resulted in an objection from the trio of good brothers who now call themselves the Balor Club.
Finn Balor, Karl Anderson and Luke Gallows hit the ring to label Jordan as a nerd, with all hell soon breaking loose. The solution was obvious, as General Manager Kurt Angle greenlit a six-man tag team match for the main event.
Sasha Banks and Bayley def. Mandy Rose and Sonya Deville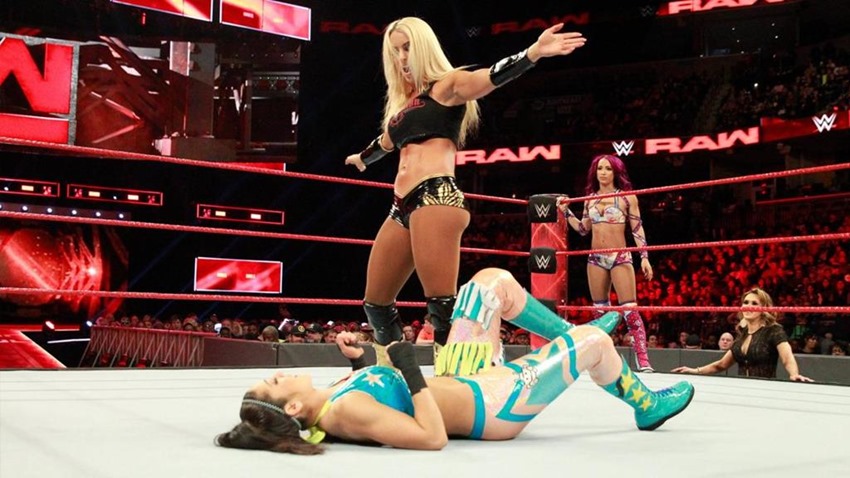 Turning back the tide of the recent onslaught against the veterans in the RAW women's locker room by the recent arrival of Paige, Mandy Rose and Sonya Deville, Sasha Banks and Bayley picked up a tag team win when Rose fell into a Banks Statement that resulted in her quickly tapping out.
"Woken" Matt Hardy def. Curt Hawkins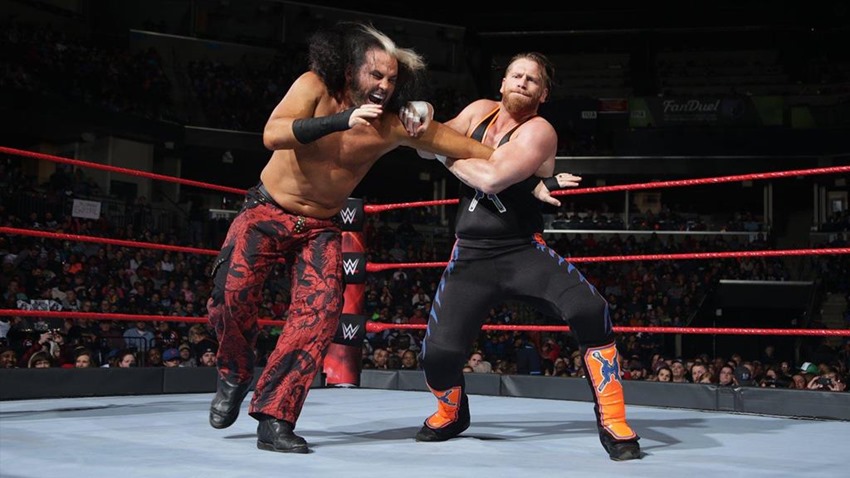 You don't need to be broken to earn a win over Curt Hawkins in the WWE, but it certainly helps to be…Woken. Matt Hardy's bizarre incarnation kept the losing streak of Hawkins alive, viciously assaulting the legendary loser and finishing him off with a Twist of Fate. Having successfully deleted Hawkins, Hardy declared that he would do the same in the Royal Rumble, brought forth Bray Wyatt and ended in an intense staredown. Yeeeeessssss….
The Miz returned and set his sights on the Intercontinental Championship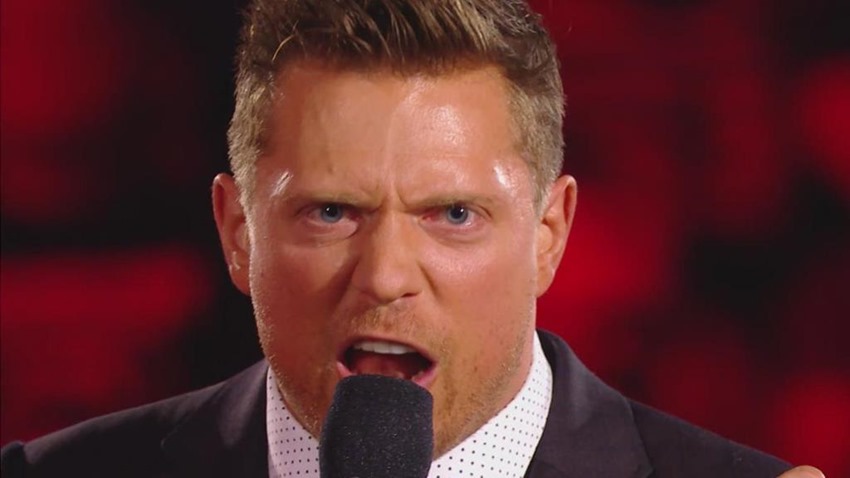 Over the last couple of years, one man has defined the Intercontinental Championship: The Miz. Unfortunately for the A-Lister, he doesn't happen to be that champ at the moment, as Roman Reigns now holds the coveted white belt. No more. Back on RAW, The Miz kicked off his titular Miz TV show, ignoring his Miztourage's attempts to curry favour and claiming that he would soon battle Roman Reigns and reclaim his belt on the grandest RAW stage of them all: The 25th anniversary episode of the longest running weekly show ever, on January 22.
Cedric Alexander def. WWE Cruiserweight Champion Enzo Amore via Count-out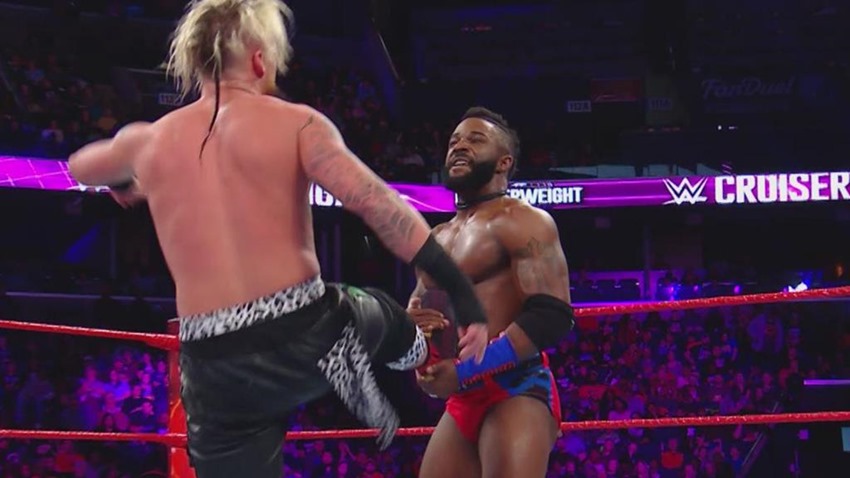 Hard luck for Cedric Alexander, as his dreams of being Cruiserweight champion were dashed when Enzo Amore took a springboard knee from the challenger and found himself out of the ring and out of time. Alexander may have got the win, but thanks to the rule of a WWE title being unable to change hands if a match ended in a ring count-out, it was Muscles Marinara who walked off with his title intact.
Titus Worldwide def. Cesaro and Sheamus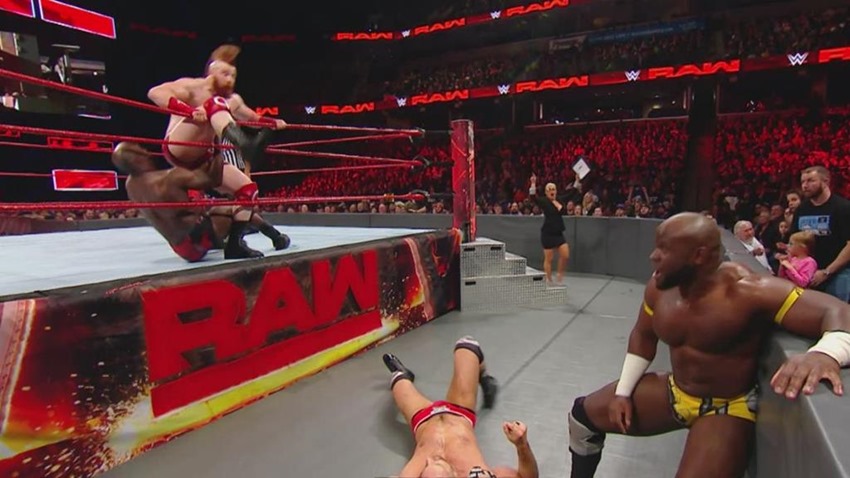 Out of tag team gold and also luck, The Bar was not having a good start to 2018. That bad luck continued with Titus O'Neil and Apollo Crews rising to the occasion, as they survived a brutal onslaught from The Bar that ended with O'Neil ducking a Brogue Kick that sent Cesaro flying. Catching Sheamus in a sneaky roll-up pin, the Big Deal scored a huge win for Titus Worldwide.
Samoa Joe def. Rhyno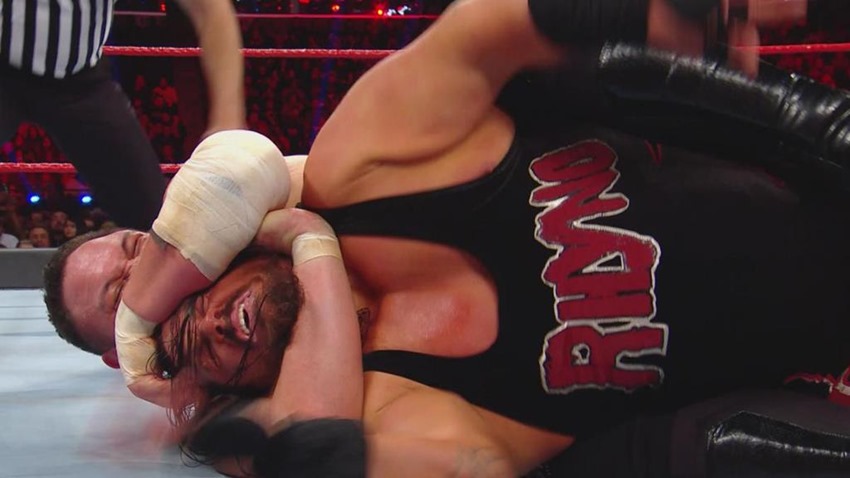 In an attempt to toughen up his tag team partner Heath Slater, the man beast known as Rhyno may have bitten off more than he could chew when he clashed with Samoa Joe. Providing some semblance of a challenge, the submission machine kicked into high gear and decided to apply the dreaded Coquina Clutch to Rhyno and eanred the tapout win.
With Rhyno out of the way, Samoa Joe had a loftier goal in mind: To enter the Royal Rumble, and personally eliminate John Cena from that glorious free-For-All bout.
Braun Strowman attacked Universal Champion Brock Lesnar and Kane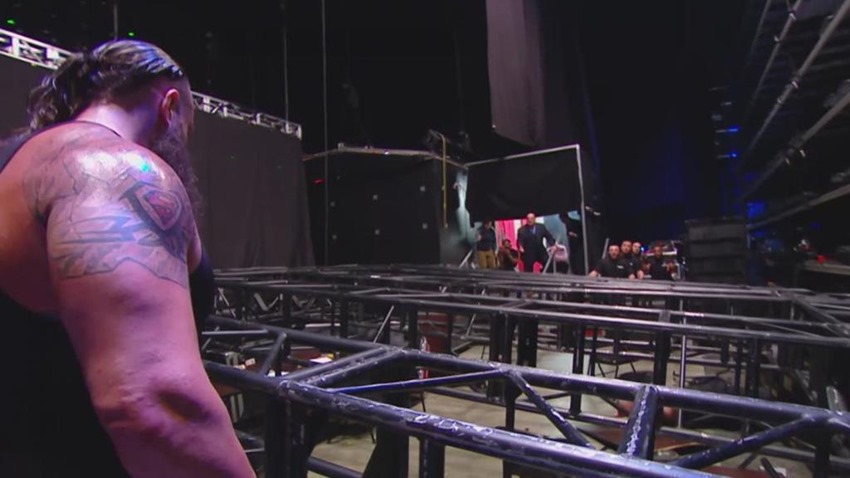 A clash of monsters is forecast for the Royal Rumble, as WWE Universal Champion Brock Lesnar will soon find himself facing not only the devil's favourite demon but also the gift of destruction. Deciding to get a headstart on the carnage, Strowman ambushed both Lesnar and Kane when they began brawling backstage, smashing them through crates and pulling the backstage rigging down onto his opponents.
The Beast Incarnate was hurt and bundled into an ambulance, while Kane apparently limped off with an injured leg. Looks like the odds may be in Strowman's favour come Royal Rumble time.
Nia Jax attacked Asuka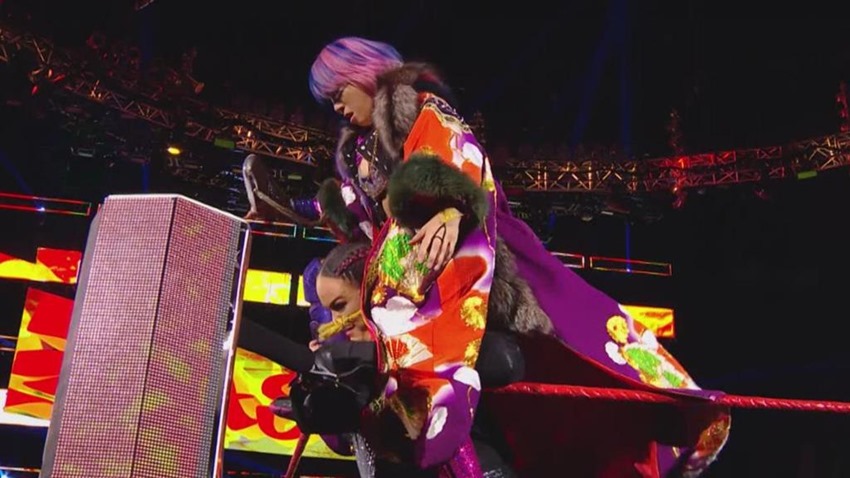 Is anyone ready for Asuka? Maybe, maybe not. But last night, it was the Empress of tomorrow who wasn't ready as Nia Jax arrived from out of nowhere to plant Asuka through the mat. Looks like the women's Royal Rumble match is about to get really personal really quick.
The Bálor Club def. Intercontinental Champion Roman Reigns and Raw Tag Team Champions Seth Rollins and Jason Jordan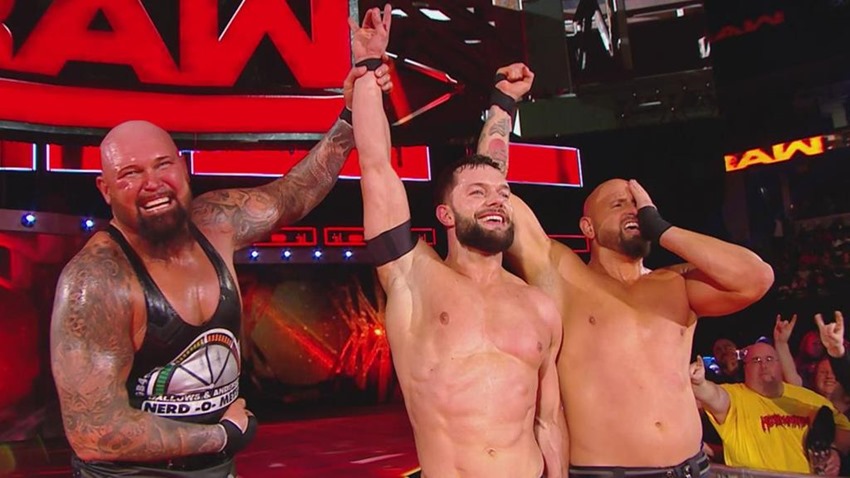 It's official: The Balor Club is now the most dominant three-man gang on RAW. Or more specifically, they're better than the supposed Champions Club of the RAW Tag Team champions and the Intercontinental title-holder. In a hard-fought battle, the good brothers laid waste Jason Jordan, Seth Rollins and Roman Reigns, with each side shaving years off of each other's life spans.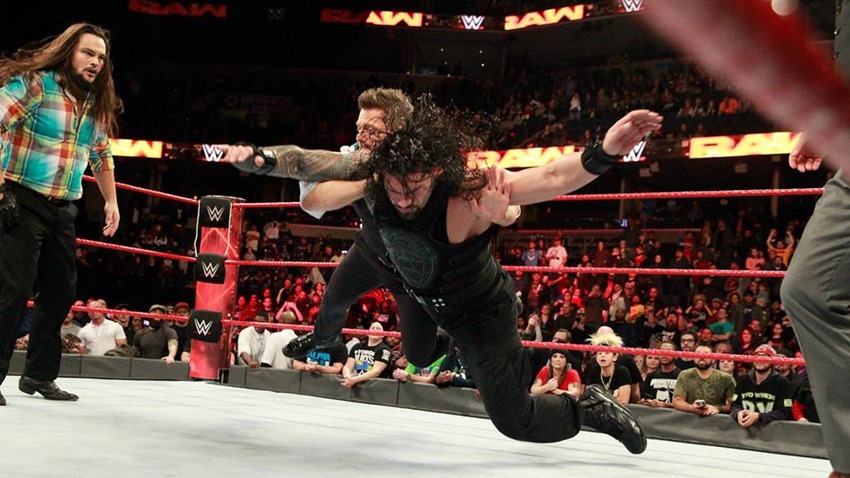 It was the Balor Club that earned the win however, with their fluid teamwork exposing the cracks in the competition and eventually resulting in a missile dropkick and Coup de Grâce on top of wounded Rollins that ended in victory for Finn Balor, Luke Gallows and Karl Anderson. Things got worse for the champs after the bell had rung, as The Miztourage pounced on the losers, ending the night with a Skull-Crushing Finale on Roman Reigns and a Triple Powerbomb for good measure.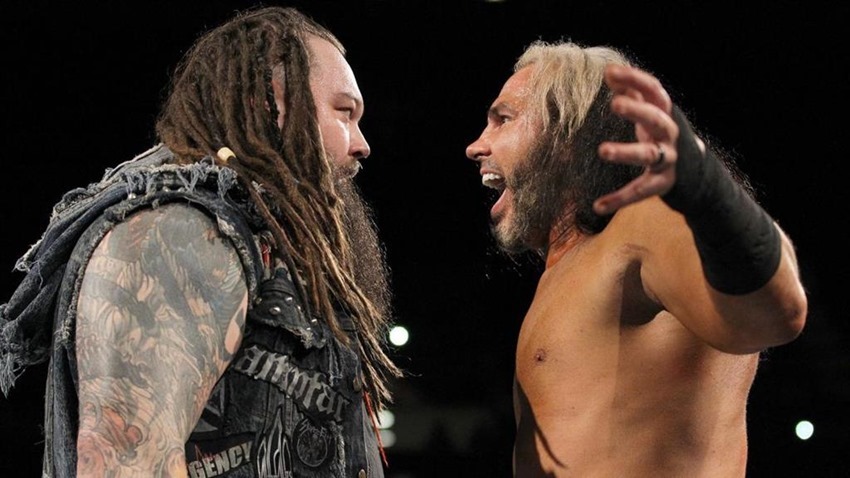 Last Updated: January 9, 2018