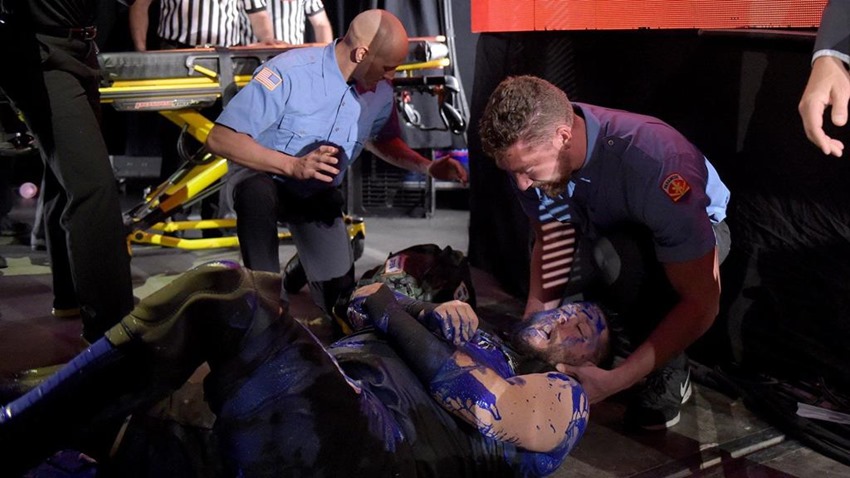 WWE Monday Night RAW took place from the Denny Sanford Premier Center in Sioux Falls, South Dakota. Here's all the action that went down.
Intercontinental Champion Dolph Ziggler and Drew McIntyre confronted Roman Reigns
Incensed by Reigns proclaiming his dominance in the ring, the newly minted Intercontinental champion Dolph Ziggler had a few choice words for RAW's resident big dog, who finds himself with few friends in the locker room lately. Words that quickly escalated to fists, as Ziggler and his enforcer pal sent Reigns packing as Seth Rollins arrived to help him avoid a devastating beatdown.
Already locked in for one match later in the night, a furious Reigns demanded that general manager Kurt Angle give him some overtime with a showdown brawl with the show-off and the deadly Scotsman. A wish that Angle happily granted.
Curtis Axel def. Raw Tag Team Champion "Woken" Matt Hardy
You thought last week's win was a fluke? Well Curtis Axel pulled another victory out of the jaws of defeat this week (with a little help from Bo Dallas), leaving Matt Hardy to realise that he's going to need to take the B-team more seriously if he wants to retain the tag team gold with Bray Wyatt.
The Authors of Pain def. Titus Worldwide
Speaking of tag team danger, Akam and Rezar decided to flaunt their skill in the ring, utterly dismantling Titus O'Neil and Apollo Crews with a combination of power and teamwork. One Final Chapter later, and the Authors of Pain had written a new book on earning a decisive win.
Roman Reigns and Seth Rollins def. Intercontinental Champion Dolph Ziggler and Drew McIntyre via Disqualification
The night just got even worse for a seething Reigns, as he spent most of the match trapped in Ziggler's corner, with The Revival crashing the match and shattering the big dog. Rollins didn't escape unscathed either, as he was left to fend for himself against McIntyre and Ziggler, a numbers game that proved to be too much for the Architect.
Baron Corbin demanded an apology from Finn Bálor
He got it. Only not the apology he actually wanted, as Balor's jibes resulted in Corbin launching a cheap shot assault on the legend. Balor rallied back however, sending RAW's constable packing and sparking a new fire in their growing feud.
Ember Moon def. Liv Morgan
Outnumbered by the Riott Squad, Ember Moon still lived up to her title of the War Goddess as she fought back viciously to even the odds and finish off Liv Morgan with her trademark style and aggression.
Roman Reigns and Bobby Lashley def. The Revival via Disqualification
Beaten but not broken, Roman Reigns was looking to punish the Revival for their interference earlier in the night, and he didn't want Bobby Lashley's help for that job. Dash and Dawson had other plans, as they kept their attacks focused on the rib cage of Reigns and seperated him from his partner, double-teaming the challenger and accepting a DQ loss as they decided to send a message one boot at a time. As for Lashley?
If Reigns wanted to act like a hotshot, he was happy to give him his own space as Lashley didn't even budge from his spot on the apron while the carnage continued.
Mojo Rawley brawled with No Way Jose
The beatdown goes on, as even a prepared No Way Jose couldn't match the ruthless streak of Mojo Rawley.
Nia Jax def. Mickie James
Braun Strowman vs. Kevin Owens ended with toilet humour
Braun Strowman versus Kevin Owens? This was only going to end one way: Trapped inside a port a potty, covered in various fluids and absolutely demolished. Wait what?
Last Updated: July 3, 2018