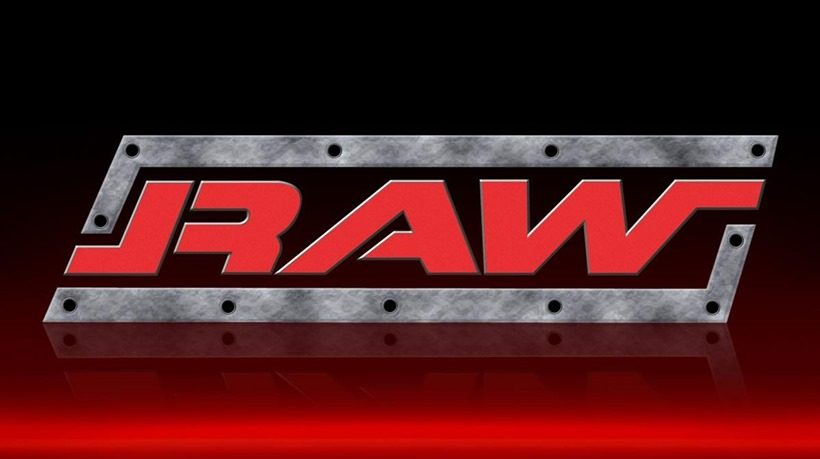 Welcome to Monday Night RAW! This week's episode was held at the Smoothie King Center in New Orleans. Here's all the action that went down.
Opening segment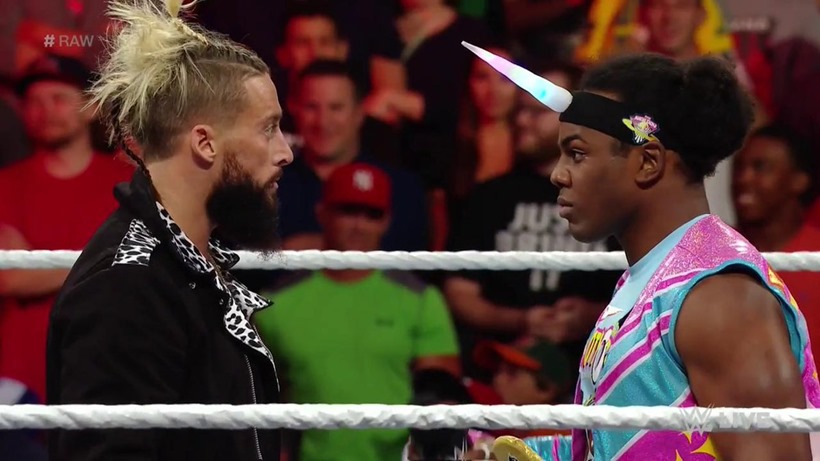 The New Day is in the RAW ring, but their promo is quickly cut short by the arrival of Enzo and Cass, describing their infamous headband unicorns as nothing more than massagers for the prostate. Enzo and Xavier start getting in each other's personal space, but it's not long before the Vaudevillains interrupt…so that Aiden English can start singing. Thankfully, Luke Gallows and Karl Anderson interrupt just in time for a match to be organised.
The Vaudevillains, Gallows and Anderson defeated The New Day, Enzo and Cass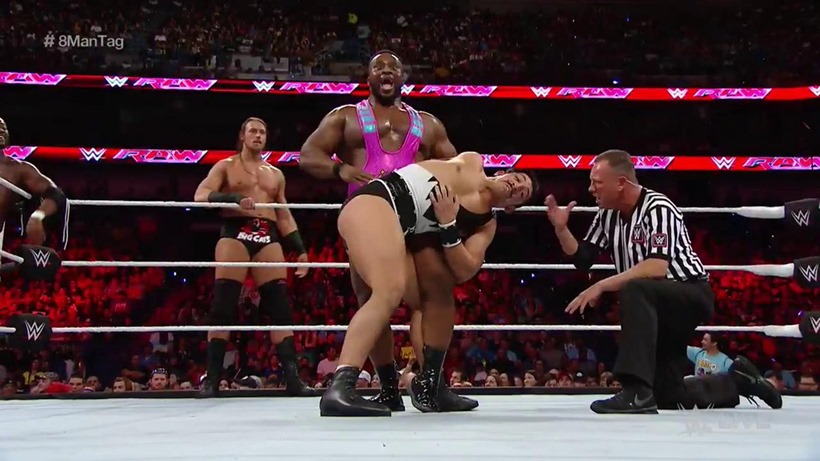 Kofi Kingston kicked things off as he worked on Simon Gotch, tagging in Big E to keep the action on their side of the ring. After Aiden English and Enzo Amore got tags in however, the Vaudevillains gained the momentum. A few hot tags later, some dirty play and a Magic Killer from the Bullet Club on Kofi Kingston resulted in a New Day defeat.
Backstage
Sheamus and Zack Ryder are feeling the heat, with the two being dropped into a singles match for the night. Sheamus declares that he'll make Titus O'Neil the biggest joke in the entire WWE industry. Which apparently involves having O'Neil jumped by Rusev on the RAW ramo while on the way to a match.
The Ambrose Asylum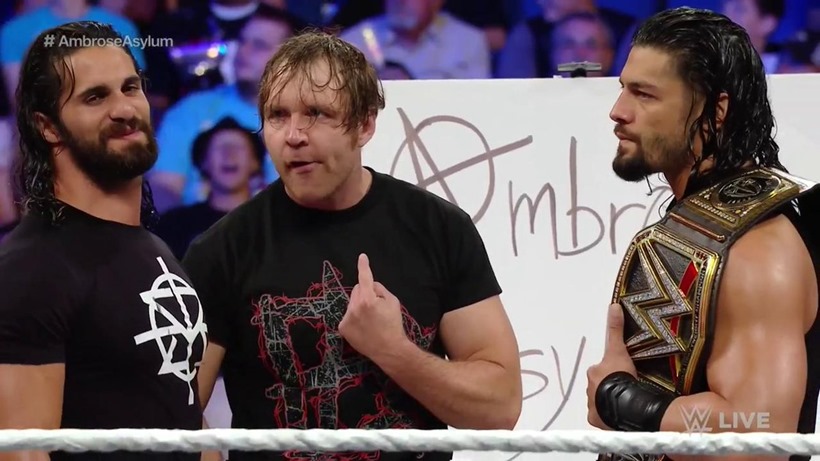 Dean Ambrose is back on RAW, and so is his talk show. Former Shield partner Roman Reigns and Seth Rollins are his guests tonight, as Ambrose reminisces about the good ol' days of their stable run. Rollins says that he remembers those days, but his favourite moment happened to be when he laid out Reigns with a steel chair.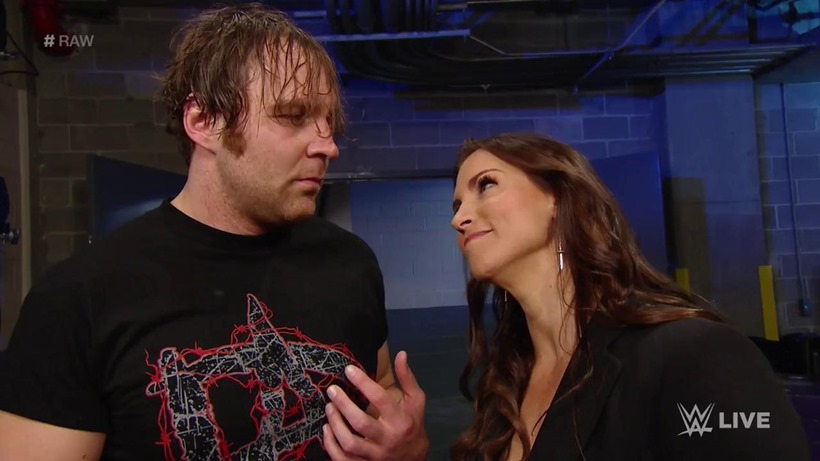 Ambrose is playing the middle-man here, teasing that if he wins Money In The Bank, he might just cash it in that very night. And then the three started brawling, with Reings hitting a Superman Punch on Rollins and Ambrose landing Dirty Deeds on Reigns to be the last man standing on his talk show. Backstage, Stephanie McMahon books Ambrose in a match with Chris Jericho later in the night.
Paige defeated Charlotte
With Natalya and Becky Lynch on commentary for this bout, there was no way it was going to end cleanly. And thanks to some ringside action, Paige managed to land a superkick on Charlotte and follow up with a Rampage finisher to get a win in the non-title match with the Women's Champion.
Sheamus defeated Zack Ryder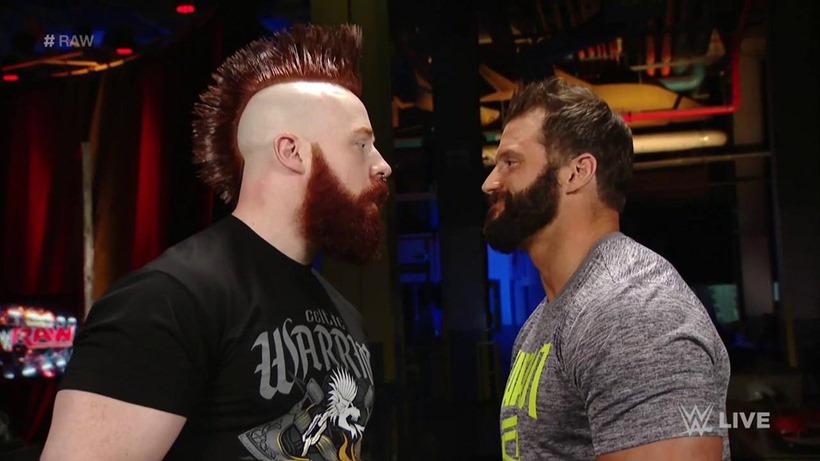 As if anyone didn't see this coming. An early two-count from Ryder almost gave him the win, but a big boot from Sheamus sealed the deal on a quick match. And also resulted in Sheamus delivering a beatdown on Ruder until Apollo Crews came out to save him, laying out Sheamus in the process.
Backstage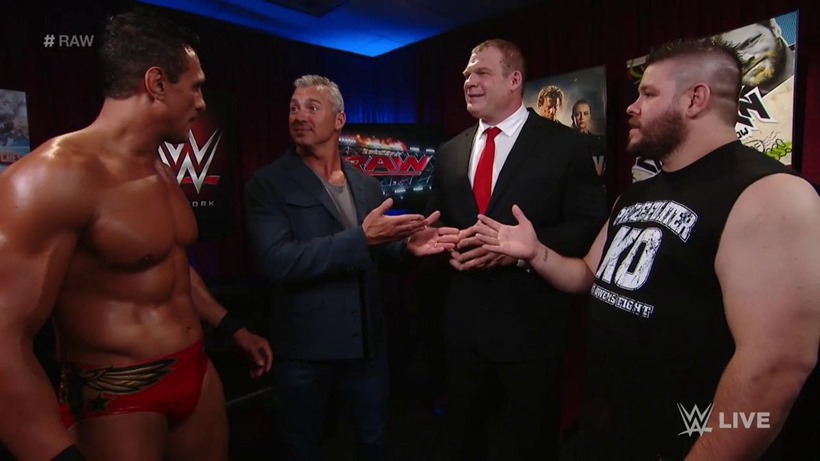 Shane McMahon and Kane are having a conversation, until Kevin Owens interrupts and tattles on Del Rio for being late to show up on RAW. Del Rio suddenly appears, and claims that Owens called airport security on him. Kane is having none of this, and declares that Owens and Del Rio need to do some RAW team-building…in a tag team match with the Lucha Dragons. Hey, sounds better than sitting through a seminar.
Sami Zayn defeated Cesaro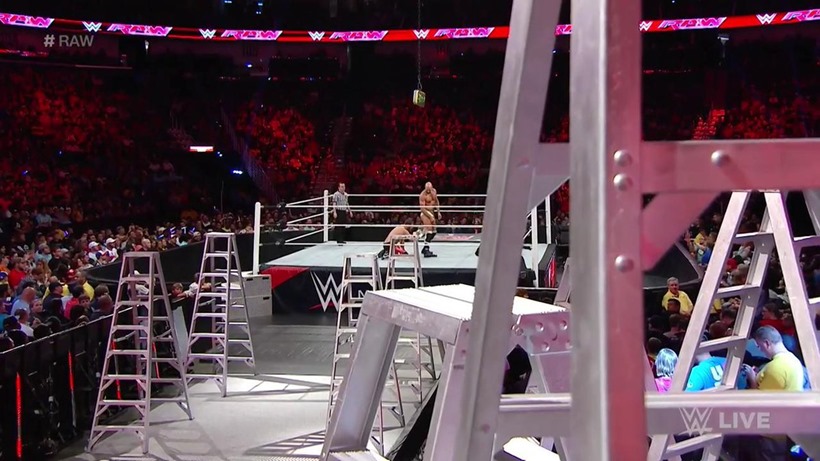 A fantastic match from the two, as they engaged in plenty of two-counts and top-rope action. Zayn would get the win, surviving a superplex from Cesaro and reversing a powerbomb into a Sunset Flip.
Money In The Bank contract signing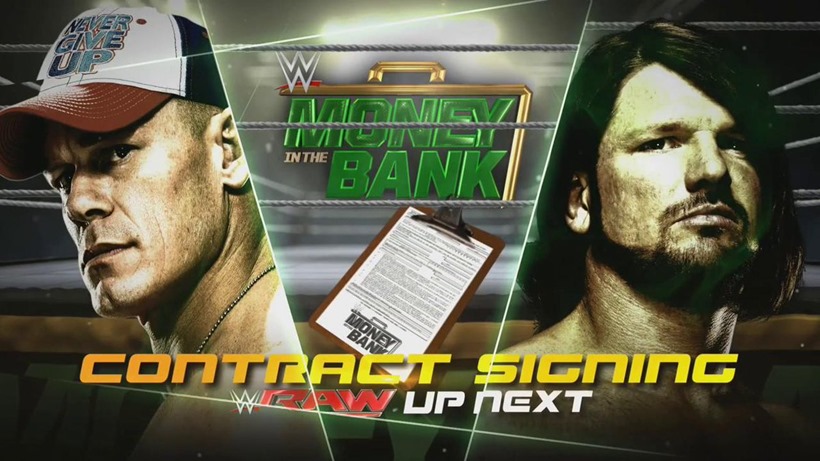 Michael Cole is in the RAW ring, to organise a contract signing between AJ Styles and John Cena for Money In The Bank. Cena sings AJ's praises at first, declaring his admiration for Styles and his tours across the world in various wrestling promotions. And at this point, Cena tells Cole to get out of the ring, as AJ appears.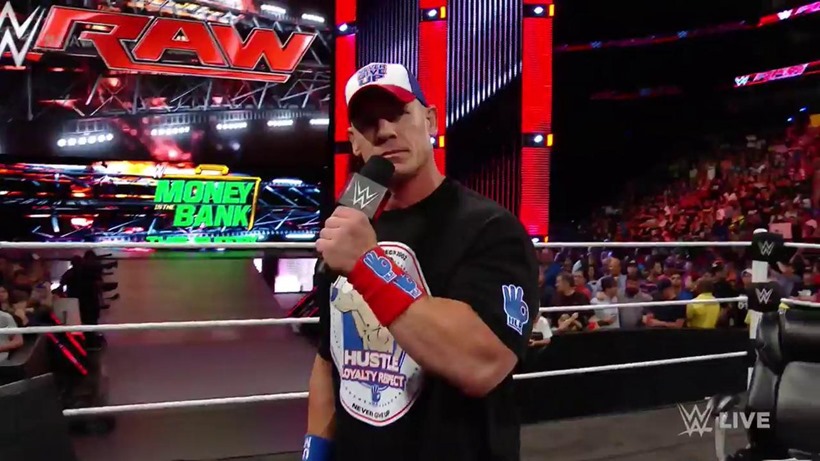 Styles declares that he'll out-wrestle Cena in every way possible, which actually isn't that difficult really. Cena says that AJ has a choice of two matches. Either a traditional singles match or a handicap match with Gallows and Anderson in his corner, or as Cena called it, "The Bitch Club". AJ takes the singles option, and signs on for Money In The Bank.
Kevin Owens and Alberto Del Rio defeated The Lucha Dragons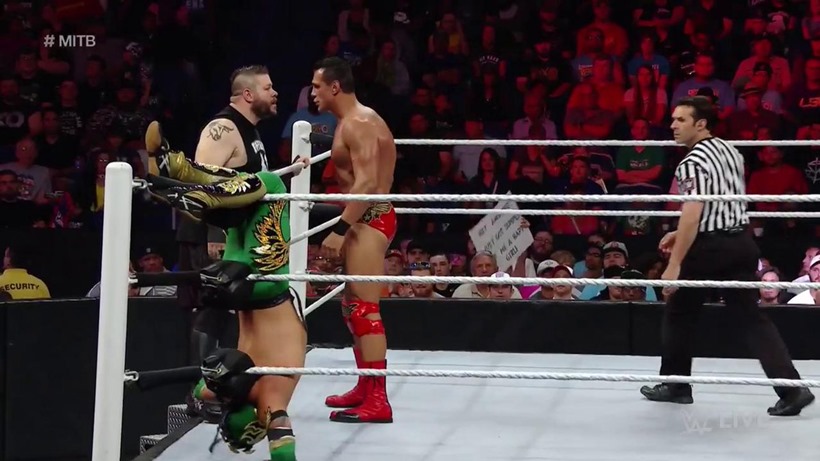 Sure, there was some arguing at first, but Del Rio and Owens managed to put aside their differences long enough to score a win on the Lucha Dragons, with Owens picking up the pinfall with a pop-up powerbomb on Sin Cara. And then he got to taste Del Rio's boot afterwards. With the two bitching endlessly to Stephanie McMahon afterwards, she puts Owens on commentary with Sami Zayn for the Jericho and Ambrose match, and appoints Del Rio as the guest timekeeper.
Also Cesaro was appointed as the special RAW ring announcer by Shane. This would not end well.
Dean Ambrose defeated Chris Jericho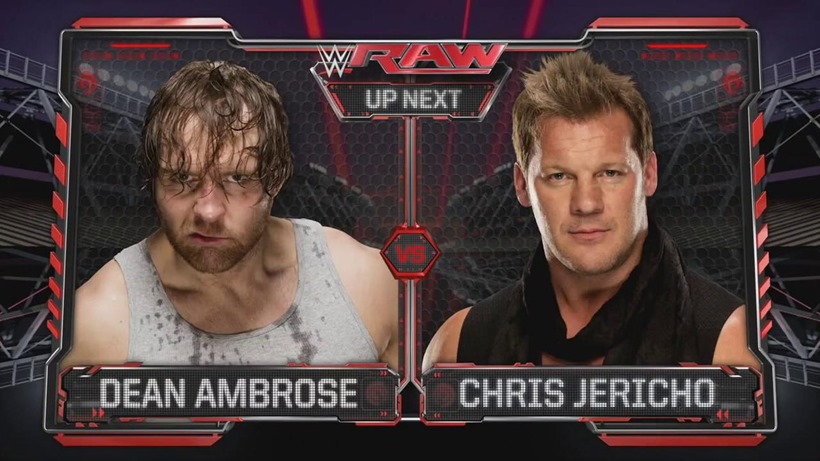 After Cesaro introduced Jericho as hailing from Stupid Idiotville, the match was on! And it was pure madness. Ambrose and Jericho exchanged plenty of chops, slams and dives through the night, but having their Money In The Bank competition at ringside was never going to end well. Everyone got in each other's faces, brawls broke out and Ambrose managed to reverse a Codebreaker into Dirty Deeds for the win.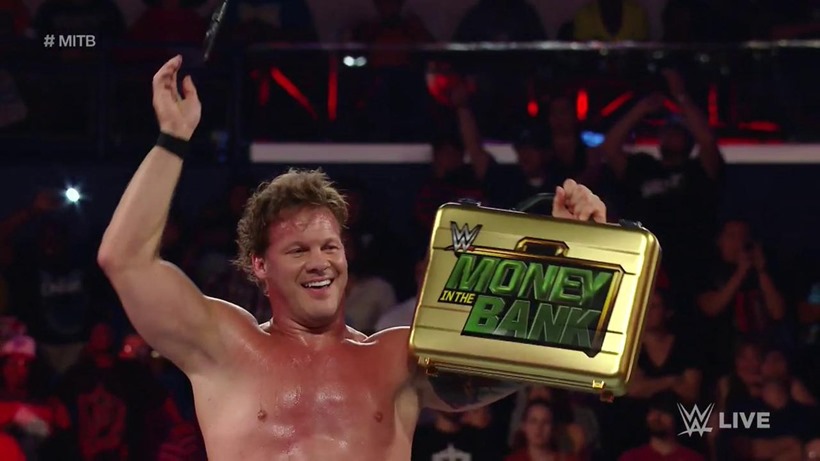 Owens would then beat down on Ambrose, with the brouhaha raging out of control throughout the ring. In the end, Jericho was the last man standing, sitting on a ladder and cradling the Money In The Bank briefcase to end RAW for the night.
Last Updated: June 14, 2016