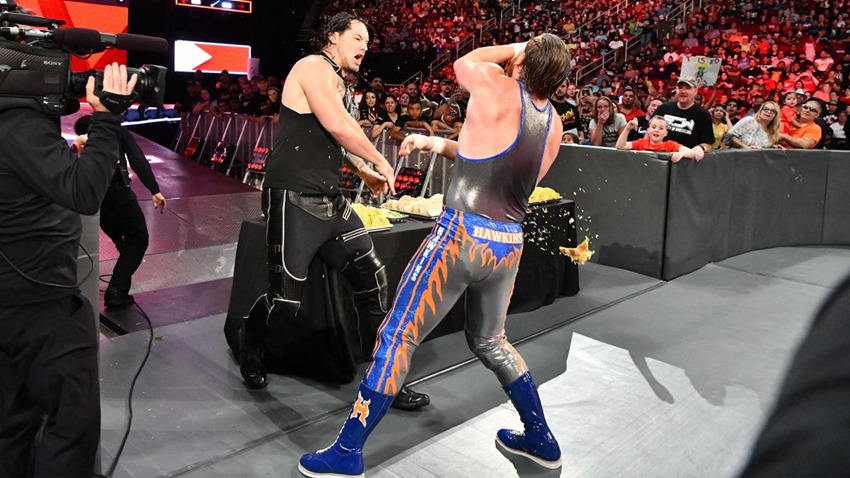 WWE Monday Night RAW took place from the Toyota Center in Houston, Texas. Here's all the action that went down last night.
Elias and Jinder Mahal def. Intercontinental Champion Seth Rollins and Roman Reigns
With no love lost between all four men in RAW's opening bout of the night, plenty of bad blood was ready to collide as Elias and Jinder Mahal faced a tag team of Shield brothers. Sticking to the basics, Mahal and Elias kept the pressure on Rollins, cornering and separating him as they chipped away at his defense.
Just when it looked like Rollins and Reigns would persevere and turn the match around, in-ring chaos from Sunil Singh saw Rollins run into a DDT and a Drift Away from Elias that put the Architect down for the count.
James Harden def. Curt Hawkins via Disqualification
Finally, finally, it looked like Curt Hawkins was going to pick up a win and put an end to a losing streak of legend when he faced off against some local talent. After all, that's what locals are for, right? Baron Corbin had other ideas, administering an End of Days to Harden and giving the plucky challenger a DQ win. Hawkins now has a 200-match losing streak, his celebration tacos joined him in oblivion when Corbin continued his assault and the lone wolf happens to have a new job title after complaining to Stephanie McMahon: RAW Constable.
Raw Women's Champion Nia Jax def. Natalya
Well this didn't last long. Natalya may have put up a good fight, but Nia Jax proved to be simply too much for her as the Queen of Harts tweaked her knee and took a brutal Samoan Drop in the process. A lesson in pain, that Ronda Rousey was watching intensely as she prepares for her own showdown against the irresistible force soon.
Braun Strowman def. Bobby Roode
If there's one thing that Braun Strowman has proven, it's that conventional tactics don't work on a fella of his size and power. The Glorious One himself learnt this the hard way, as he attempted to strike hard and move out of harm's way in their one on one encounter. Going so far as to set up a ladder as a makeshift barricade, Roode's strategy was broken in half with that utility tool, with Strowman eventually locking onto him and administering a Running Powerslam to score the pin
The B-Team won a Tag Team Battle Royal to earn the right to challenge "Woken" Matt Hardy & Bray Wyatt for the Raw Tag Team Championship
Ever since they rebranded themselves as a tag team outside of the influence of The Miz, Bo Dallas and Curtis Axel have been on a mission to prove that they're worthy of facing the Deleters of Worlds known as Matt Hardy and Bray Wyatt for the tag team gold. In a huge match where every tag team on the RAW roster was in action at the same time, Dallas and Axel outlasted all of them. Thanks to some hard work and a little luck that came around when Heath Slater accidentally eliminated his own partner Rhyno, the B-Team capitalised and secured themselves a championship match.
Sami Zayn confronted Bobby Lashley
Nobody caaaaaaaaaaaaares.
The Riott Squad def. Sasha Banks, Ember Moon and Bayley via Disqualification
With the wounds of last week's gauntlet match still feeling fresh, the Riott Squad was looking for some payback against some of the toughest ladies on RAW. And revenge is exactly what they got, as a combination of Alexa Bliss walking out on the bout, Bayley arriving to replace her and pick up the winning pin and Baron Corbin exercising his new influence as constable to get the results thrown out and restarted resulted in the Riott Squadd eventually picking up a win. It was weeeeeeird.
Finn Bálor def. Kevin Owens via Disqualification
Ever since he returned to RAW, Kevin Owens has been a thorn in everyone's side. In a bout that saw RAW's original Universal champions face off, Owens played smart and attempted to keep Balor grounded with his ring offense. The most extraordinary man on RAW had other ideas however, fighting back against KO who had at this point picked up a DQ loss for ignoring the referee's commands.
Not caring for the match results, Owens grabbed a ladder out from under the ring but took too long and gave Balor the chance he needed for payback. What followed was a Coup de Grâce from a staggering height, with Balor climbing back up and grabbing the briefcase representing Money In The Bank that was hanging from the rafters. Maybe a sign of things to come, as Balor prepares for war against multiple opponents soon. And that was RAW for the night!
Last Updated: June 5, 2018