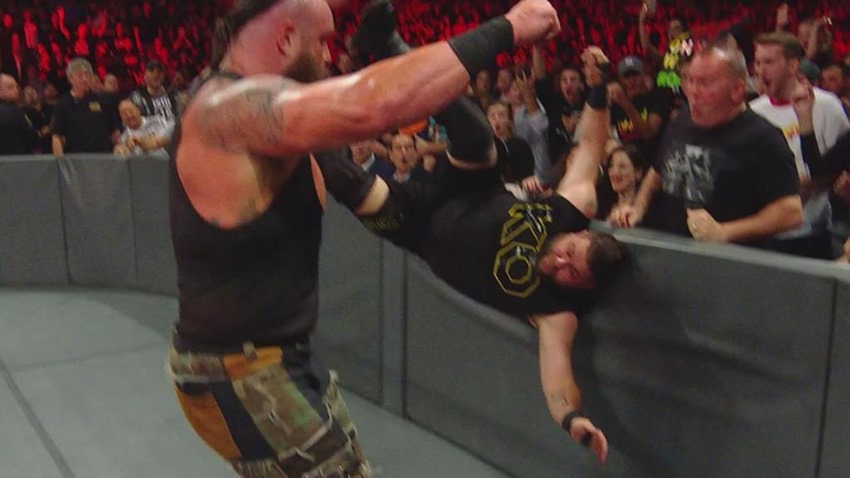 WWE Monday Night RAW took place from the Nassau Coliseum in Uniondale, New York. Here's all the action that went down ahead of the upcoming Money In The Bank ladder event.
Braun Strowman def. Kevin Owens to qualify for the Men's Money in the Bank Ladder Match
Opportunity is knocking, as WWE Money In The Bank is around the corner and every superstar is looking for that guaranteed golden ticket that can be found in that sought-after briefcase. To get into that match however, the WWE locker room would need to fight tooth and nail to qualify for a spot in the main event.
Unfortunately for Kevin Owens, it looks like he drew the short straw when he kicked off RAW with a qualifying match against Braun Strowman. Attempting to win via countout, the Owens strategy ended in the most predictable manner possible: A Running Powerslam courtesy of the monster amongst men.
Baron Corbin and The Revival def. No Way Jose and Titus Worldwide
No Way Jose and Titus Worldwide may be fun on a bun, but they weren't smiling last night when Baron Corbin and tag team specialists The Revival secured a victory over them. Teamwork, timing and an End of Days finisher saw this team run home to victory.
Ember Moon def. Sasha Banks and Ruby Riott to qualify for the Women's Money in the Bank Ladder Match
In a triple threat for the ages, RAW's latest NXT acquisition proved her main event status when she weathered a storm of attacks from Sasha Banks and Ruby Riott, earning her spot in women's Money In The Bank ladder match with an Eclipse finisher that had to be seen to be believed.
Jinder Mahal def. Chad Gable
A few weeks ago, Chad Gable made a splash by defeating former WWE Champion Jinder Mahal in singles competition. Consider the score evened then, as Mahal managed to overcome the former tag team champion with his dreaded Khallas. Proud of his achievement, Mahal then demanded that he be given a slot in the Money In The Bank ladder match, but RAW General Manger Kurt Angle had other ideas. Guess that's a no then.
Dolph Ziggler and Drew McIntyre def. Heath Slater and Rhyno
Looks like Heath Slater and Rhyno just lost another match. In other news, the sky is blue, water is wet and cats are the best.
Bobby Roode def. Elias
There's no love lost between Elias and Bobby Roode, especially after RAW's resident minstrel found his performance Roodely interrupted by the Glorious one on Sunday. Looking for some payback, Elias may have had the chops to push Roode to the limits, but the former United States champion cleverly used his own opponent's momentum against him, snapping in a Glorious DDT to pick up the pin.
Intercontinental Champion Seth Rollins def. Mojo Rawley
Monday Night Rollins? More like Monday Night Rawley as team read has a new face on the roster in the form of Mojo Rawley. Answering an open challenge from Intercontinental champion Seth Rollins, Rawley pushed the champ to his utmost limits but came up short unfortunately. Still, it was a damn good effort for Mojo. Pity that almsot, isn't good enough.
RAW Tag Team Champions "Woken" Matt Hardy and Bray Wyatt def. Curtis Axel and Bo Dallas
The Miz is no longer on RAW, no longer champion and also without his supporting actors. It was a new dawn for Bo Dallas and Curtis Axel. A fresh start…that ended in a WONDERFUL victory for the Deleters of Worlds. More of a warm-up than a challenge, it wasn't long before Matt Hardy and Bray Wyatt applied a Double Sister Abigail to their opponents.
Finn Balor def. Sami Zayn and Roman Reigns to qualify for the Men's Money in the Bank Ladder Match
In a no disqualification triple-threat main event, Finn Balor finally proved why he was a force to be reckoned with. The first-ever WWE Universal champion, Balor had his hands full with both Roman Reigns and Sami Zayn as they competed for their spot in the Men's Money in the Bank Ladder Match, with each challenger landing plenty of heavy blows.
In the end, it was picture-perfect timing from Balor that won the night. Thanks to inteference from Jinder Mahal, Balor's signature Coup De Grace found its mark on Zayn, with the one-two-three following shortly after.
Last Updated: May 8, 2018