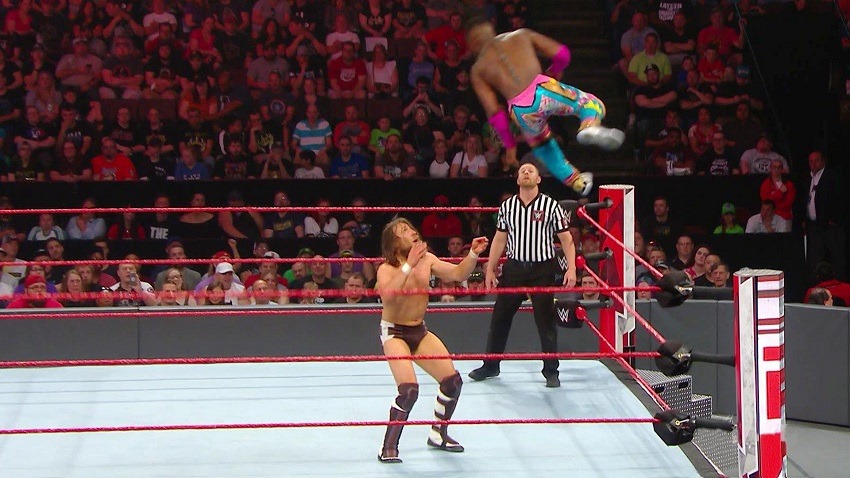 WWE Monday Night RAW took place from the U.S. Bank Arena in Cincinnati, Ohio. Here's all the action that went down ahead of the Money In The Bank event.
WWE Champion Kofi Kingston, Daniel Bryan and Roman Reigns appeared on Raw; Mr. McMahon instituted a "Wild Card Rule"
Here's te dealio: Roman Reigns isn't sticking to any one brand in the WWE, as the big dog would rather appear where he feels he needs to be, rather than where he should be. Kofi Kingston and Daniel Bryan also feel that they're bigger than any one show, and after a series of interruptions, WWE boss Vince McMahon hit on an idea: The Wild Card rule.
Basically, the trio would be free to appear on any show that they chose to, and since they were i the building, McMahon decided to throw them into some matches: Reigns would take on Drew McIntyre once again, while Kofi Kingston's WWE championship would be contested once again when he faced Daniel Bryan in a Wrestlemania rematch.
Baron Corbin and Bobby Lashley def. Universal Champion Seth Rollins and AJ Styles
Braun Strowman threw Sami Zayn in a dumpster
Can speed overcome brute force. Definitely not, as Sami Zayn found himself on the wrong end of Braun Strowman's wrath last night. He's going to need a long shower to wash that stink off.
Ricochet def. Robert Roode to defend his place in the Men's Money in the Bank Ladder Match
Lacey Evans def. Allie Catrina; Raw and SmackDown Women's Champion Becky Lynch brawled with Evans after the match
The Viking Raiders def. Raw Tag Team Champions Zack Ryder and Curt Hawkins
Mercy the Buzzard devoured Rambling Rabbit on Bray Wyatt's "Firefly Fun House"
What the fiddly frak is going on with this angle? Also, Bray Wyatt has become HUGE.
Roman Reigns def. Drew McIntyre via Disqualification
Well this got chaotic. After spending most of the match as a punch sponge, Reigns finally landed a Spear on McIntyre that should have sealed the deal on is bout. Instead, he got a taste of Elias and Shane McMahon's fury, and was barely saved by The Miz when the A-Lister entered the ring with a steel chair in hand and chased the "best in the world" to his limo.
Unfortunately for Reigns, he'd end the night with a mouthful of Claymore, as McIntyre wasted no time in taking advantage of the bedlam.
The Usos pranked The Revival with "Ucey Hot" cream; Lars Sullivan attacked No Way Jose
Deep heat in your underwear. That's a prank gone way too far fellas. Meanwhile, Lars Anderson decided to stare intensely at Mr McMahon, like some sort of homicidal cat that had spent way too much time at gym. Which worked out for the freak, as McMahon extended the Wild Card rule to four and thus allowed Sullivan to wreak havoc on No Way Jose and his conga line.
WWE Champion Kofi Kingston def. Daniel Bryan
For the first time since 2016, the WWE Championship was up for grabs on Monday Night RAW. And you can bet your environmentally friendly straws that Daniel Bryan wanted to get it back. Landing vicious strikes and submissions on Kingston, Bryan was dangerously close to retrieving the championship. Kingston bounced back at the eleventh hour, dodging a Running Knee and a Labelle Lock as he landed Trouble in Paradise.
One, two and three. Kofi Kingston is still the WWE Champion.
Last Updated: May 7, 2019