WWE Smackdown LIVE took place from the Mohegan Sun Arena in Uncasville, Connecticut. Here's all the action that went down.
AJ Styles accepted Shane McMahon's challenge for WrestleMania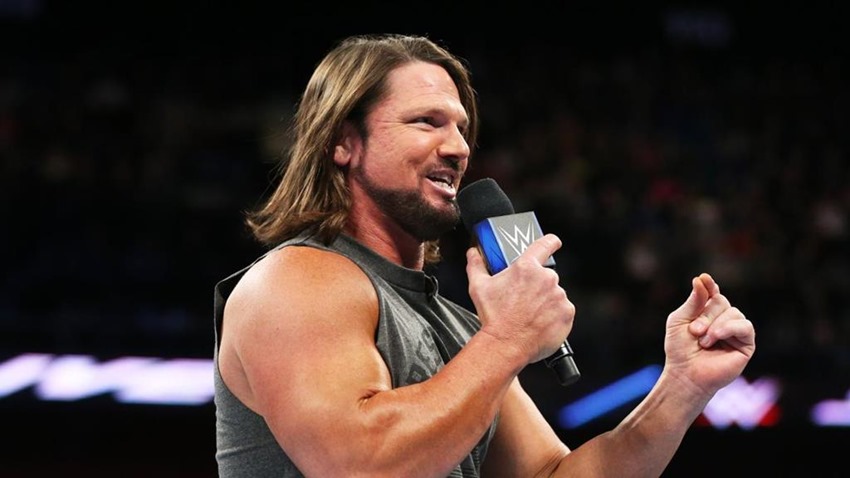 There's no love lost between AJ Styles and Smackdown General Manger Daniel Bryan, but the phenomenal one was in a joyous mood last night as he decided to remind the GM that not only was he still employed, but that he'd soon get his hands on Shane McMahon at Wrestlemania. To prove just how immune he was to being fired, Styles even claimed that he'd be back in the parking lot waiting for Shane as he'd make last week's heinous attack look like a mere warm-up as he had something "phenomenally worse" planned for his boss.
The Usos defeated American Alpha to capture the SmackDown Tag Team Championship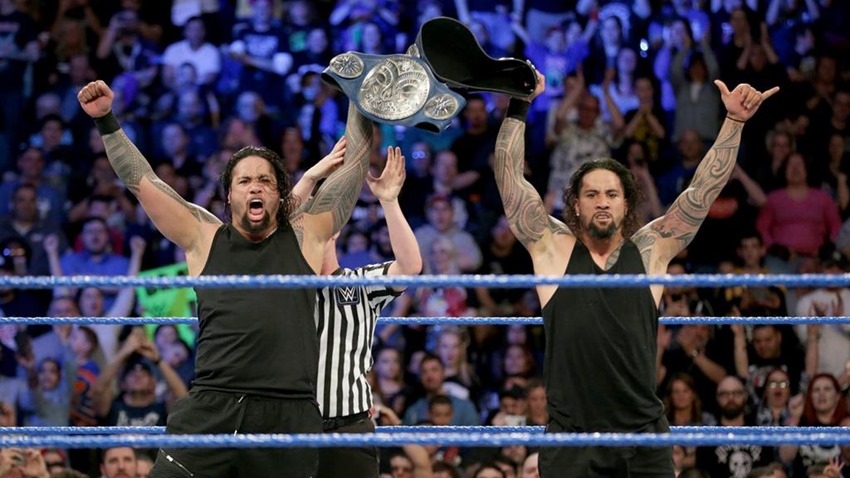 Weeks of trash talking and mind games finally paid off for the Usos last night, as they challenged the current Smackdown tag team champions American Alpha to a match for the gold and came out on top after long last. Jason Jordan and Chad Gable may have been dethroned from one hell of a long run as the champs, but they went down fighting, eventually falling to a Superkick that connected with Jordan's face after sheer chaos erupted in the ring and the Usos took charge.
Now imagine the rematch that we'll be getting at Wrestlemania. U-SO YEAH.
Randy Orton defeated Baron Corbin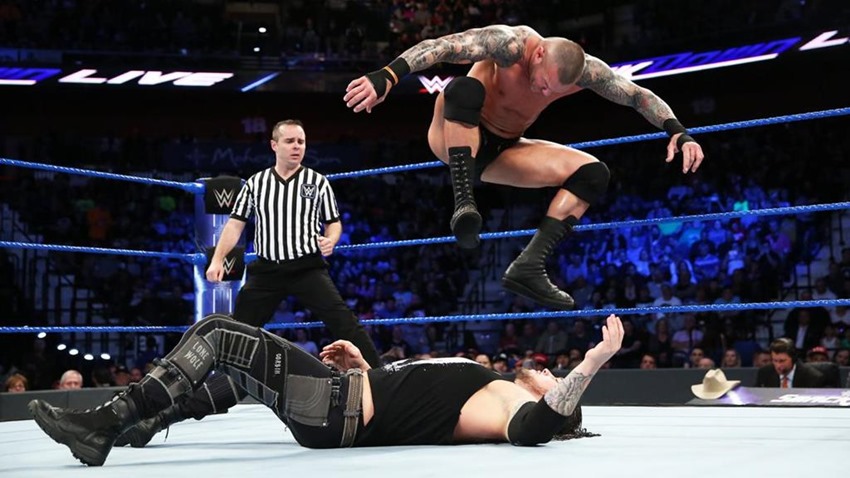 Baron Corbin has been on the hunt for Dean Ambrose for weeks now since his mysterious disappearance, but he got more than he wanted when he intruded on Daniel Bryan's office space and demanded a match with the maniac. Corbin got a maniac, but not the one he was expecting: Randy Orton. In a heavy-hitting match, Corbin and the Viper went all out on one another, with Corbin actually looking to possibly pick up a victory against the number one contender for the WWE Championship.
But the sudden reappearance of Ambrose (on a forklift no less) created a distraction that could only mean one thing: An RKO outta nowhere as Orton earned his victory. With Orton victorious, Ambrose had an announcement to make: He'd be wagering his Intercontinental championship against the lone wolf at Wrestlemania, a deal he punctuated with a Dirty Deeds so that Corbin knew exactly who he'd be facing at the showcase of the immortals.
Bray Wyatt played mind games with Randy Orton backstage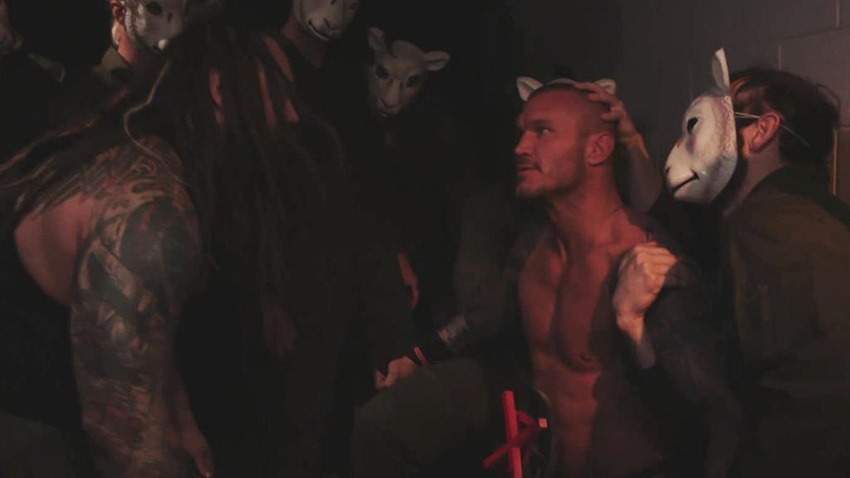 In a post-match interview, Orton found himself facing electrical troubles. And a gang of sheep. Or rather burly men wearing sheep men, as Bray Wyatt had sent his minions forward to weaken the viper, claiming to be stronger than ever after his family compound was burnt down to the ground. With Orton trapped, Wyatt performed some bizarre ritual on the Apex predator as he prepared his latest sacrifice for Wrestlemania.
John Cena defeated Fandango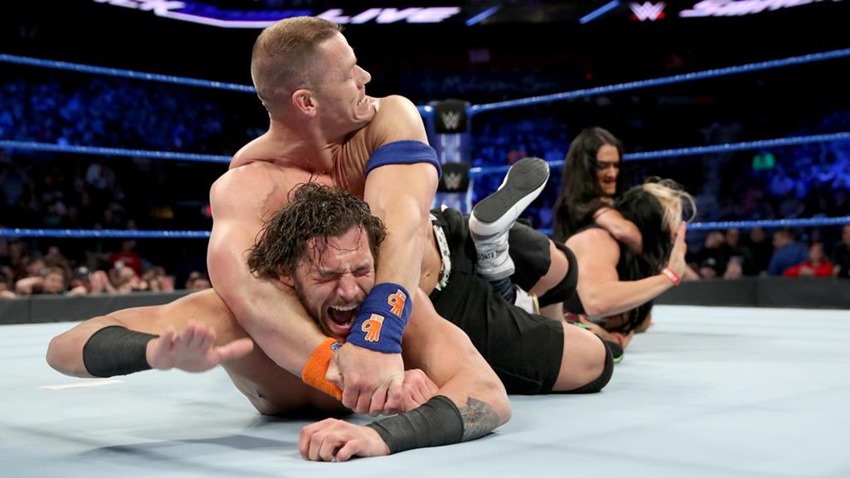 What happened when Tyler Breeze (dressed up as "Breezy Bella thanks to shenanigans from The Miz and Maryse) attempted to get involved in John Cena's match against Fandango? He got a takedown from Nikki Bella, as John Cena quickly wrapped up his bout with an Attitude Adjustment.
Carmella vs. Becky Lynch ended in a no contest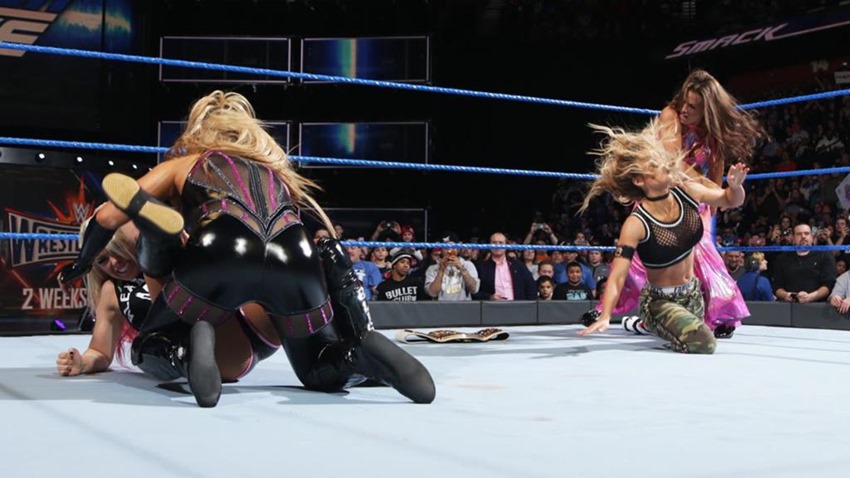 Becky Lynch had it out for Carmella last night after her ambush on Smackdown last night, but thanks to some inteference from Natalya that score was anything but settled. Mickie James and Smackdown Women's champ Alexa Bliss also decided to get involved, leading to a brouhaha of note within the ring that Bliss emerged from as she stood tall over her Wrestlemania competition.
AJ Styles and Shane McMahon gave the WWE Universe a small WrestleMania preview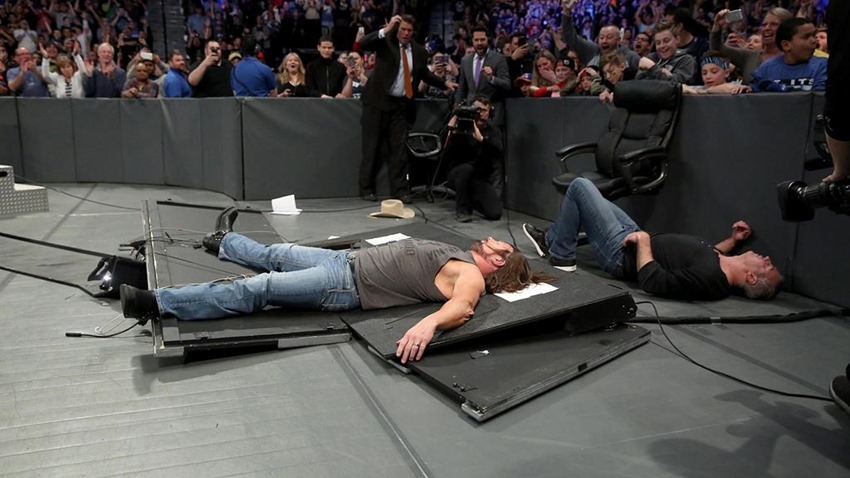 AJ Styles was hungry to reintroduce Shane McMahon's face to a car window again, but his constant waiting was all for naught. That's because Shane-O-Mac was already in the arena, as he called out Styles. Not falling for the Phenomenal One's apologetic ruse, Shane-O-Mac decided to launch a sneak attack of his own that ended with Styles being introduced to the elbow of the hardcore boss as he cracked the announcer's table in half.
Now that's how you send a message before Wrestlemania to your competition.
Last Updated: March 22, 2017