Smackdown LIVE was held at the The Coliseum in Richmond, Virginia last night. Here's all the action that went down in the run-up to Wrestlemania.
AJ Styles and Shane McMahon signed the contract for their match at WrestleMania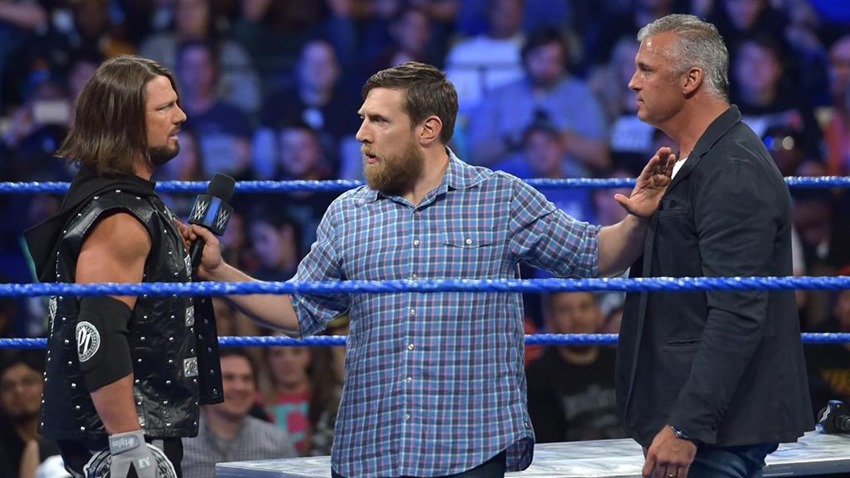 Some employees just don't get along with their bosses, resulting in a tense office environment. Or incidents involving the boss having his head thrown through the glass of his car. That's the situation right now with AJ Styles and Shane McMahon, as the former champ who ran the camp is looking to earn some payback for perceived slights from the Smackdown boss of bosses.
General manager Daniel Bryan attempted to keep the contract signing as civil as possible, but Styles was having none of it as he entered and exited the ring with a steely gaze locked on his hardcore competition.
Becky Lynch vs. Carmella ended in a no contest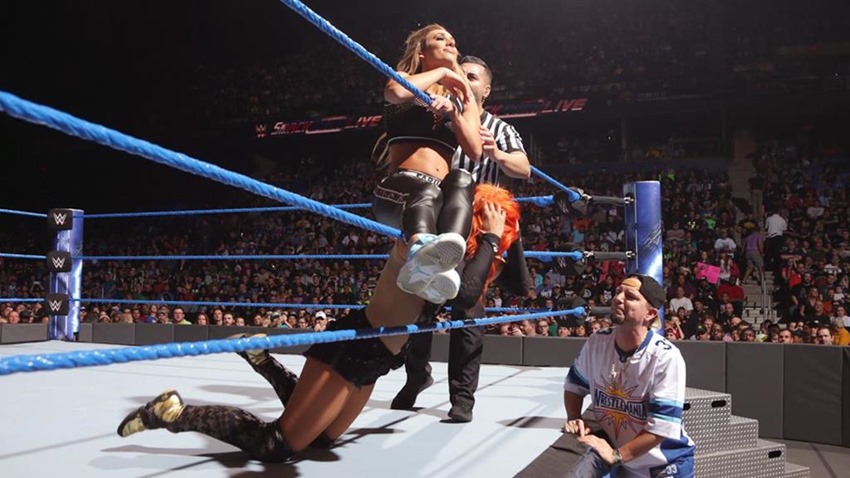 Last night's Smackdown match between Becky Lynch and Carmella was meant to end the heat that the two had generated between each other over recent months, but when you've got Mickie James and Alexa Bliss on commentary then things are bound to get ugly. It wasn't long before Bliss and James entered the fray, turning the ring into a brouhaha simulator that completely derailed the match.
General amanager Daniel Bryan had a plan to avoid the No Contest entirely, as he decided right then and there to have all four ladies compete in a tag team match instead.
Alexa Bliss and Carmella defeated Becky Lynch and Mickie James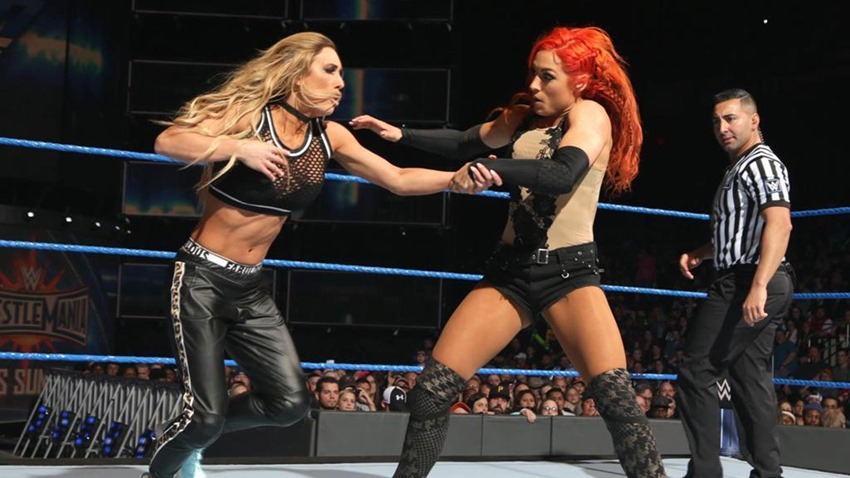 Which meant no more chaos, right? Just good ol' fashioned tag team action! Ha, wrong. While the ladies brawled, Natalya decided to sit in on the match at the commentary table, which eventually led to her attempting to interfere. The ref was sharp enough to catch Natalya, but not quick enough to spot James Ellsworth as he tripped up Lynch and Carmella the moment she needed to pick up the victory pin.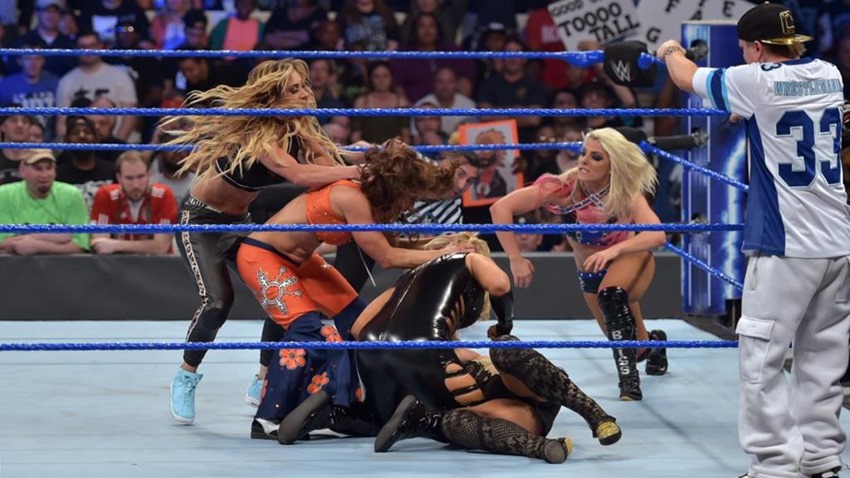 With the match descending into chaos once again, Naomi also returned to the fray, clearing the ring and making an announcement: She'd be ready for action in the Smackdown Women's title match at Wrestlemania this Sunday.
"Miz TV" ended on a totally serious note between SmackDown LIVE's "It" couples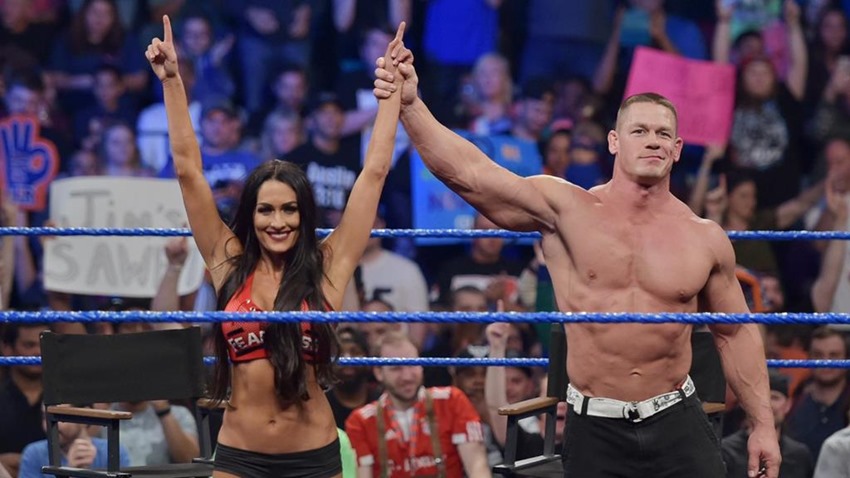 Look, this whole angle has been stupid save for the fact that The Miz imitating John Cena is pure gold. They talked on Miz TV, they clashed get ready for Wrestlemania yadda yadda yadda.
Mojo Rawley, Heath Slater, Rhyno and American Alpha defeated Dolph Ziggler, Breezango and The Usos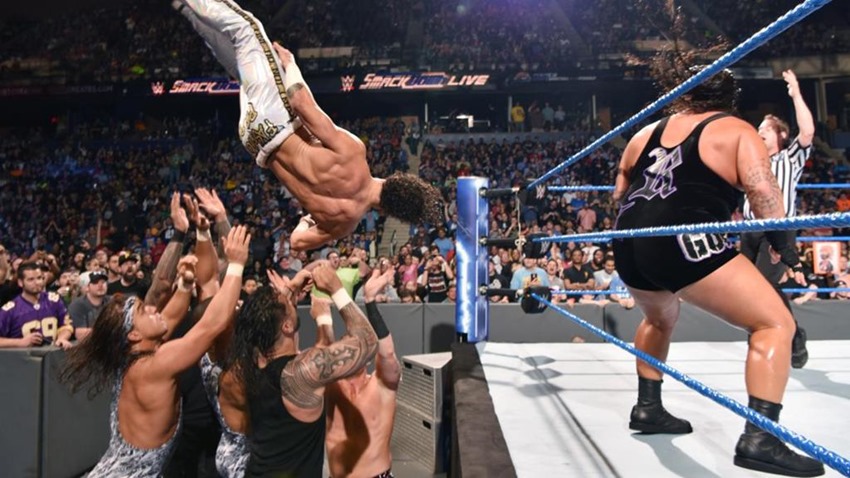 In a chaotic match between some of the best superstars on the Smackdown roster and Breezango, Mojo Rawley picked up a huge win in this 10-man tag team match when he scored the pin on Tyler Breeze.
Bray Wyatt defeated Luke Harper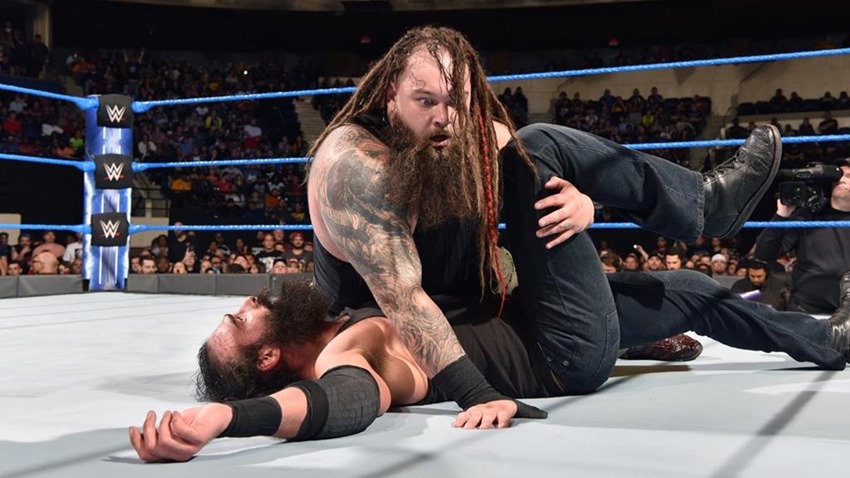 Just who can you trust lately? That's a question that Bray Wyatt must be asking himself lately as the Smackdown champ is heading into Wrestlemania without any of his acolytes by his side. Speaking of, Bray took care of business last night when he trapped former disciple Luke Harper in the dreaded Sister Abigail and picked up the win.
The night wasn't over just yet however, as Randy Orton appeared on the Titantron to deliver a message to the eater of worlds. A message that saw him drive a crusix into the remains of Sister Abigail, possibly weakening his opponent for their bout at Wrestlemania this Sunday.
Last Updated: March 29, 2017