WWE Smackdown LIVE took place from the AT&T Center in San Antonio, Texas. Here's all the action that went down.
New United States Champion AJ Styles kicked off SmackDown LIVE with an Open Challenge
Wait what, AJ Styles is the new United States champion? Yep! Last week at a live event Styles managed to overcome the supposed new face of America at Madison Square Garden and win the coveted championship. Starting Smackdown LIVE with an open challenge, Styles was met by none other than John Cena. A former US champ himself, Cena was ready to answer the call to battle, but Kevin Owens had other plans as he snuck into the ring with Rusev to ambush the pair.
Styles got hit with a pop-up powerbomb of note, while Rusev locked in his signature accolade hold to scupper any plans of a Cena vs Styles match for the night.
Jinder Mahal def. Tye Dillinger
Despite a spirited effort from the perfect 10 known as Tye Dillinger, the plucky upstart was no match for WWE Champion Jinder Mahal, as the modern-day maharaja ued his trademark Khallas to knock the challenger out cold for the night. With a championship match on the horizon at WWE Battleground, Mahal told the Smackdown LIVE audience that they'd soon be treated to a taste of the Punjabi prison match next week on the show, as the infamous cage would make its way to the ring sooner than expected.
Xavier Woods def. Jey Uso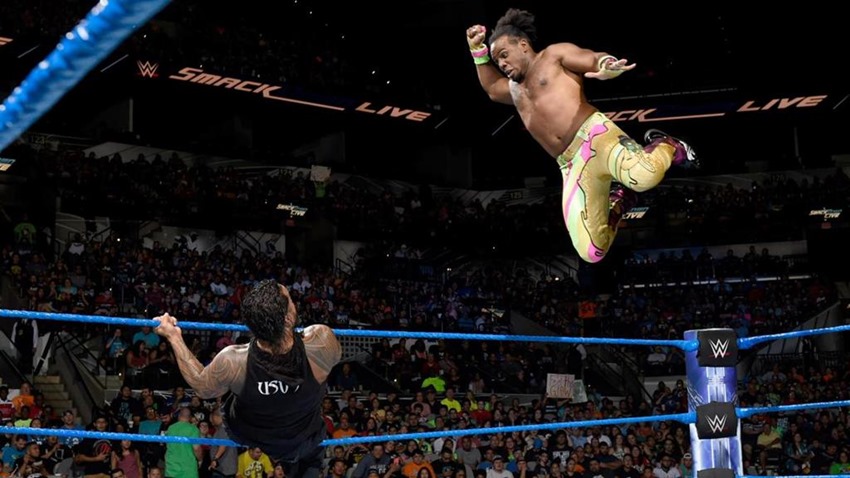 The New Day and the Usos have had a war of words and raps lately, but last night saw the two teams take their rivalry to a more physical level as Xavier Woods battled Jey Uso. Their teammates watching the battle from the side, shenanigans from both parties led to them being ejected from ringside as Woods and Jey battled on. Xavier Woods would have the final say in the bout, as an elbow to Jey Uso when he was stuck between the ropes sealed the deal on a win.
Shinsuke Nakamura and Baron Corbin got into a raucous brawl
Instead of settling their differences in a Smackdown LIVE match, Shinsuke Nakamura and Baron Corbin didn't even wait for the bell to ring before they started tearing into each other, going on a whirlwind tour of the ring before the officials could pry them apart.
Natalya and Tamina def. Charlotte Flair and Becky Lynch
This was a…distracting match. Four ladies who all have a part to play in the upcoming 5-Way Elimination match battled in a tag team bout, while Lana provided inteference that allowed Tamina to land the finishig blow on Charlotte Flair and sneak in a win.
Sami Zayn felt Maria AND Mike Kanellis' Power of Love
No one gives a f*** about these two. NEXT!
John Cena and AJ Styles def. Kevin Owens and Rusev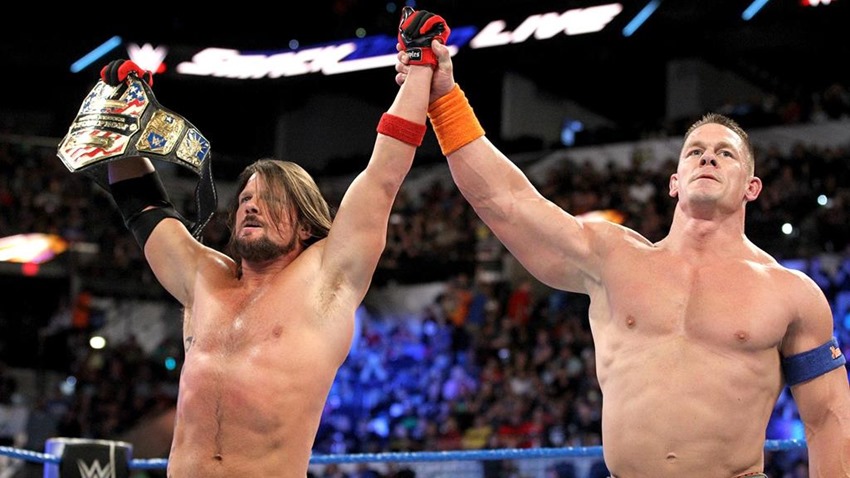 Looking for some payback, John Cena and AJ Styles set aside differences to give Kevin Owens and Rusev a lesson in the power of the United States championship in a main event that left the ring shaken and stirred. There was only one way that this match could have ended, and that's with an Attitude Adjustment to Owens from Cena while Styles kept the ring clear with a Phenomenal Forearm.
Payback delivered, Cena and Styles left the ring with a newfound respect for one another as Smackdown LIVE ended for the night.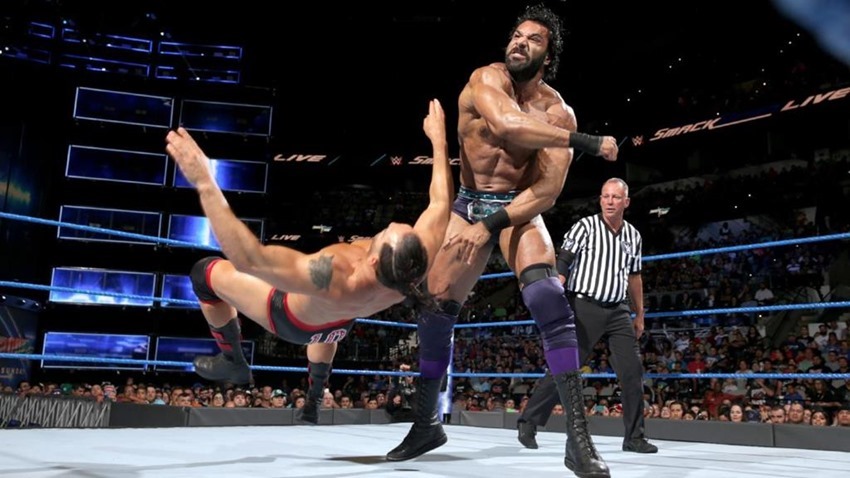 Last Updated: July 12, 2017