SmackDown Live took place at the Rabobank Arena in Bakersfield, California last night. Here's all the action that went down.
Opening segment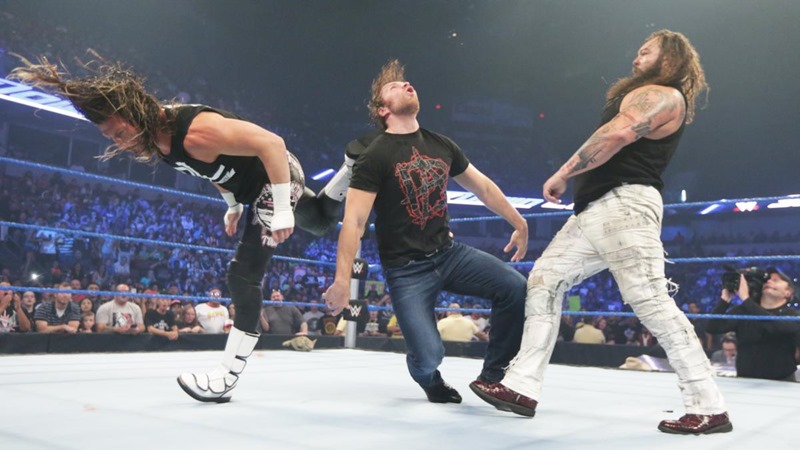 After Randy Orton and Alberto Del did a little bit of trash-talking backstage, Bray Wyatt hit the Smackdown ring to talk some smack about Dolph Ziggler. Wyatt claims that Ziggler is up against the world, comments that drew current WWE Champion Dean Ambrose out to poke some fun at the family man and his swamp goon pal Erik Rowan.
Dolph Ziggler then appeared for an attack run on Wyatt and Rowan, with Ambrose wanting to lend a helping hand. Wyatt and Rowan got the upper hand however, using Dean Ambrose as a shield to avoid a superkick from Ziggler and throwing in a Sister Abigail on the show-off for good measure.
Backstage
And Ambrose wasn't too happy, as he told Ziggler that he owed him one. Which of course set the two up for a tag team match later in the night.
American Alpha defeated Mikey O'Shea and Mike Vega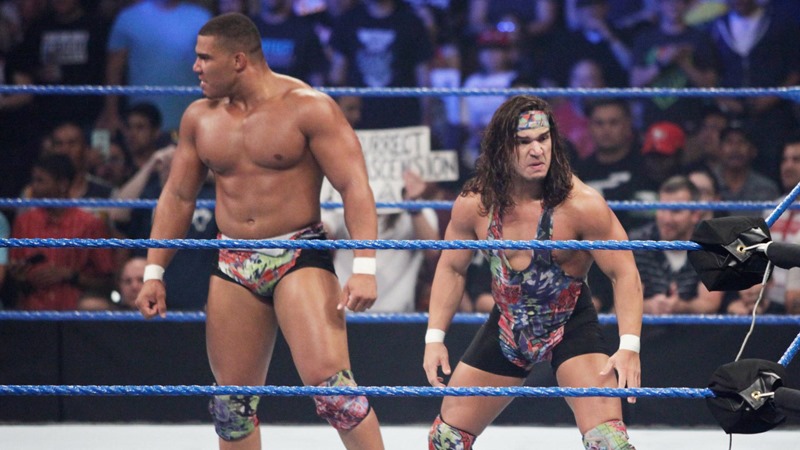 The Smackdown tag team division was clearly interested in newcomers American Alpha, as the Ascension, the Vaudevillains and the Hype Brothers were all at ringside to see this match. American Alpha was fire in this squash bout, throwing suplexes in a quick round that they easily won. With the bell rung, the rest of the tag team division decided to hit the ring and start a brawl for it all, but it was American Alpha who was left standing.
Becky Lynch vs. Eva Marie ended in a No contest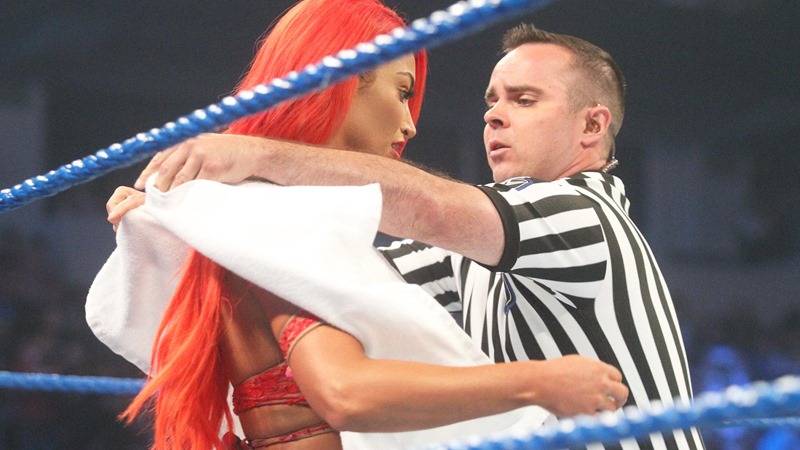 The bell wasn't even rung before Eva Marie had a wardrobe malfunction and ran back to the Smackdown locker room. With her opponent having scarpered, Becky Lynch issued an open challenge. A challenge that Alexa Bliss accepted.
Alexa Bliss defeated Becky Lynch
Becky Lynch managed to survive an opening onslaught from Alexa with a comeback Becksploder, but when Eva's music suddenly played a distraction was made. Which was all that Alexa needed to take down Becky with a Twisted Bliss off the top rope for a Smackdown victory.
Randy Orton defeated Alberto Del Rio via DQ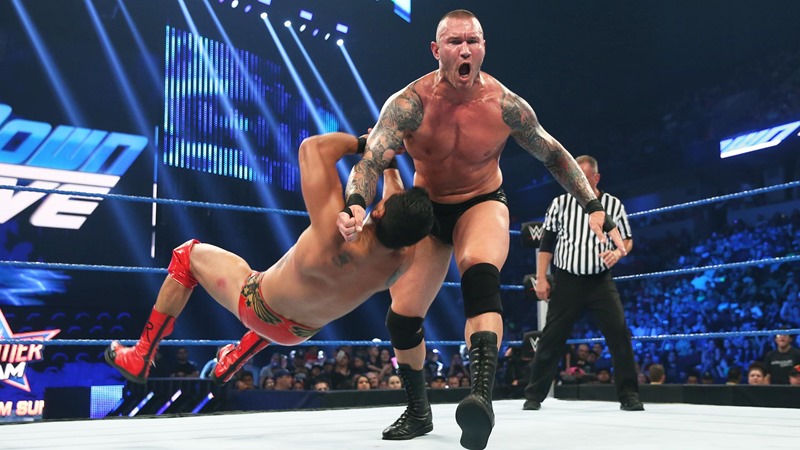 Standard back and forth action in the opening minutes of this Smackdown match, with Orton hitting knee drops and doing some groundwork before Del Rio bounced back with a Backstabber and started working Orton's shoulder. Orton was playing dirty however, as he recovered enough to poke Del Rio in the eyes and follow that up with a dropkick. Another comeback from Del Rio was countered by Orton crotch-attacking him on the turnbuckle and turning that into a superplex, a spinning powerslam and a middle rope DDT.
That wasn't nearly enough however, as the two started brawling around the Smackdown ring, with Del Rio earning a disqualification for the use of a steel chair. Not having a care in the world, Del Rio threw Orton back into the ring so that he could finish the job, but then! Out of nowhere! RKO!
The Miz is back
And he's busy cutting a promo on a guy in the Smackdown parking lot who happens to be in a Scooby Doo costume, because the Awesome One is totes jealous that he isn't on the cover of the new Scooby Doo and WWE DVD movie. And then things got weird as Scooby locked the Miz in the back of his truck and stole a car.
Rhyno defeated Heath Slater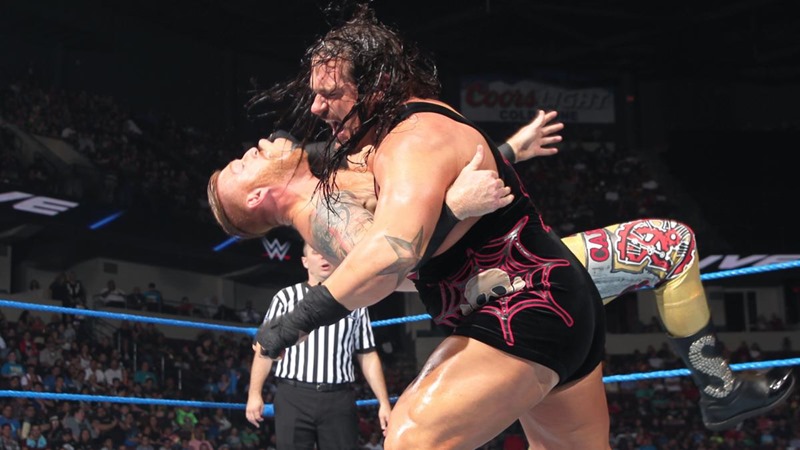 Heath Slater actually put up a decent fight as he tried to earn a Smackdown contract, using a few dirty tricks to avoid a Gore and quickly pin Rhyno. The ref was having none of it however, resulting in an in-ring argument and a Gore from Rhyno that hit the mark. Afterwards, Slater's mouth ran wild backstage when he bumped into Shane McMahon and Daniel Bryan and ended up with him taking off as Bryan remarked that "I guess we're not going to give him this contract then."
Carmella defeated Natalya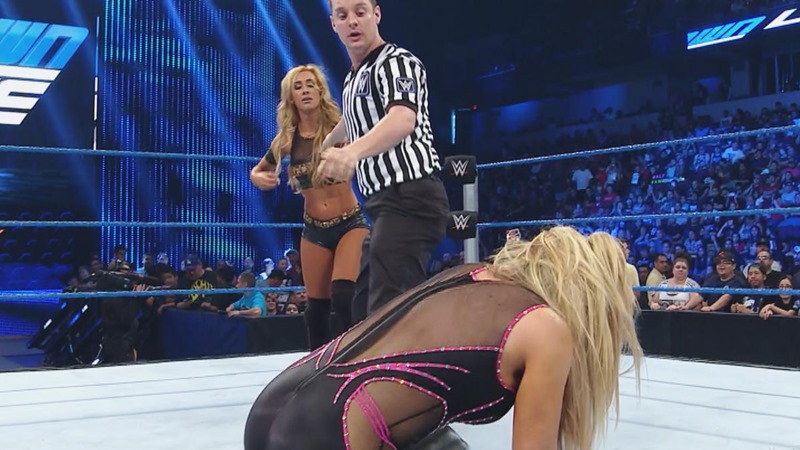 Making her way to the Smackdown ring to cut a promo, Carmella got blindsided by Natalya, but Carmella fought back while the ref called for the bell to be rung. A great match from the two, that ended with Carmella escaping the Sharpshooter and choking out Natalya for the win.
Dolph Ziggler and Dean Ambrose defeated Bray Wyatt and Rowan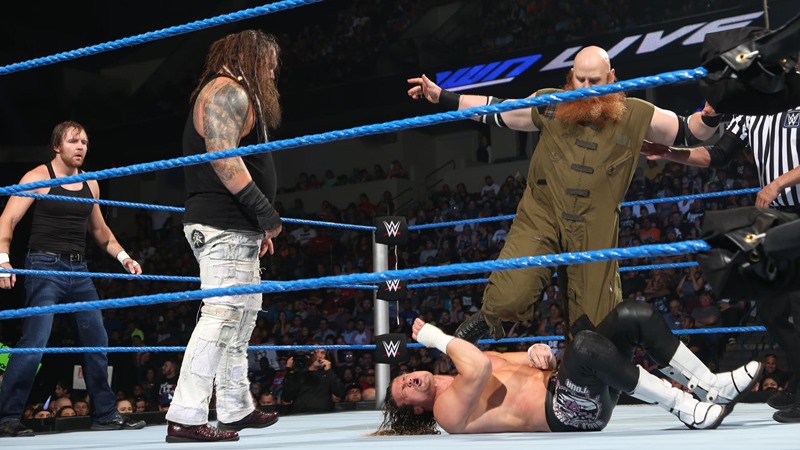 Ambrose kicked off the Smackdown main event with some solid control, tagging in Ziggler to deliver a dropkick to Bray Wyatt. With the ref's back turned however, Rowan would quickly clothesline Ziggler and set up an opportunity for Wyatt to land a powerslam, but a missed Senton Bomb opportunity would give Wyatt the chance to tag Ambrose back in.
And on the match went, with momentum constantly shifting between the two. Neckbreakers, Suicide Planchas, Rock Bottoms and so much more. The finish came when Ziggler landed a Zig Zag on Rowan, which Bray attempted to derail when a pin was locked on. Ambrose threw Wyatt out of the ring however, giving Ziggler the chance to Superkick Rowan into another life and pick up the win on Smackdown.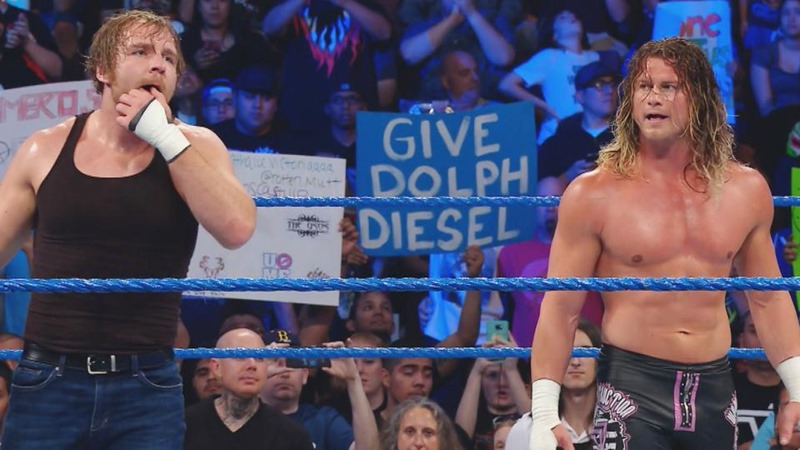 But it was Ambrose who would stand tall as Smackdown went off the air, with a sneaky Dirty Deeds attack on Ziggler to remind him who the champ was before their match at Summerslam.
Last Updated: August 10, 2016