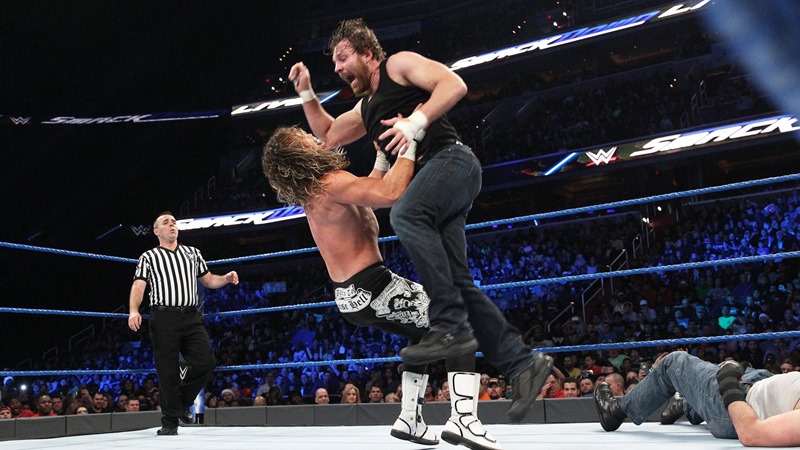 WWE Smackdown this week took place from the Verizon Center in Washington DC. Here's all the action that went down.
Tempers flared and bedlam broke out on "Miz TV"
Smackdown kicked off with WWE Champion AJ Styles paying The Miz a visit on his in-ring show, as the A-Lister decided to try his luck at suggestimg a title shot now that the No-Chin wonder known as James Ellsworth had fallen ill and had had his own main event match with the champ suspended. Dean Ambrose however, had other ideas regarding that challenge. As did Dolph Ziggler and Luke Harper, who descended on the ring for a brouhaha.
With finishers flying wild and bodies dropping on the floor, it was only a matter of time until all four challenges would meet up in a main event. Which is precisely what happened, later that night.
Carmella defeated Natalya
So who really attacked Nikki Bella at Survivor Series? Was it Natalya? Because Carmella had her as suspect numero uno, but Natalya decided to prove her innocence in the Smackdown ring instead. With Nikki at ringside, Natalya's head clearly wasn't in actually nobody cares. Oh my crap this angle is terrible and nobody cares at this point in the year. Don't waste your talent on rubbish plots like this WWE.
Natalya got distracted by Nikki at ringside, Carmella got the three count. The end for tonight, but probably not for this angle.
The Hype Bros won the SmackDown Tag Team Championship No. 1 Contenders' Battle Royal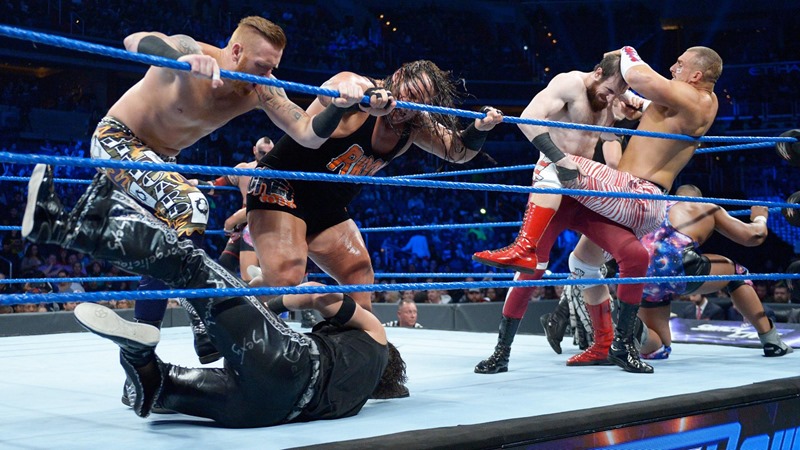 Just about every tag team in the Smackdown locker room was present for this bout, to determine the official challengers for the tag team gold currently held by The New Wyatt Family of Bray Wyatt and Randy Orton. It was utter chaos in that ring, a mosh pit of slams and clotheslines as the over the top rope challenge would only end for a team when both of its members had been eliminated.
And in the final seconds, it was Zack Ryder who tossed out Konnor of the Ascension. With the Hype Bros now in the running for a tag team championship match, opportunity beckons. If Ryder can overcome a bum knee that is.
Becky Lynch defeated SmackDown Women's Champion Alexa Bliss via Count-out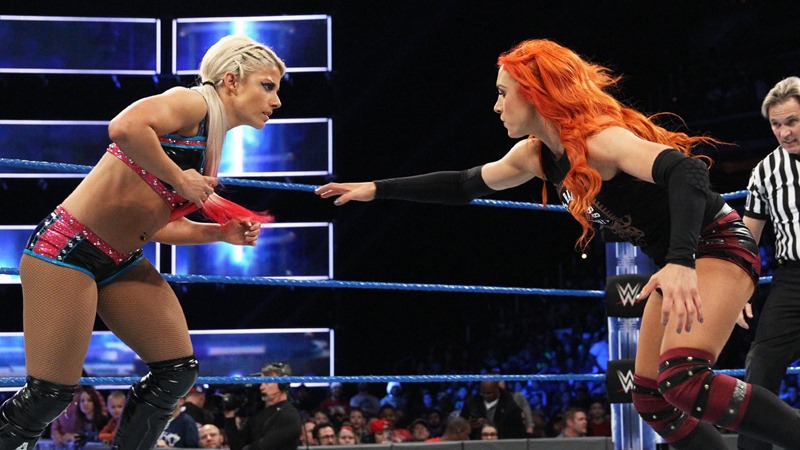 Next up on Smackdown, singles competition between the ladies that was actually worth caring about! New champ Alexa Bliss was originally going to face some local talent, but said talent was annihilated before the bell was even rung. With an easy pre-victory in her hands, Bliss thought her night was done and her gold safe. But the appearance of Becky Lynch and Smackdown Commissioner Shane McMahon sanctioning the bout saw the tables turned for the wicked witch.
Lynch held nothing back, throwing everything she had at Bliss in an attempt to reclaim her title and came dangerously close to doing so. But a sudden leg injury to Bliss saw the champ limp away from the ring, losing by countout and keeping her belt on a technicality. Bliss may have lost the battle, but she certainly won the war last night.
Dolph Ziggler defeated Dean Ambrose, The Miz and Luke Harper in a Fatal 4-Way Elimination Match to become the No. 1 contender for the WWE Championship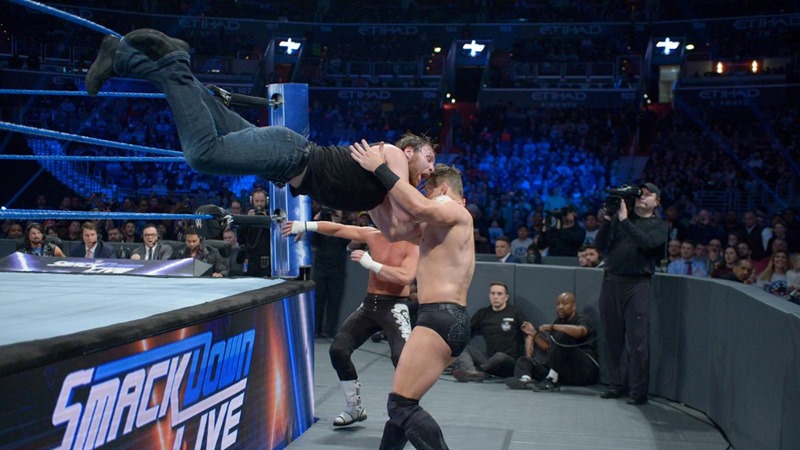 With four challengers vying for his title, AJ Styles joined the Smackdown commentary team for the main event, as all four stars looked set to prove their mettle in the ring. First person eliminated however? That would be The Miz, who got caught up in a roll-up by Dean Ambrose. Luke Harper followed shortly, as a deadly Superkick and Dirty Deeds combo from Ambrose and Dolph Ziggler knocked him out of the running.
And then it came down to just two men. Ziggler and Ambrose were ready to end 2016 with fireworks, as their exchanges went back and forth all night long, but it was Ziggler who caught Ambrose with a Superkick thanks to some ring shenanigans from The Miz who claimed victory and a chance to challenge AJ Styles for the WWE Championship.
Last Updated: December 14, 2016