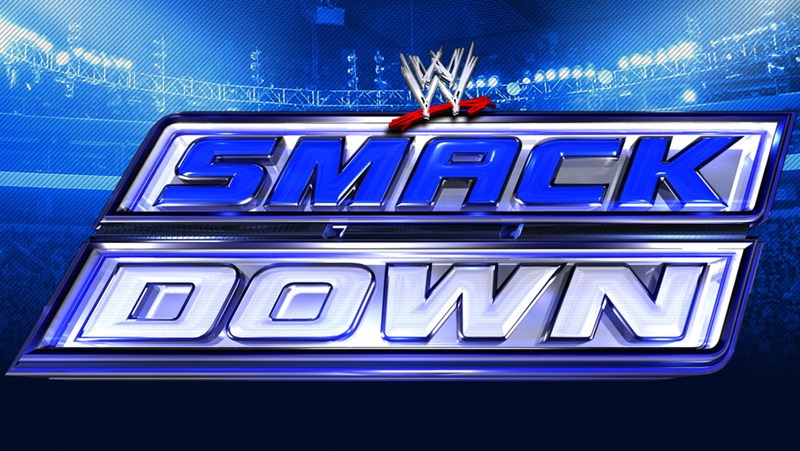 Smackdown Live took place at the Resch Center in Green Bay, Wisconsin. Here's all the action that went down.
Opening segment
Dean Ambrose was talking to miracle jobber James Ellsworth in the locker room, as the man who beat AJ Styles twice wanted to return a favour to Ambrose by being in his corner for the main event of the night. Ambrose politely declined the offer of course.
Bray Wyatt defeated Kane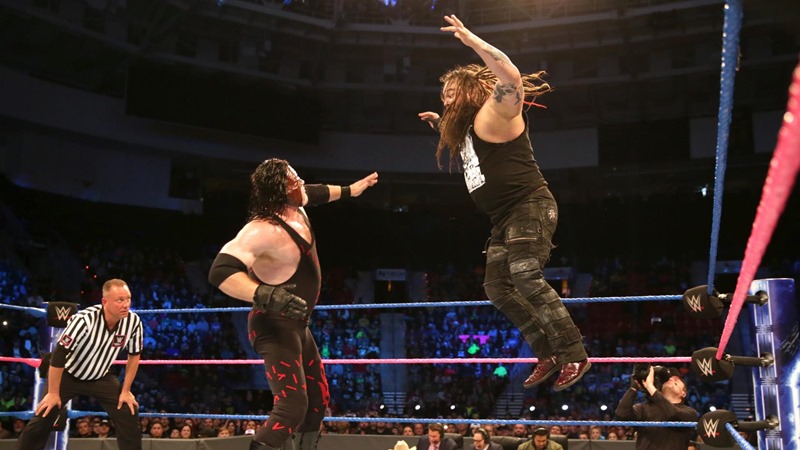 And after that short bit, it was time for the first Smackdown match of the night! In a No Disqualification bout, Kane and Bray Wyatt took their fight inside and outside of the ring. Bray tried to end the match early with a chairshot, but Kane was ready for him and introduced the elder Wyatt's face to the steel ring steps. Going in for the kill, Kane cleared the announcers table and began to ready Bray for a chokeslam BUT THEN: The lights went out.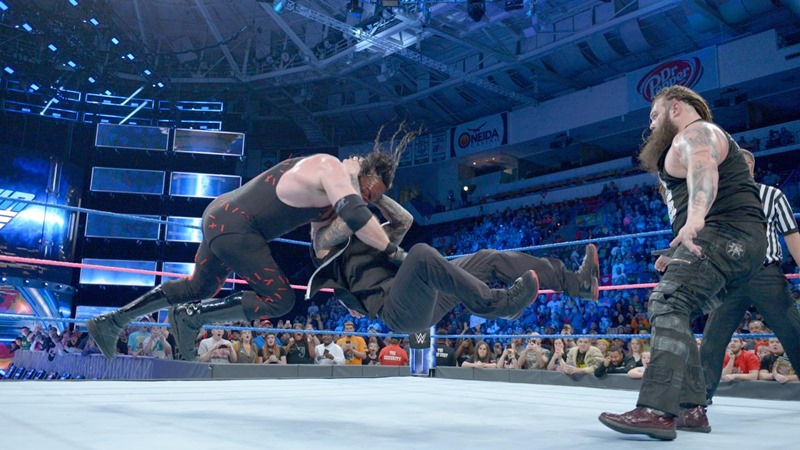 And when they came back on, Luke Harper quickly intefered and allowed Bray to regain the momentum. With both superstars eventually clotheslining the other, Randy Orton would appear to keep Harper at bay and joined Kane for an attack on Bray. Or so it would seem, as Orton instead locked an RKO on the big red machine, giving Bray the pin.
Backstage
AJ Styles cut a promo on Ambrose, explaining that if Ellsworth got involved then he'd be missing "more than just his chin" after he was done with him.
The Hype Bros defeated The Ascension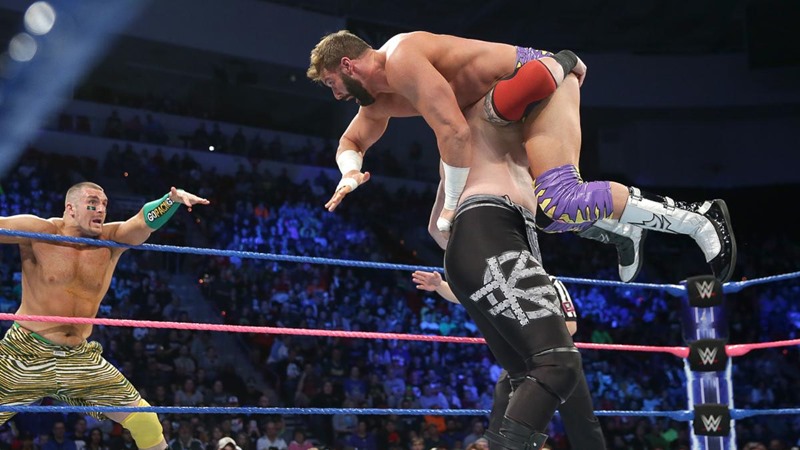 A quick tag team match next on Smackdown, as Ryder's initial momentum came to a halt as the Ascension took turks working the Long Island star. But once Mojo Rawley got a hot tag in, he cleaned the ring and set Viktor up for a Hype Ryder finish.
Backstage with Orton
Questioned about his betrayal of Kane, Orton simply replied that if you can't beat 'em, then join 'em.
Nikki Bella defeated Natalya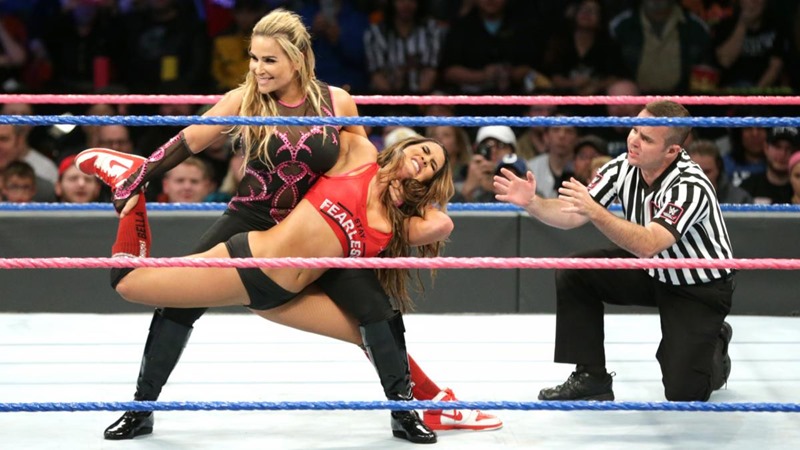 Natalya was in firm control here, assaulting Nikki's back and locking her into various holds and submissions. But Nikki managed to power out of a surfboard submission and placed Natalya into the STF to get her own win via a tap-out. And then Carmella decided to ruin the glow of her Smackdown victory. For shame.
Alexa Bliss spoiled the return of Becky Lynch
And I'm digging her Harley Quinn look lately. Anyway, Becky Lynch's big return to Smackdown was cut short by Bliss, who decided to assault the lass-kicker and leave her sprawled out in the ring after spray-painting a stripe down her back. Well alright then.
The Miz was in the ring
And he had his Spirit Squad pals with him dammit! Standing in the Smackdown ring to talk about the state of the Intercontinental championship, Ziggler quickly interrupted The Miz, with Heath Slater and Rhyno quickly joining him. And thus a match was set up as Rhyno and Slater were challenged to wager their tag team gold against The Spirit Squad.
Heath Slater and Rhyno defeated The Spirit Squad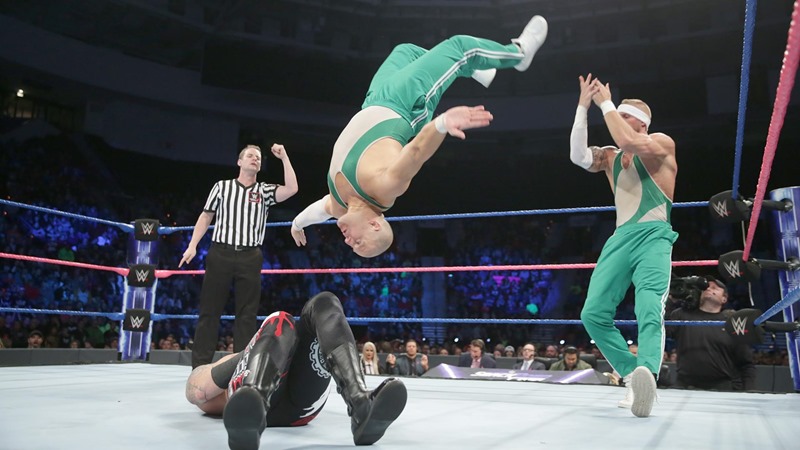 The Miz and Ziggler joined the commentary team for this next Smackdown match, which was your usual tag team action. Hot tags and big slams, as the match ended with Slater clearing the ring for Rhyno to hit a Belly to Belly suplex and Gore on Mikey to pick up the win.
Backstage
James Ellsworth was sad you guys. Then Dean Ambrose cheered him up by telling him that he could be in his corner for the night after all. Yay!
AJ Styles defeated Dean Ambrose via DQ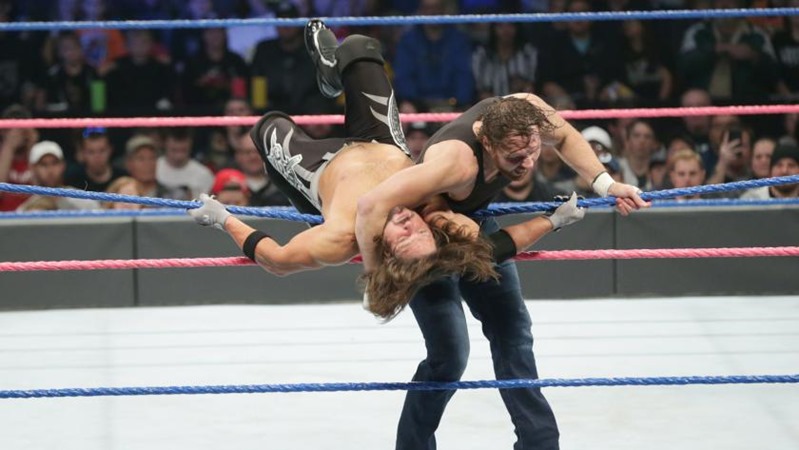 Ambrose and Styles wasted no time with the Smackdown main event, as they basically took turns rearranging each other's organs in this bout. Stomps and the typical Ambrose offense clashed with the in-ring genius of Styles, as the two traded life points in search of a win. Throughout the match however, poor James Ellsworth got picked on constantly by Styles, something that eventually reached a boiling point when the jobber landed a superkick on Styles at ringside during the match.
And that's a serious no-no, as the ref called for the bell to be rung and Ambrose was disqualified. Furious, Ambrose left Smackdown without a win as Styles ended the night with his gold held high.
Last Updated: October 26, 2016