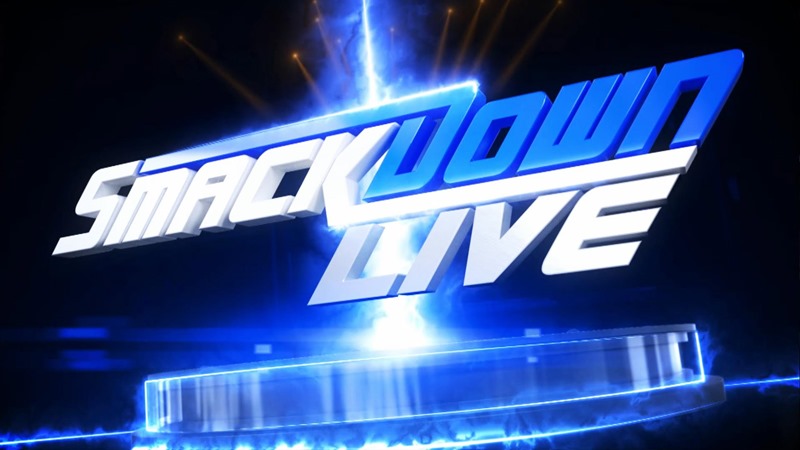 Smackdown took place at the Quicken Loans Arena in Cleveland, Ohio this week. Here's all the action that went down.
Opening segment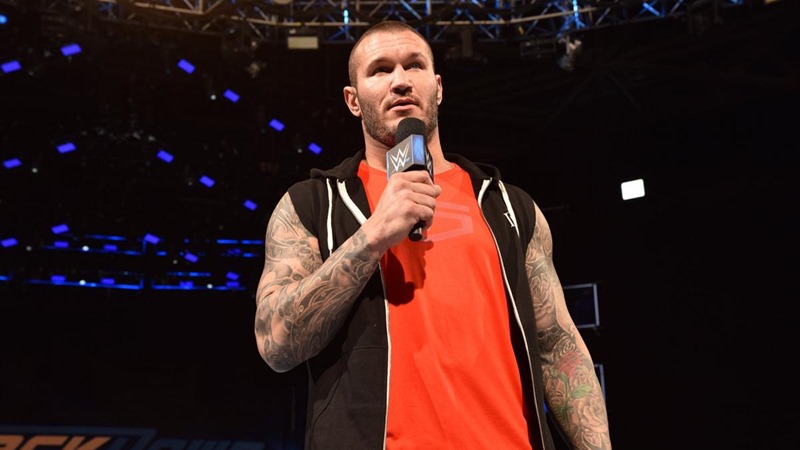 Randy Orton kicked off Smackdown by grabbing a mic outta nowhere, calling out Bray Wyatt and demanding a match right then and there. The lights went out, Bray Wyatt appeared on the big screen and delivered a message of his own to Orton, telling him that "he's got the whole world in his hands," leaving Orton and the audience puzzled as that segment ended.
Meanwhile, Dean Ambrose arrived at the arena, and decided to talk some trash regarding John Cena and AJ Styles. TLDR: Cena is old stuff, and Styles was going to get demolished tonight.
The Ascension and The Usos defeated Heath Slater, Rhyno and American Alpha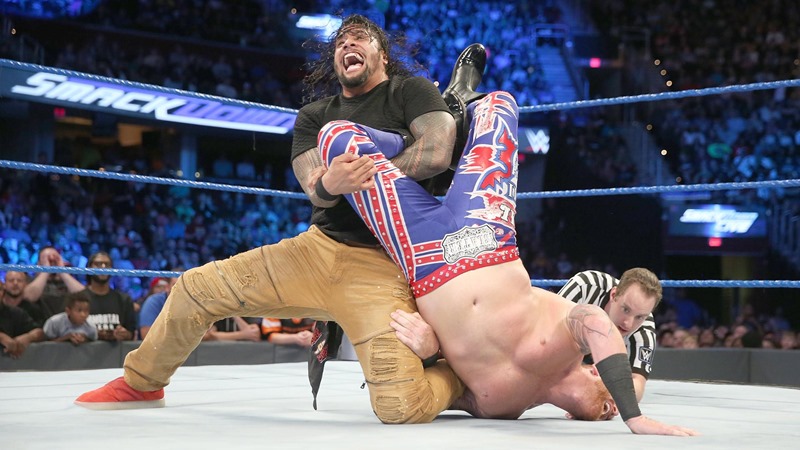 The first match on Smackdown kicked off with the Usos debuting a heelish new look and entrance music, but it was American Alpha who had control of this bout in the opening minutes. The Usos went for their usual tricks however, working the knee of Gable and allowing COnnor to tag in and continue the assault. Thanks to Rhyno keeping the ring clear of interference with a massive clothesline, Gable was able to finally get a hot tag to Heath Slater, who went on to clear the ring.
Victory looked certain at this point for the new faces, but a few superkicks later and a single leg Boston Crab hold to Slater's injured knee resulted in a submission win for The Usos and the Ascension.
Backstage
Orton was on the warpath, scouring Smackdown for Bray Wyatt as he searched high and low for his latest nemesis while Eric Rowan stalked him. Meanwhile, John Cena gave a brief promo where he claimed that the WWE Championship would be his again after No Mercy.
Natalya and Carmella defeated Naomi and Nikki Bella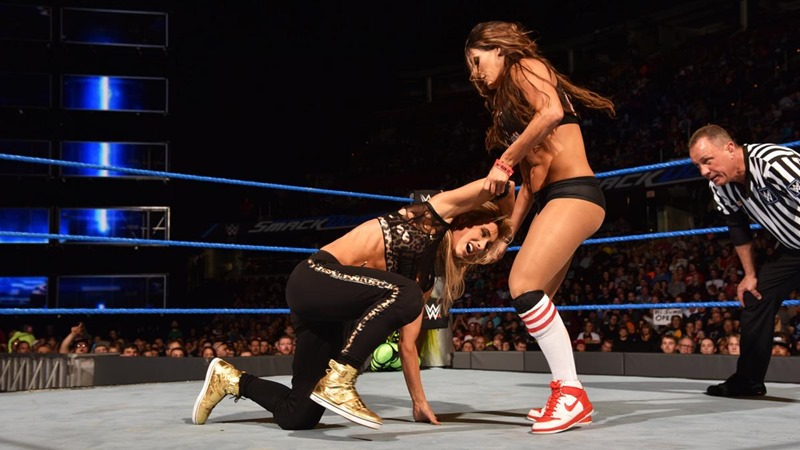 Naomi started the next Smackdown match with some serious control over Carmella and a little bit of spanking added in for good measure. Taking the match beyond the ring, Natalya hit a Michinoku Driver on Naomi as the heels maintained control. With an injured knee, Naomi was feelling the pain thanks to an onslaught of a Bronco Buster and a Northern Lights Suplex.
Nikki finally got the hot tag and started clearing the ring, but an eye poke from Carmella and ringside distactions from Natalya saw Nikki rolled up for a quick pin.
Orton's hunt continued
Eventually following the clues into a dimly lit room that contained a cardboard cutout of him, Orton's segment ended with Eric Rowan slowly getting closer to the Viper.
The Miz was in the ring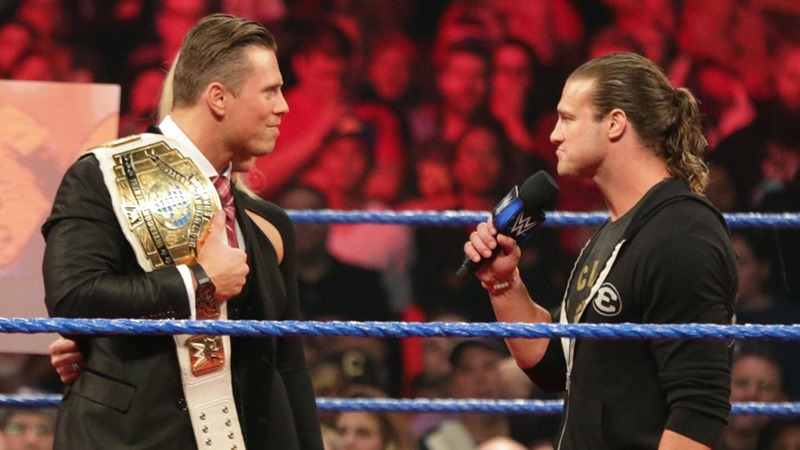 And he had a family reunion in mind. After running a highlight reel of his career so far and trash-talking his hometown audience, The Miz brought in his parents and Dolph Ziggler's mom and dad. Detailing how Ziggler's folks had raised a loser, the man himself appeared and spoke about how The Miz had only beaten him by cheating.
The Miz wasn't giving a damn however, and the trash-talking continued. Eventually, the two decided to have one more match with The Miz's title on the line again at No Mercy. Only this time, if Ziggler loses then he'll quit wrestling for good.
Backstage with Orton and Bray Wyatt again
Bray Wyatt was once again in an undisclosed location, flanked by his loyal henchperson, Person In A Sheep Mask. Surprise! It was actually Orton, who had finally found his Smackdown rival and knocked Wyatt out. Things got weird then, as Orton put the mask back on amidst some curious edits and the video ended with Wyatt sitting in his chair again.
AJ Styles defeated Dean Ambrose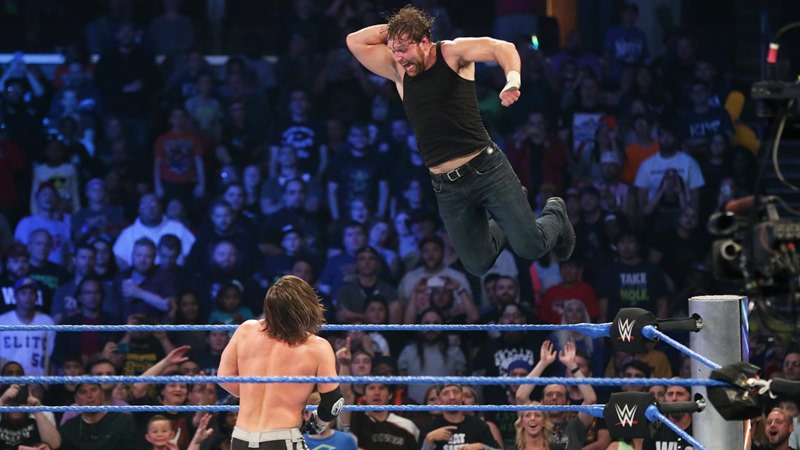 John Cena was on commentary for the Smackdown main event, as Ambrose took control of the match right from the start. A slobber-knocker of a bout, AJ brought his usual game of suicide dives, clotheslines and backbreakers to AJ's flying elbow strikes, neckbreakers and splashes. The two shaved years off of each other as they took the momentum, but AJ wanted more.
Landing a cheap shot on Cena worked to AJ's advantage, as the livid rival spoiled a perfect roll-up pin from Ambrose on AJ by inadvertently distracting the ref. Ambrose decided to eject Cena from the ring with a few quick shots, a move that resulted in AJ locking in a sneaky pin and claiming victory for the night.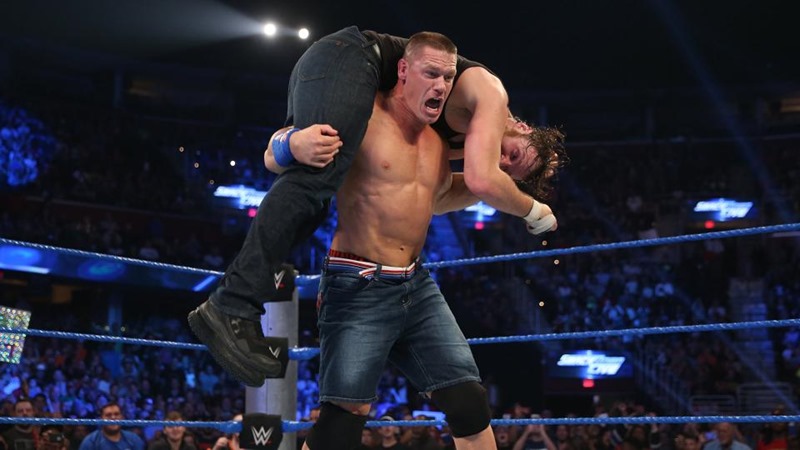 The action wasn't over however, as Ambrose attempted to get Cena in Dirty Deeds but fell victim to an Attitude Adjustment instead. AJ tried to attack Cena then, but he also walked into an Attitude Adjustment as Cena held his gold once again as Smackdown ended for the night.
Last Updated: September 28, 2016