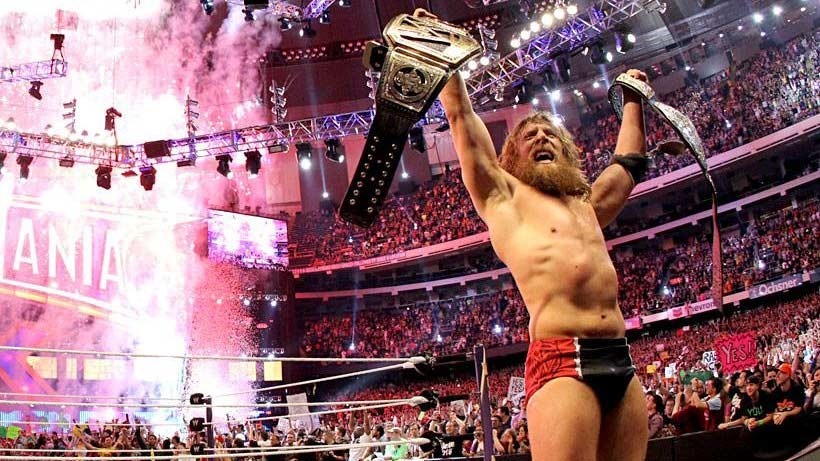 Wrestling isn't fake. It's just pre-determined. It may be sports entertainment, but putting your body through daily power-bombs, ladder matches and Five-Knuckle Shuffles takes a toll. Just ask former superstars like Stone Cold Steve Austin, Bret Hart and Edge about their in-ring injuries, and they'll toss a list at you that would read like the torture list of a new SAW movie.
And former champ Daniel Bryan will be comparing scars soon enough, as the master of the YES! chant just announced his retirement. Bryan first announced his decision to leave the WWE on Twitter:
Due to medical reasons, effective immediately, I am announcing my retirement. Tonight on Raw, I'll have a chance to elaborate. #gratitude

— Daniel Bryan (@WWEDanielBryan) February 8, 2016
After which he closed out an episode of Monday night RAW by revealing that his in-ring career is over. It's not too surprising at this point. Bryan had been out of action after another concussion forced him to relinquish his Wrestlemania 30, WWE and World Heavyweight Championship wins in 2014 so that he could undergo some much needed neck surgery. As of April last year, another concussion-related injury sidelined him, forcing him to once again hand over a championship, the Intercontinental belt this time.
That's most likely the straw that broke the camel's back, as the WWE was hesitant to bring back Bryan for another push. That, and their determination to make audiences love Roman Reigns, the WeChat of WWE superstars. C'mon dammit, why won't you people support Reigns already. C'maaaaaaaaaaaaaaaaaaaaaaaan! And probably also being forced to appear on WWE's Total Divas series. That's enough to make even the toughest of wrestlers tap out.
"Within the first five months of my wrestling career, I'd already had three concussions. For years after that, I would get a concussion here and there, or here, or there, and it gets to the point when you've been wrestling for 16 years that it adds up to a lot of concussions," Daniel said on RAW via Screengrabber.
It gets to a point where they tell you that you can't wrestle anymore.

I have loved this in a way that I have never loved anything else. But a week and a half ago I took a test that said maybe my brain wasn't as OK as I thought it was. And I have a family to think about, and my wife and I want to start having kids soon.

I've been angry, I've been said, I've been frustrated, and all that. But when I woke up this morning, I felt nothing but gratitude.

You guys got behind me in a way that made me feel like I was more than just me. And for that, I'm grateful.
Considered one of the very best in-ring performers, Bryan may not have been built like a 7ft tall muscle mountain but his skill and technique made him a favourite in the industry. Alongside that catchy YES! YES! YES! chant of his, it was impossible to not like the fella, especially when he was putting on Wrestlemanina-quality matches every time he stepped into a ring
Last Updated: February 9, 2016