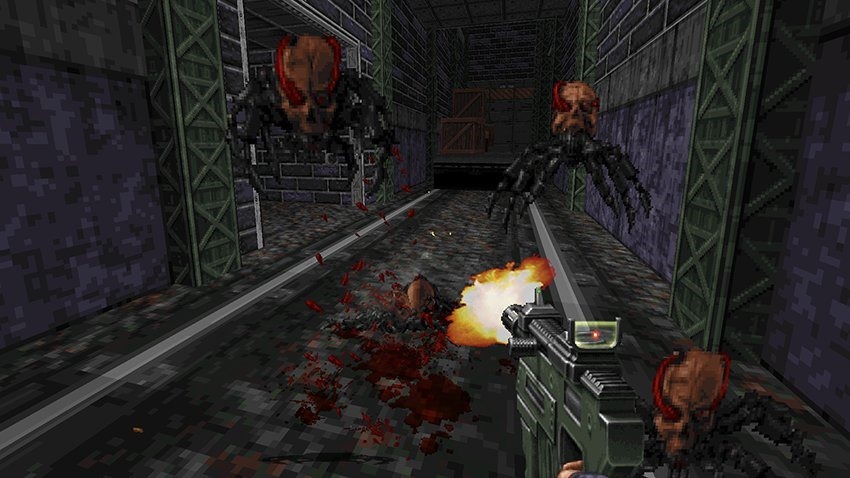 For many, the halcyon days of the 90s presented the very best time in shooter games. Its when we saw Wolfenstein, DOOM, Duke Nukem and innumerable other games that tried to give us 3D first person shooters when the technology didn't really allow for it. Instead, developers had to be tricky – building 3D environments using 2D tools.
That's precisely the sort of thing Duke Nukem developer 3D Realms was good at, and that's precisely what they've just quietly released, in conjunction with Voidpoint. Ion Maiden is an early access pseudo-3D FPS game that's built using the very same engine that was used to make games like Duke Nukem, Blood and Shadow Warrior.
It's built to old-school standards too, so don't expect checkpoints, corridor shooting or regenerating health. Do, however, expect numerous coloured keycards, silly weapons, and tonnes of gibs and other viscera. It's pretty much a new (old) Duke Nukem, without the duke Nukem licence, which now belongs to Gearbox Software.
"Ion Maiden laughs at the idea of constant checkpoints and straight paths through shooting galleries. But just because this is a true old-school first-person shooter doesn't mean there won't be all the good new stuff the last two decades have brought. Headshots? Hell yeah. More physics and interactivity? You betcha. Widescreen, controller support, and Auto Saves? 3D Realms and Voidpoint took the best of both worlds and cooked it all into a bloody stew."
Take a look:
"Bringing back classic build-engine shooters has been our aim for years, so we're diving right into a spiritual successor to the games which put 3D Realms on the map," Frederik Schreiber, Vice President, 3D Realms. "The team assembled for this project knows exactly how to execute our vision, and we couldn't be more excited to finally bring back a true 3D Realms shooter."
Last Updated: March 1, 2018