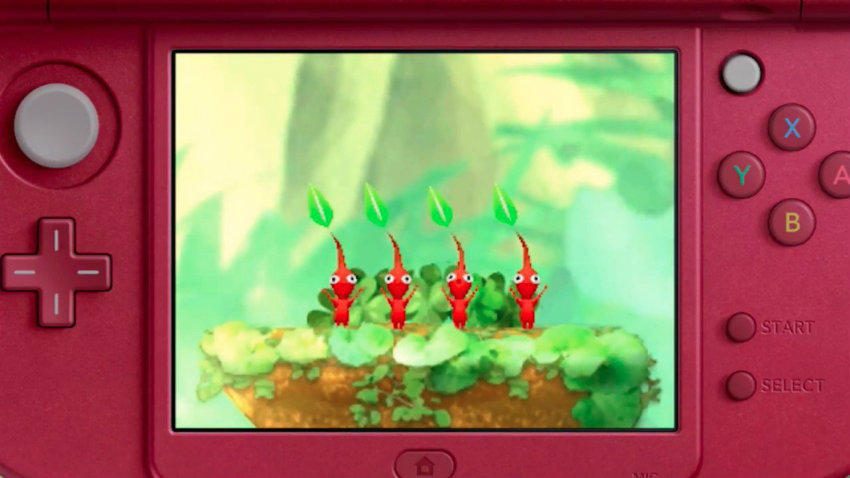 I love my 3DS, even if I often forget I have it. Yes, I know that's silly, but a dedicated handheld gaming device is only really worthwhile if you have times to play it that are better than playing on a console or PC. Most of my gaming time is at home, but when I travel, or experience power outages, the first thing I reach for is my 3DS. A variety of new games are coming to Nintendo's handheld this year, proving that just because the Switch is launching doesn't mean they've forgotten about the 3DS.
Hey! Pikmin
I enjoyed Pikmin on the Wii U, so I was excited to hear about Hey! Pikmin that would bring the tiny, colorful characters to the 3DS. This iteration will be more of a 2D side-scrolling escapade, in a platformer-strategy hybrid. It's releasing 28 July along with a new amiibo. Here is some gameplay to watch:
Ever Oasis
Ever Oasis was confirmed and is actually coming soon, releasing 23 June. It's an action-RPG developed by Grezzo and has you trying to restore an oasis in a desert. Here's the latest trailer:
Monster Hunter Stories
Monster Hunter Stories has been out in Japan for a while now, but it's finally coming to the West. The game is launching in Q3 (Northern Hemisphere's Fall), and uses a turn-based system for players to capture, bond with and ride monsters around the world. Here is some Japanese endgame gameplay to watch from a really impressive YouTuber for Monster Hunter content.
Yo-kai Watch 2: Psychic Specters
This is the third version of the Yo-Kai Watch 2 story and apparently the definitive version of the game. If you've loved Yo-Kai Watch and need more, then obviously you'll be grabbing this in Q3.
Culdcept Revolt
Part card game, part strategy, part board game, the Culdcept game series is celebrating 20 years of gaming this year, with this game as the ultimate celebration. Culdcept Revolt is launching 19 August in standard and limited editions.
RPG Maker Fes
Always wanted to make games but not always at your computer? RPG Maker is going portable with RPG Maker Fes, which allows players to create and share stories through the eShop. It's launching 27 June and even has some Disgaea DLC.
Miitopia
This is another game that's been out in Japan for a while but is finally coming West. Part RPG, part family destroyer as it uses Mii characters on your 3DS, you can customize personalities and jobs, battle enemies, hunt treasure and explore the world – plus your allies can build relationships. That actually sounds like a lot of fun… I'm going to get addicted to this one, aren't I?
Fire Emblem Echoes: Shadows of Valentia
This game is coming 19 May, and if you haven't played a Fire Emblem game yet, you really should. This one is even getting DLC because you can never have enough Fire Emblem.
Kirby 25th Anniversary
Kirby is the pink puffball mascot, and while adorable, his games really haven't been great lately. It makes me a bit skeptical about the free-to-start game available now called Team Kirby Clash Deluxe, but if you're a fan you might as well pick it up for free and see if they're finally getting things going again.
3DS games coming to Japan
I don't know when it will come West, but there's a new Layton game coming called Lady Layton, which I can only assume will be a fabulous successor filled with head-scratching puzzles and unique characters. Here's the Japanese trailer:
Don't worry, The Great Ace Attorney 2 also teased with this trailer:
Atlus is also teasing a variety of new games including Shin Megami Tensei: Deep Journey and Radiant History: Perfect Chronology.
Are you still getting use out of your 3DS? I find that people who commute use theirs a lot, while those who only travel occasionally don't get to play as often. Then again, when the husband is playing games on console, I do find sudden value in sitting on the couch and playing on my handheld as well. With many great games coming, there's so much to look forward to this year.
Last Updated: April 13, 2017