As social creatures, we always tend to gravitate towards like-minded people. Those that share our interests and hobbies. But, when your interests are seen as a bit more "niche" (no matter how outdated that mode of thinking is), you might feel a bit lonesome. That's why the #AcerForGaming evening I attended last night was just so freaking awesome.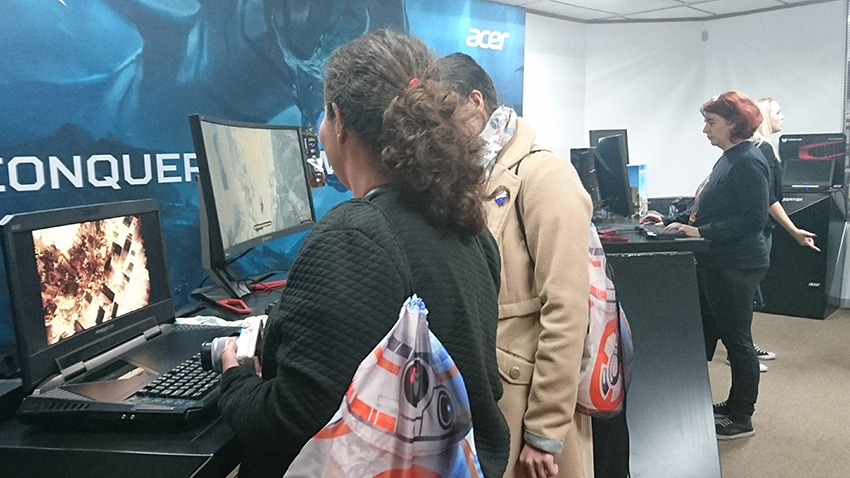 Put together by Acer and Tech Girl, the #AcerForGaming initiative had one simple goal in mind, get ladies of all ages and all walks of life together to play some games. Over a hundred women gathered at The Nexus for cupcakes, milkshakes and gaming fun. There was something for everyone, from The Sims and Lego Worlds to Injustice 2, CSGO and Overwatch. There was also a racing simulator set up, and some playable VR with the HTC Vive. Here is a Live video that Zoe did showing off the setup, although without any lighting it might be hard to see just exactly how busy and fun it was.
But gaming wasn't the only thing going on. XOXO Hair Studio was there to get the ladies styled, and Crumbs provided the awesome cupcakes in so many flavours I couldn't even try them all. Nexus provided some fantastic catering and I finally got to try some of their deluxe milkshakes, which I will definitely be going back for! Prizes were also handed out over the evening, with lucky attendees walking away with Xbox controllers, Converse vouchers, t-shirts and more. Plus everyone received a goodie bag stuffed to the brim with awesome things.
All the fantastic free stuff and activities aside, I can't tell you just how happy it made my heart to see so many women gamers gathered together. The moms that brought their kids, the gaggle of schoolgirls, the ladies that brought a group of their best friends and even the ones that flew solo. Seasoned gamers and total newbies alike, everyone had a blast. And no, before you ask, men were not excluded. This was an event geared towards women, organised by women, but guys were totally welcome. In fact, it was great to see some guys bring their significant others and introduce them to a new hobby in a safe and inclusive space. So many smiles!
From one lady-gamer to another, thank you Tech Girl. I'm already looking forward to the next one, and so is everyone else!
And my very favourite, training our little princesses for future @MettleState and @orenaonline #CSGO tournaments! #AcerForGaming pic.twitter.com/0qy2YOlSyo

— Yolanda Green (@GrimBanshee) June 8, 2017
#AcerForGaming Proof of mission accomplished @TechGirlZA @Constantine104 @ShazZkL @Moonstormer @UnexpectedPippa @jules_bish @Chani_ZA Thx pic.twitter.com/jSdPWP3bol

— Charmaine v Niekerk (@charmaineaudra) June 8, 2017
So wonderful to see so many gamers (some of them out on a school night!) Thank you @AcerAfrica for such a rad event #AcerForGaming pic.twitter.com/H1seteJZLO

— Tracy Benson (@NukuNukuDash) June 7, 2017
What an inspiring night spent with @TechGirlZA #acerforgaming . @ForbesWomanAfri the future of women in gaming is rising pic.twitter.com/DYgX7L0pQr

— Jay Caboz (@JayCaboz) June 7, 2017
Nice night out, watching the future of gaming grow in front of your eyes.
We need more #acerforgaming events like this pic.twitter.com/hEqcdtvmx7

— Cthulouw (@ThatsPrettyLouw) June 7, 2017
Last Updated: June 8, 2017