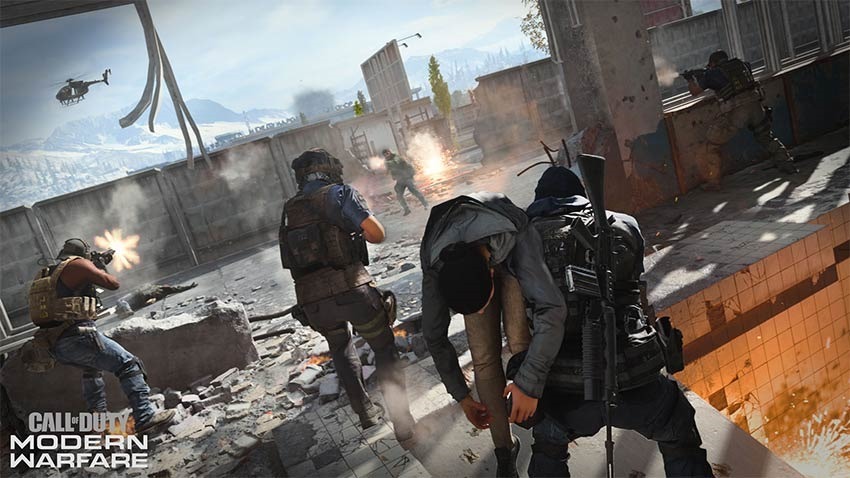 Call of Duty: Modern Warfare is out towards the end of this month. Because the game ditches Season Passes and the regular cycle of DLC maps, the game's co-marketing system, the PlayStation 4, no longer gets 30-day long exclusive access to those new maps and modes. Instead, a single part of the game's Special Operations mode will be exclusive to the system for an entire year. The Horde-like survival sub-mode will be locked to PlayStation systems until it's just about time for the PlayStation 5 to be out.
That's naturally angered Xbox One and PC players, and it's probably why that survival mode's been given the least airtime in a new announcement for Modern Warfare's Special Operations. The four-player co-op mode will have a multilateral force come together to remove a global terrorist threat.
"A greater evil has taken over the Eastern Hemisphere, and it is up to the global alliance Armistice, a joint force of Allegiance and Coalition operators led by Kate Laswell (CIA) and Sergeant Kamarov (FSB), to stop and sever a global terror organization's access to weapons, funds, intelligence, and hardware."
Activision says that the Spec Ops mode will feature "multiple dynamic experiences that take place on a wide variety of maps." These are called Operations, and how you and your team take them on is up to you. "Employ different strategies. Go in quietly or tackle the insurrection head-on," Activision says. "The enemy reacts to your team's decisions, meaning the outcome of any battle can change."
There's progression between modes, so the stuff you unlock in multiplayer is available for you to use in Spec Ops, and vice-versa. There are even exclusive rewards for completing Spec Ops objectives that you'll be able to use in regular multiplayer. On top of Operations, there are also Missions, smaller levels which offer "a more curated experience where your proficiency with specific weapons, killstreaks, and other tools will be tested"
They're the sort of thing you replay, trying to get better scores and times, Activision asserts. As with Operations, new Missions will land on all platforms simultaneously, with only the Horde-like Survival mode exclusive to PlayStation.
Activision says it's a "wave-based horde mode" that'll have you and up to three friends take on "increasingly difficult and determined combatants in a variety of experiences" on one of three multiplayer maps. They've made it clear that it's an additional mode nd doesn't impact Spec Ops as a whole.
It actually sounds like a good time if you have some friends to play with – and with full cross-platform play, it's likely you'll have a few people to play with.
Modern Warfare is out on PC, Ps4 and Xbox One on October 25.
Last Updated: October 9, 2019