Now by now you should know that LazyGamer does not and will never support piracy. As far as I'm concerned, the only thing worse than a pirate is a bloody cheat. For the many of you out there that have been playing CoD4: Modern Warfare online and loving it long time, you may already be aware that there are some serious hackers out there. These cheating @#$%@ have been a burden for the serious gamers for a long time and a thorn in all our feet.
You may recognize the name ModdedWarfare as one of the largest group of cheaters out there. These guys (if you didn't already know) are famous for their specially created software that allows them to hack and cheat our beloved title on XBL.
Their software allowed them the edge of increased fire rates, guns that shot grenades, increased ammo, and instant revives without having to run and find the injured amongst other unrealistic settings.
As far as I'm concerned, despite the creative software, all it proved was that these fools recognized themselves as inferior gamers and couldn't compete with the rest of us – can I get an amen?
Anyhow, Activision has proved itself loyal to the true fans and gamers and thus in order to maintain a fun and fair online experience for the rest of us, they have demanded the closure of websites that support mods of such a nature.
Just check out the letter they posted below: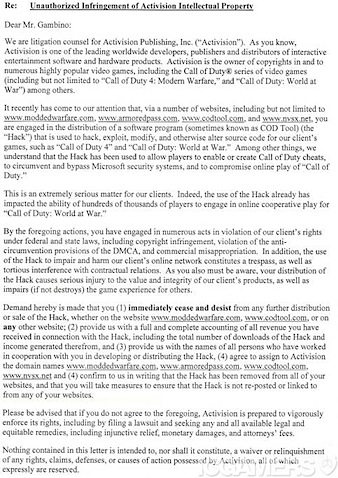 Ed: The writing is a little small but the basic idea is that they are demanding thay the websites be handed over to Activision, the application and source also be handed over, any money made needs to be handed over, all the details of who purchased it will also be handed over and then to ensure that nothing about the Hack is ever seen ever again. That or be hit with the full might of the Activision legal department. I wouldn't want that sort of letter arriving in my inbox.
Source: xboxic
Last Updated: July 30, 2009