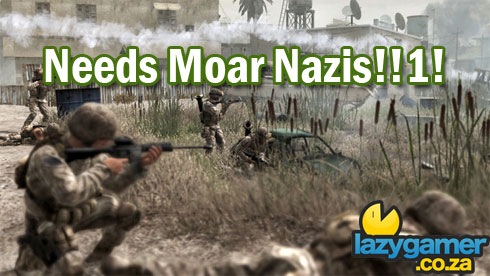 Call of Duty 4 : Modern Warfare was a sales behemoth, and is still one of the most played multiplayer games today – two years after its release. Thing is, it nearly didn't happen.
According to Infinity Ward's Vince Zampella has revealed that they wanted to make a game with a modern setting for years – right from the second game in the franchise in fact -  but had been shackled by Activison.
Even more chilling – without some wrangling on Infinity Ward's part, there would have never been console versions of COD, as Activision had pigeonholed Infinity Ward as a strictly PC developer.
"With Call of Duty 2, we were dead set against it being World War 2," Zampella told OPM, "but Activision really wanted it, the compromise sort of being that we'd get some dev kits for consoles in exchange for doing a World War 2 game.
"We always wanted to be on consoles and Activision saw us as more of a PC developer," he said.
"And something I'll add to that, Activision also did not want Modern Warfare. They thought working on a modern game was risky and [thought], 'oh my god you can't do that, it's crazy!' They were doing market research to show us we were wrong the whole time," he continued.
Jason West, CoD project lead agreed "We had to fight for everything,"he said. "They wanted it to be World War 2. Again."
So much for market research! Modern Warfare exploded at retail, and cemented itself in gamers hearts. Its sequel, Modern Warfare 2 – due next month- looks set to repeat the phenomenal success of the original.
Aren't we all glad Activision caved and let the lads from Infinity Ward make the game they wanted to make?
Source : CVG
Last Updated: October 7, 2009