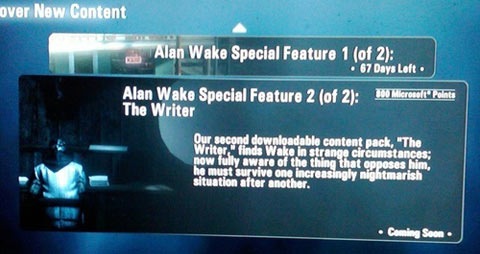 We reviewed Alan Wake recently, and we thought it was pretty darn good. Good news then, that even more DLC is on its way.
Whilst peaking through the downloadable content menu in Alan Wake, helldescent.com stumbled upon an entry for a yet to be announced DLC episode for Alan Wake, titled "The Writer". The DLC will cost you 800 MS points and comes as the second set after the 1st episode that was supposed to be bundled for free with the game.
More after the jump.
The 1st episodes DLC was left out of non supported Live countries, just like ours, which means that this will be the first episode available to our regions.
We are not yet sure if the DLC will require a VPN for non Live supported countries just yet, but we will let our readers know as soon as we have more information.
You will also notice that the days until release on the header image show the DLC as releasing on the 27th of July, which is the same release date as the first episode, which makes us think that it's either a strange choice or a value that still needs to be updated.
Source: helldescent.com
Last Updated: May 24, 2010