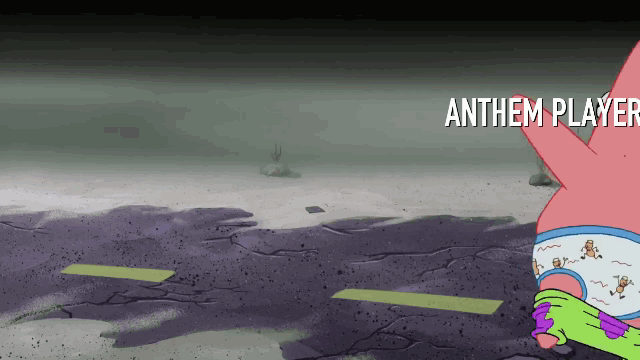 So uh, don't tell anyone but I kind of think that people were not impressed with Anthem. One of the biggest launches of the year saw Bioware's grand plan to create a live service game take to the skies…and crash spectacularly. There're a number of reasons why Anthem has been such a dud, and plenty of them can be traced back to Bioware itself.
Hindsight's a bastard, and while Anthem in its current state is still a beautiful slice of boredom, it could one day be the game that fans were initially promised. Could. The problem right now? Nobody wants to stick around long enough to help beta-test the full release until it actually does get its house in order.
That's the damning evidence from a recent poll done on Reddit. Now ordinarily a survey of around 1000 people isn't normally indicative of the state of a game community, but considering that it took place on the Anthem community page, it's well worth looking at seriously. According to SyntaxTheGr8's charts, it looks like more than half of the surveyed responses indicating that they'd already given up on Anthem, with a further 8.8% well on the way towards joining that lot: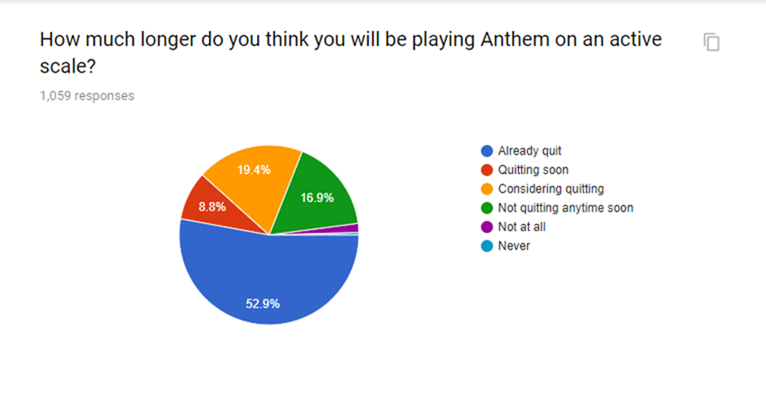 There's a whole bunch of other interesting numbers in the link above, for anyone who happens to have a mathematical paraphilia. Around 56% of players are unsatisfied with Anthem's loot system, half the players surveyed encountered bugs and a whopping 36% of these players think that the end is indeed nigh for Bioware's flop.
Here's the real kicker: Of the fans who took part in the survey and who were then asked what they would change about Anthem if they were given the power, one answer (through the magic of having their responses fed through Word Cloud), came to the forefront: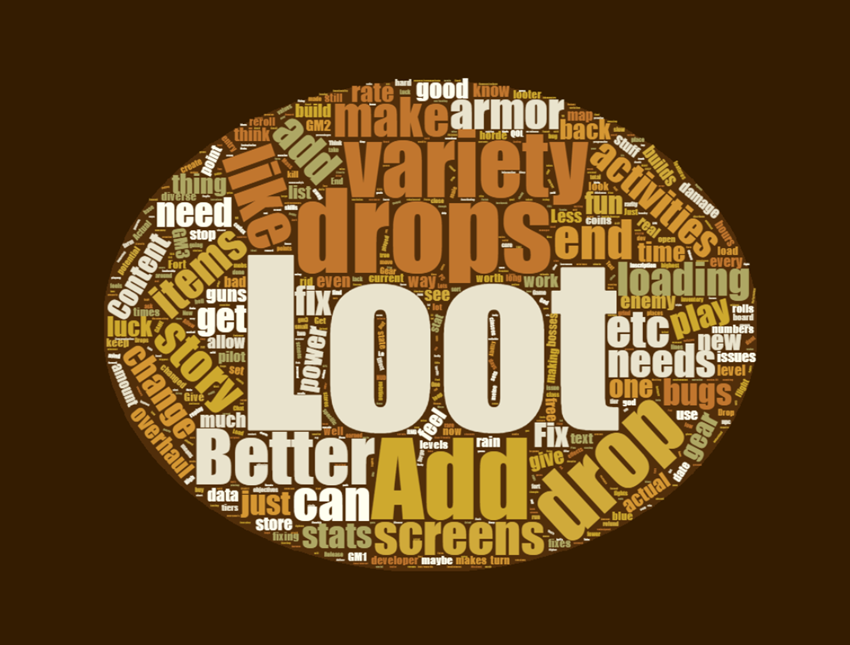 Honestly though? I'm not certain that Anthem can even be saved at this point. What should have been the first chapter in a terrific new franchise, will instead go down in history as just another failed attempt at chasing the next big thing in gaming instead of being a trendsetter. That Bioware magic seems to be in real short supply these days.
Last Updated: April 17, 2019