Well, the love story is still just a fan theory, but one Reddit user did some tinfoil hat digging and discovered some interesting ties between Ana and Reinhardt who are now appearing to be more than just comrades in the fight against evil. Characters in Overwatch often have dialogue running, and sometimes it lays the foundation for friendships rekindled, and possibly lovers? Ana and Reinhardt have some flirty lines in Overwatch, but that's expected – two of the oldest characters on the team, they've obviously known each other for years and partake in some casual banter from now and then. However, if we go a bit deeper we can spot some hints dropped by Blizzard, and we all know Blizzard don't do anything by accident.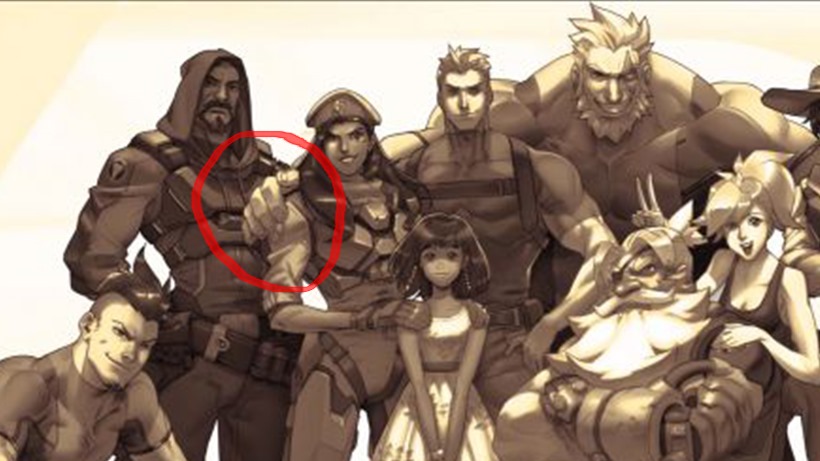 Reinhardt trying to be a little bit subtle with the classic "hover-hand" on the shoulder.
The fan theory is, Ana and Reinhardt were once lovers, and Pharah is their daughter… sounds plausible, right? It reminds me of the Comedian and Silk Spectre from The Watchmen, although I assume Ana and Reinhardt's love connection was more consensual. Reddit user Decibelle went really deep with his theory, and he points out some interesting connections between the two heroes. It reads a bit like a conspiracy, tying up aspects that some would disregard, but I will admit… he's on to something. Decibelle mentions the character skins, and how they're each themed depending on who the heroes are. A brief example would be Widowmaker with the sets Ciel, Nuit, Rose, and Vent – all French. Get what I'm saying?
Let's take a look at Ana's rare sets – Citrine, Garnet, Peridot, and Turquoise. They're all jewels. Now, Reinhardt's theme is metal – Brass, Cobalt, Copper, and Veridian. This is where it gets a bit crazy. Pharah's skins are a mix of both Jewel and Metal – Amethyst (Jewel), Emerald (Jewel), Copper (Metal), and Titanium (Metal).
Ana and Reinhardt served together during the Omnic crisis, not a great time to raise a child. Ana then stepped away from Overwatch, and disappeared. This is cemented with one of Reinhardt's lines to Ana while in the pre-game lobby – "Ana? How could this be? I thought you were dead," to which Ana replies, ""I'm sorry, Reinhardt. After everything that happened, I needed time." Time for what? Did Ana leave Overwatch, as a founding member, to raise Pharah? Did she leave because the devastation and carnage was too much? This is all uncertain.
The obvious hole in this theory is that if  they were lovers, surely Reinhardt would know that after their shuffle in the sheets and Ana arrived with a daughter, it's most likely his? Or maybe she met someone while she was away, and decided to return to protect her daughter. What we do know, thanks to the Origin Trailer, is that Ana is Pharah's mother, but will Reinhardt ever find out that he's risking his life alongside his daughter? We will have to wait and find out.
Last Updated: November 30, 2016