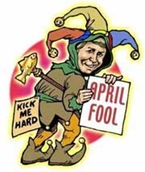 Tomorrow, April 1st, is of course Aprils fool's day. It's a day marked by the execution of simple practical jokes or elaborate hoaxes upon friends, family, colleagues, neighbours and *ahem* readers.
Since the prevalence of the internet, it's become traditional for news sites to try and dupe readers with some piece of fictionalised news. Before the internet though, a magazine by the name of Electronic Gaming Monthly famously fooled all but the most perspicacious gamer.
We list some of favourite gaming April Fools after the jump.
In 1991 EGM gave us their very first April Fool. They promised that by entering a ridiculously long code, the player would be able to play as Castlevania protagonist Simon Belmont in the NES version of Teenage Mutant Ninja Turtles II: The Arcade Game.
The code though was impossible to input; the title screen would disappear just before the final sequence in the code could be entered, frustrating readers en masse.
The clue that it was a nothing more than a cunning ruse could be seen in the name of the person who submitted the code: "A.P. Rilphulls", from "Fromegm, HA" (April Fools from EGM, ha). These subtle (and not so subtle clues) would become a staple as well.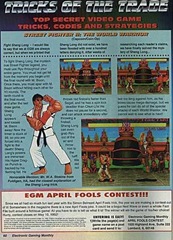 1992 saw what is arguably still EGM's most well known April fool's joke. It is of course the Sheng Long trick for Street Fighter II. It was said that if one could soldier through Street Fighter II's 11-character line-up without taking a single hit, and then achieve 9 "draws" in a row vs. final boss M. Bison (dictator), the player could fight against Ryu's supposed master, called Sheng Long.
An honourable mention was made of  W.A. Stokins ("waste tokens") from Fuldigen, HA ("Fooled again, ha!") on the same page.
This was particularly prophetic, as it was the inspiration behind both the Akuma and Gouken characters. It was also the first time I was personally suckered by EGM. Interestingly, I had a friend at the time who swore on his own death that he'd managed this very feat. We'd revered him until it was revealed to be a hoax – 17 years later it's a contretemp he still hasn't lived down.
Through the years April fools pranks have ranged from a naked Lara Croft, to Bill Gates being employed by Nintendo, to the comeback of Intellivision. A series of increasingly ridiculous claims somehow made plausible.
This particular April Fool's article on Gamespot from 2006, saying that analysts predict that Nintendo would lead the (now current) next-generation proved to be eerily prophetic.
Of course, in more recent times the hoaxes have become much more elaborate. Just last year, IGN released a trailer for the upcoming Legend of Zelda movie. A true gem, this trailer had high production values, and has left fans of the pointy eared green-clothed elf lusting for a real movie.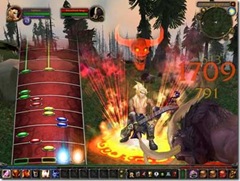 Another favourite from last year was Blizzard's announcement of a "Bard Class" for it's earth-dominating MMO World of Warcraft. Incorporating elements from the Guitar Hero franchise, the Bard would literally be able to melt the faces of enemies with his powerful solos, and vanquish evil foes with the unmitigated power of ROCK!
Of course this year will be no different, and promises a slew of gaming related trickery from our favourite sites. My prediction? You'll be seeing a whole lot of "Metal Gear Solid 4 confirmed for Xbox 360" tomorrow.
Last Updated: March 31, 2009