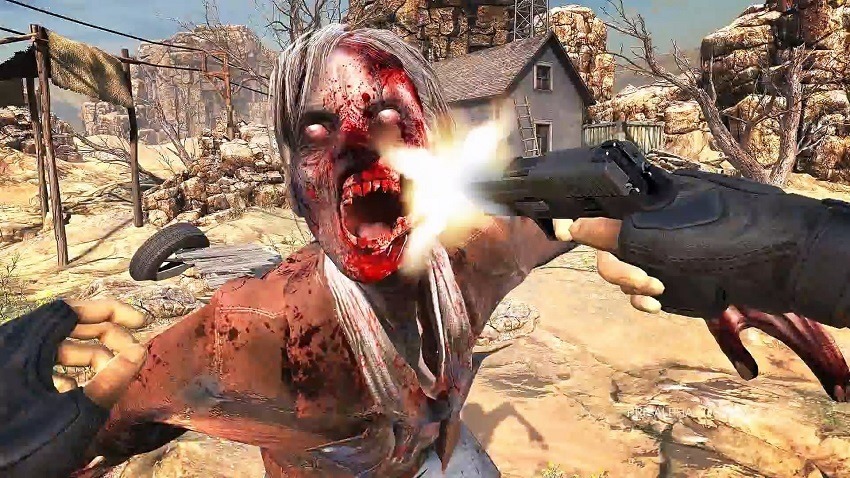 Gallery shooters are a dime a dozen across virtual reality platforms, and most of them are pretty terrible. If you delve into the steam store and try sort through the countless results you find, you're likely to find it hard to know which of them is actually any good. Word of mouth plays a big factor in that, especially when it comes to VR, and it's only worked in favour of Arizona Sunshine. The zombie shooter has been lauded as one of the best VR games out there for HTC Vive, and it's now finally coming to PSVR.
The surprisingly colourful shooter will be making the jump to PSVR in June, while also adding to the small list of games that will support the imminent PSVR Aim controller. The peripheral launches next week with Sony's own Farpoint, and added some accuracy to the otherwise flimsy PS Move controller setup. Of course looking at the trailer below should make you ask at least one question: how does the game translate to only having one weapon?
Writing on the PlayStation Blog, Arizona Sunshine's developers made it pretty clear that they've adapted the game well for single weapon control.
As for the Aim controller, since the game was initially created with dual-wielding guns in mind, we've thoroughly tested ways to get the support for it right. And while using the Aim controller limits you to using a single weapon at a time, it makes up for that by increasing accuracy and control, upping your chances for critical, dismembering hits. That's right, the fan-favorite zombie mutilation mechanic also made it onto PlayStation VR!
Additionally you can use the standard two PS Move controller setup, or the even more traditional Dualshock 4 for normal gaming input. Arizona Sunshine's motion controls and general feel have helped propel it to the tip of most VR playing people's tongues, but how that translates to PSVR is still up in the air. Of the three main VR solutions out there, the PS Move offers the least accurate tracking, which could play a big factor in your enjoyment of this shooter.
We'll know for sure next month.
Last Updated: May 12, 2017