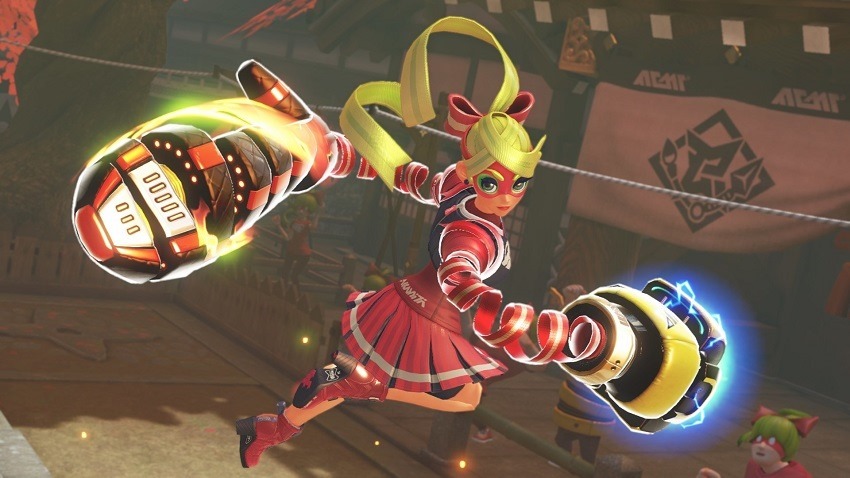 Nintendo's January event for the Switch was…well not so great. Many of the game they revealed lacked the sort of punch needed to get excited about a console two months away, and then criminally lacked any release dates either. Arms was one such property. A game that really didn't communicate its deep, intricate boxing systems in a way that was properly conveyed to me when I first played it. But with the latest trailer for the fighter, Nintendo is making clear just how seriously competitive this game can be.
Arms is now launching on Nintendo Switch come June 16th, and the latest look at the game offered a lot more insight into how customisable each fighter is. While the assortment of visually diverse characters looks great, their associated abilities come in handy too. Ninjara, for example, moves faster than any other character, while Ribbon Girl is a lot more dexterous in the air. Nintendo also revealed a brand new character – the noodle armed, ramen-based Minmin, who has the ability to turn one of her arms into a dragon for additional damage.
The depth of battle doesn't stop there either. Each fighter will have an array of arms to choose from, each of which carry their own pros and cons. Some arms might be specialised to do more direct, straight arm damage, while other excel at getting curved shots passed opponents. Multi-shot arms are also on the table, with each set featuring a special attribute to used when charged up. You can decimate foes with elemental damage such as fire and ice, which affect your opponents in a variety of ways too.
You'll unlock and purchase new, more powerful arms by earning in-game currency via standard play. Each fighter can then equip two different arms at any given time, which really starts playing with the combinations you can toy around with. Combining you arms best attributes to your fighter's own standard abilities will be key to besting your opponent in more serious, competitive play.
Arms looks like the perfect amalgamation of Overwatch and your standard 3D fighter, and is clearly much more than a simple Punch-Out reimagining.
Last Updated: April 13, 2017