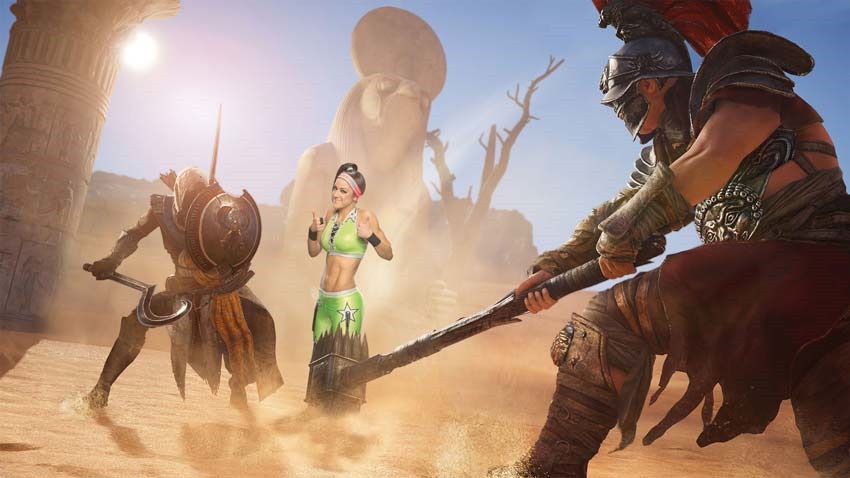 Assassin's Creed: Origins looks like the exact opposite of my social life: Alive and well. It's not just the much-needed break that has resulted in the franchise going back to its roots and feeling fresher than ever, but also numerous other changes to the world around you. Ancient Egypt is calling on players to stalk like an Egyptian, through ancient cities and towns that are bustling to say the least.
Ancient Egypt lives again, but not only through a populace that leads lives of its own as the various Factions in Assassin's Creed: Origins also have a part to play. "There are quite a few different factions in the world, and keep in mind that these factions are really living in the world," game director Ashraf  Ismail explained to PC Gamer.
We don't have anything that is a spawned event, you know, 'because you're 50 metres away we're going to spawn this fight here for you.' These are NPCs that have a schedule, that have an agenda, that criss-cross paths, and if they happen to be enemies they'll fight, if they happen to be allies they'll hug each other. So this is really the world living.
Such factions include rebels that new series protagonist Bayek finds himself working with from time to time, the obligatory antagonistic bandits who are like totes selfish to the max and the Grecian Ptomelies who have ruled occupied Egypt for generations now. Players can choose sides in Assassin;s Creed: Origins when the factions clash, or they can sit back and enjoy the show. I didn't choose the hug life, the hug life chose me.
Not long to go now until Assassin's Creed returns. Still currently pegged for an October 27 release date, it'll be going head to head with Wolfenstein II: The New Order and Super Mario Odyssey on the same day. Madness. Although I've got good vibes about the fella with hidden blades emerging to claim the top spot in this triple-threat encounter.
Last Updated: August 3, 2017