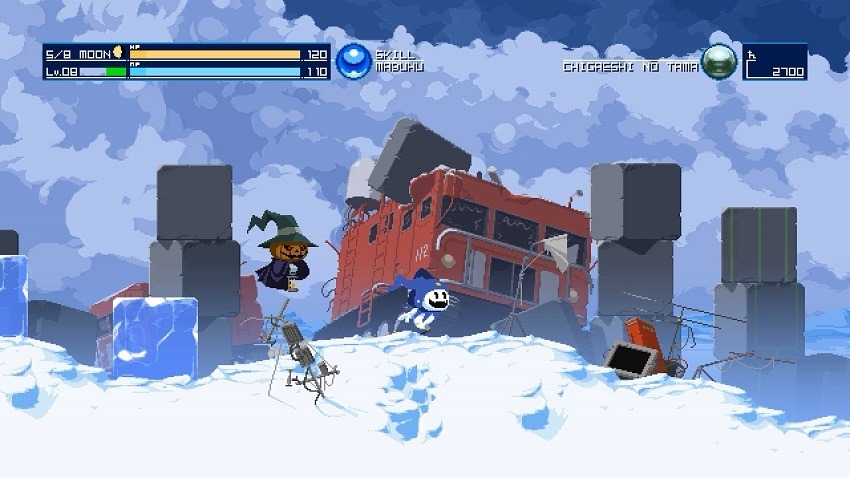 Atlus are some nasty little tricksters. On Friday the studio responsible for Persona 5, one of this years best games still, put out another trailer for their upcoming 3DS game, Shin Megami Tensei: Strange Journey Redux. The trailer, to many fans' surprise, featured a new look at a game that Atlus claimed was completely fictional, putting series characters Jack Frost and Pyro Jack in a cute, really interesting looking metroidvania. But it seems the joke is on us for believing Atlus at all, as yesterday the company released the entirely real game for free.
Shin Megami Tensei Synchronicity Prologue is as retro as they come, but it's also an entirely real game that Atlus is now offering for free on their website. You'll take control of the two Jacks in a side-scrolling, non-linear Metroidvania adventure, which seems far more expansive than a running gag should have ever been. The download is up until December 24th, and is only in Japanese, so you might have to experiment with some controls if you're not fully versed.
You can check out some of the footage below, from the trailer where Atlus was still clinging onto the reality where this game was entirely fake.
Unlike the 3DS game that was initially being advertised, Shin Megami Tensei Synchronicity Prologue is only launching on PC. There's no indication yet if this is some sort of sly marketing move by Atlus, or a means to gauge interest in a short side project such as this. Currently, the studio is working on several projects, including a brand new IP that hasn't yet got a full name. If you enjoyed Persona 5 earlier this year, start learning patience. Especially since Atlus doesn't seem keen on making another one just yet.
But if you just love the look of Jack Frost in 2D (I know I do), don't hesitate on this.
Last Updated: October 17, 2017