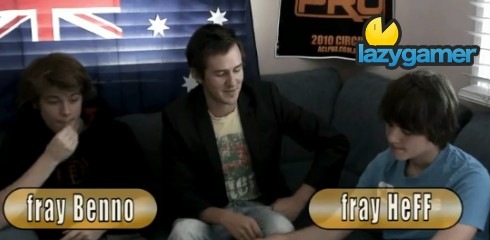 Australia and South Africa have a lot in common when it comes to console and PC gaming, we are both at the arse end of the world and suffer horrific lag to the States and Europe..
So when Australia's Frenetic Array announces that they have secured a spot for their Halo Team at the Halo Xbox 360 Major League Gaming competition to be held in LA in July it gives us all a little more hope.
On the one side of the pond it's nice to see some Australians going up against the best in the world and on the other side it's a kick in the face to the South African setup where the gaming leagues are still suffering from an unprofessional setup and lack of cohesiveness.
Enough complaining though, check out a mini interview with the Ozzie team after the break.
How long have you all been gaming for?
BENNO: Probably about five years now.
HEFF: Same as Benno, general gaming not online I played Nintendo and NES ten twelve years ago.
VOLTAGE: two and a half years.
When did you get into competitive Halo 3 Did you play the previous Halo's competively as well?
BENNO: pretty much as soon as the game came out. 2007.
VOLTAGE: played it for fun since it first came out, but only started playing competitively about a year ago.
SLAYER: played when it first came out.
Why do you guys play Halo 3 competitively? E.g Why do you play this game over the other?
SLAYER: I enjoy the competition aspect, striving to beat the opposition.
VOLTAGE: The prizes are fairly decent. The cash incentive really keeps people on the ball and in the game. It makes the competition more exhilarating as people are really trying their best game for the cash prizes.
BENNO: The game play is really intense. It has really good replay value which other games lack, because your versing other online players, so the games a different experience each time.
HEFF: Not alot of games delve into the  sci-fi first person shooter. Mainly modern, modern historic war based shooters, military/special ops themed games, so it's good to see a new array of weapons and characters in a new themed genre.
How has the opposition been in the Australian Cyber League so far? Too easy, too hard, etc.?
SLAYER: Due to our skill level, we don't really get challenged by many teams at the moment.
VOLTAGE: Like Slayer said, basically not teams in Australia are on par with our level.
Did you expect to get into MLG, or did it come as a gigantic shock?
BENNO: We felt we had earned our way into MLG as our results speak for themselves, we knew it was only a matter of time, till we had to prove ourselves to the best of the best.
What are you hoping to achieve at MLG?
HEFF: We are hoping for a top 16 finish, and there are about 256 teams.
Got any other plans apart from gaming while you're in the US?
HEFF: Going over two weeks half HALO, half holiday.
VOLTAGE: Just do our best there and try and get our names out there down as one of the best teams. Also, to eat a Giant pretzel.
How far would you like to get in MLG? ie. What round would you like to get?
HEFF: We are confident we can make top 16
BENNO: Yeah, top 16 is the goal we've set.
What team do you dream of matching up against at Columbus?
BENNO: There are a couple of teams set up for pre-LAN: Warriors, AdrenalineRush, EricWong.
HEFF: We're used to playing against the sort of American teams that will be competing, although we have had the ping difference so it'll be good to see if the lag evenness will make a difference.
Who are your favourite players and why?
Eric Wong
How much time stats and practise? How much do you play a day?
HEFF: We have all played the game for so long that prac is mostly maintenance now, we now all the maps inside out so we just prac to try new things out and build on what we already know.
What are your favorite elements of Halo 3?
BENNO: The Social Interaction integral to the game, you can talk with each other, to your own team freely and across to the other teams. 
SLAYER: The maps are really diverse and stunning a lot of first person shooters lack large detailed maps.
Favorite map? Gametype?
TEAM: Narrows, CTF.
What do you think of reach beta?
HEFF: needs a lot of changes, feels way to slow compared to other Halos. Gameplay is slow.
Is there anything you would like to add? Shout-outs, extra info, etc.?
BENO: Thanks to all the sponsors, Big shoutout to Nick "Vanzo" Vanzetti from ACL and mostly thanks to Frenetic Array for their ongoing support.
Last Updated: May 28, 2010