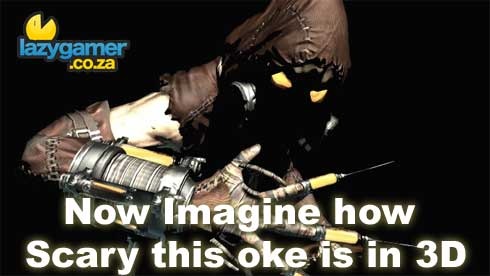 Despite not actually attaining any Game of the Year awards that I'm aware of, the rather excellent Batman : Arkham Asylum will be receiving a Game of the Year Edition. According to Square Enix the GOTY edition will be made available across Europe and other PAL territories on March 26.
The new edition will be packed with all of the previously released DLC Challenge Maps – Like Crime Alley and the Scarecrow Nightmare. More interesting though is the fact that it'll have 3D support.
The game will be shipping with TriOviz 3D on both PS3 and Xbox 360. I've tried to find out as much as possible about TriOviz and how it works, but information is pretty scarce. It apparently allows for a 3D depth of field when viewed with glasses, but without the overlayed view seen with stereoscopic 3D. According to their site, they also don't use anaglyphic 3D, so no blue and red glasses either – preserving the game's original colour.
The very few people who've used the technology say that while it doesn't present the depth of field of dedicated 3D hardware, it works quite impressively – and the best thing about it is that it doesn't require a special TV. It'll work with all SD and HDTV sets.
I'm intrigued enough to purchase Arkham Asylum a second time – just to see if it'll be improved using 3D. If it works well, this may just be the way to bring 3D to the home without extra expenditure.
Source : Joystiq
Last Updated: March 5, 2010