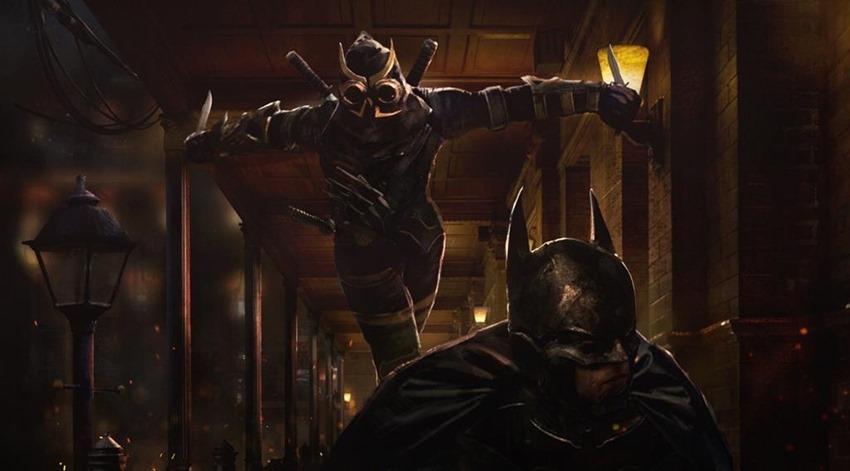 Happy belated Batman day everybody! Saturday was a milestone for the caped crusader as he capped off 80 years of fighting crime by rearranging the teeth of ne'er-do-wells with his bat-knuckles. Celebrations were held across the world, fans united to light bat-signals and at least one sweaty nerd whose massive head was encompassed in all-consuming rubber could be heard saying "I can hear my sweat" at Comic Con Africa. No idea who that was, no idea.
If there was a time to announce a new Batman game, Saturday would have been the perfect occasion to do so, but with nary a whisper or a glance towards the assembled crowds, was anything actually revealed. What was seen, was a hint that a certain long in development project was finally ready to be confirmed. Here's the bat-mystery, bat-fans.
Batman: Arkham Oranges Origins developer Warner Bros. Montreal tweeted for the first time in four years on Sunday, with something a tad bit on the cryptic side. Here's the original tweet:
Now if you happened to blink at exactly the 03 and 21 second marks, you'd probably have missed out on seeing a few hidden symbols in that video of a bat-signal being lit up. Here's a collection of those images, with a tip o' the cowl to Batman Arkham Videos:
And here's where the mystery deepens! Batman writer Scott Snyder took to Twitter to announce that players should hashtag beware of the owls, but the comic book scribe deleted that tweet not too long after it went public:
Oh my…and oh yes. Rumours of a Batman: Court of Owls video game have been knocking around since 2016 with various fingers pointed at clues that would see Warner Bros. Montreal pit the dark knight against the shadowy cabal who runs Gotham from within the shadows. Having canceled the Suicide Squad game that they had teased in Arkham Origins, Warner Bos. Montreal has grown since then into a massive studio, with an unannounced AAA game having been on their plate for what feels like ages now.
Whatever it is that they are working on, few stages are left for a grand reveal in 2019. While some fans reckon PlayStation's next State of Play stream could see Court of Owls revealed, others say that the fancypants CGI trailer that'll have me giggling like I've just snorted an entire can of Joker gas will be out at Paris Games Week at the end of October.
At this point though, Hoo really knows?
Last Updated: September 23, 2019