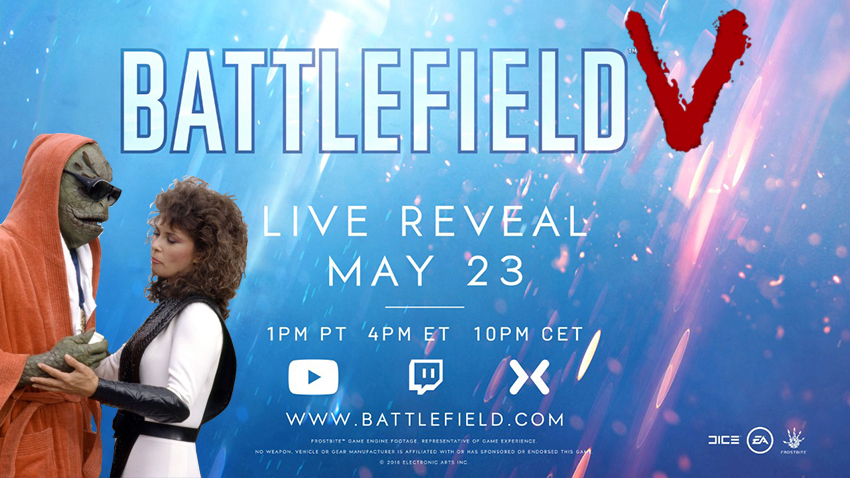 After much speculating, we now finally know what to call the next Battlefield game instead of just "Battlefield 2018" because that was a dumb name. As some suspected the next release in EA and DICE's military shooter series will be titled Battlefield V – the V, in this case, being the Roman 5 alluding to it perhaps being a follow-up to the modern day-set Battlefield 4. Either that or we're about to play a Battlefield game in which the Earth has been secretly invaded by reptilian aliens who have a taste for rodents*. I'm guessing it's the first one.
We really know don't much of anything about this game at this point though. Early rumours suggested it could be set in WWII, but many fans are baulking at this not just because they want a break from the retro mechanics used in the recent WWI set Battlefield 1, but also because rival franchise Call of Duty just recently returned to WWII and this will look like DICE just being copycat  reactionaries. Luckily, we won't have to wait too long to find out exactly what type of Battlefield game this is as it's been officially announced on the game's website that a live reveal event will be held next week Wednesday, 23 May at 22:00 CET. That puts it at 23:00 local time.
Speaking of local, this live reveal will have an unexpected South African connection as comedian and The Late Show host Trevor Noah has revealed on Twitter that he will be hosting the event.
#ad The rumors are true (rumors that I started, but still…) I will be hosting the @Battlefield Live Reveal on Wed, May 23rd. Catch it streaming live on the #Battlefield YouTube. V EXCITING! pic.twitter.com/7B3fpTpQ6x

— Trevor Noah (@Trevornoah) May 16, 2018
And for all of you wondering what Noah has to do with Battlefield besides for EA's name on the bottom of his paychecks, the comedian actually is quite a bit of a gamer. He's posted about his passion for the hobby a number of times on social media and even hosted the 6th Annual New York Game Awards last yet. Of course, it also doesn't hurt that since moving to the US to replace Jon Stewart as host of The Daily Show, he has gained huge international status so EA gets to add some celeb star power into the mix. It's definitely a much better approach than sticking some "influencer" on the stage who doesn't know how to hold a controller.
As for Battlefield itself, I used to play BF1 religiously almost every night, but recent changes to the game's mechanics have left me soured to the point where I've hopped into a game only twice in the last two months. Many of my regular BF crew – who weren't that enamoured with the dumbed down lack of weapon customization that BF1 employed in the first place – are back to playing BF4 again, which many still believe to be the best incarnation of the franchise. If BFV is in fact some kind of successor to BF4, even if it's just a return to some of the mechanics, then I will definitely be putting on my infantry boots once again.
*Yes, I'm referring to the original V TV series from the 1980s and not the more recent reboot because I'm old and the memory of that "Mousey, mousey!" scene has haunted me for decades since I half-watched it from behind a blanket as a kid
Last Updated: May 17, 2018